Yaoi Needs to Catch up With the Times
History + Why yaoi is actually having a negative impact on LGBTQ+ media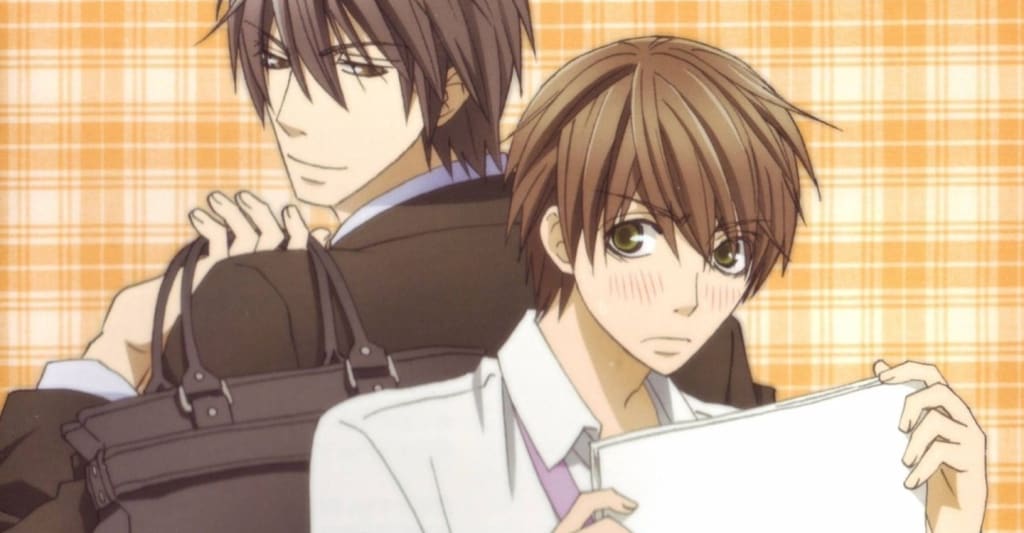 Promotional artwork of Sekai-ichi Hatsukoi (2011)
Yaoi. One of the many genres under the term that everyone has made fun of at least once or twice, anime. Yaoi, Boys Love and Shounen Ai are all just various names you could use to refer to this sub-genre of Japanese entertainment. Most people would describe it as cute, adorable, and great for the LGBTQ+ community. I, a queer non-binary femme individual, would describe it as insulting, disturbing and downright rape positive, and I'm going to tell you why, but first, we need to know what yaoi is and where it came from.
Yaoi is the name of the genre where the storyline centers around two male characters in either a romantic or sexual relationship with each other or other men. The listener can either take in the story via anime (animated TV shows and movies from Japan), manga (graphic novels written and drawn from right to left), or light novels (one shot stories written by the original author). People have also coined terms to use as well such as Seme (the top during sex), Uke (the bottom), and Bara (pornographic books for gay men).
Now that we know more about what yaoi is, let's look at where yaoi came from and what it is now.
The idea of two male characters being in a homosexual relationship in anime has been around since the 1970s with Kaze to Ki no Uta, or The Song of the Wind and Trees, being the first anime where both the main characters, Serge Barrout and Gilbert Cocteau, have romantic feelings for each other. It even received an hour-long animation revolving around their relationship while it's manga comparison pitted Gilbert and Serge against one another. A great comparison to this series would be Yuri!!! On ICE, which is a Sports Anime about a male figure skater, Yuri Katsuki, falling in love with his coach and seven-time world champion, Viktor Nikiforov, with both anime not listed under the genre yaoi but having queer themes interwoven through the main story.
Entering the surge of timeless masterpieces during the 1980s, it was becoming increasingly more common to parody the idea of two male characters having feelings for each other with scenes that featured dialogue with gay jokes, and queerbaiting being the most popular. If you were to rewatch Dragonball or Fist of The North Star, you'd certainly see what I would be talking about.
Then comes the 90s anime scene where this form of entertainment had started to become more known and popular in western culture with easily recognizable names like Neon Genesis Evangelion, Sailor Moon, and One Piece, the highest-grossing anime and manga series of all time. The 90s, however, is where "boys love" anime start to take a turn for the worst as the ugly stereotypes are set in stone by the different mangaka (authors) and animation studios that take on these projects. Both the 90s scene and the present had an increase in demand for yaoi manga, anime and themes in all forms of Japanese movie and film industry, with the 90s punching out shows like Fake, Ai no Kusabi, Okane ga Nai (No Money), and Hyakujitsu no Bara (Maiden Rose), the 2000s giving us Junjo Romantica, Gauken Haven, Ikoku Irokoi Romantan (A Foreign Love Affair), and the dreaded but most known of all yaoi shows Boku no Pico (the world's first shotacon anime), and finally we have the 2010s and onward with titles such as Sekai-ichi Hatsukoi, Love Stage!!, and DAKAICHI-I'm being harassed by the sexiest man of the year. Now the issue I have with the Shounen Ai genre is the portrayal of the relationships these stories are about.
For example in No Money, an eighteen-year-old man is kidnapped and sold into sex slavery where he eventually is bought by a wealthy businessman and must have sex with him in order to pay back what he owes. He is raped repeatedly by him for four episodes and eventually they fall in love with each other and it's a happy ending. A more recent example would be DAKAICHI, where two actors start working on a project together, one loves the other, the other doesn't reciprocate and gets raped in return to make him love him. This anime is still going on as well and most yaoi in between No Money and DAKAICHI are no different.
What often happens is that there are massive power dynamics, toxic language, and controlling behaviours. Rape also plays a major role in the vast majority of yaoi as it is a common way to initiate a relationship as well as stalking, threats and constantly hitting on someone until they give in. Stalking and making threats to someone are both illegal, and not taking no for an answer is rapist-like behaviour.
There are also often multiple stereotypes regarding looks and personalities as well. The seme is often taller and older than the uke, will have a deeper voice, is more mature, and often in a position of power over the uke, for instance, he could be his boss at work. They are also depicted as much more masculine and emotionless whereas ukes are more feminine in the way they are drawn and how they act. It's like the relationship is trying to portray a man and a woman but with two men. They make it easy to guess who the "man" in the relationship is, and this is an overused microaggression in the yaoi community.
Want to know the upside? This style of yaoi is disappearing. DAKAICHI is the most recent yaoi to have any of these themes. We're getting more anime with an accurate portrayal of healthy queer relationships such as Banana Fish, No. 6, Cardcaptor Sakura, though the relationship was censored in the English dub by western tv stations, and yes Yuri!!! On ICE. Another issue we should touch on is the censorship of queer relationships in western media.
Censorship is when you want to hide what's happening on screen from the viewer, like when people swear and bleep out the word because they don't want kids swearing because of their show. The same applies to anime. We have gotten some funny censorship scenes, like in One Piece they're eating lollipops that have smoke coming out of them instead of smoking actual cigarettes, and the infamous jelly donut scene in Pokemon, but censorship has had a super negative impact on queer relationships in anime. In Sailor Moon, Haruka Tenoh (Uranus) is the lover of Michiru Kaioh (Neptune) in the Japanese sub, but in the English dub, their relationship was changed from lovers to cousins. This also happened in Cardcaptor Sakura where boyfriends Touya Kinomoto and Yukito Tsukishiro were established as classmates in dubbed versions of the franchise. Every meme that came from these is funny, but it's very detrimental to achieving an accurate representation of queer love and relationships. In order to achieve accuracy in yaoi, we would need to make a few changes to our current portrayal of gay couples.
What needs to happen now that it's 2020 is this: no censorship of harmless queer relationships, abusive relationships will not be ignored and treated as love, rape should no longer be normalized, and certainly no more Boku no Pico type anime. People want representation, but not when you're representing an entire demographic of queer men and painting them to be abusive rapists that do not know the first thing about consent.