Yada yada yada, this show is pretty, pretty good.
If you like this, you will love that.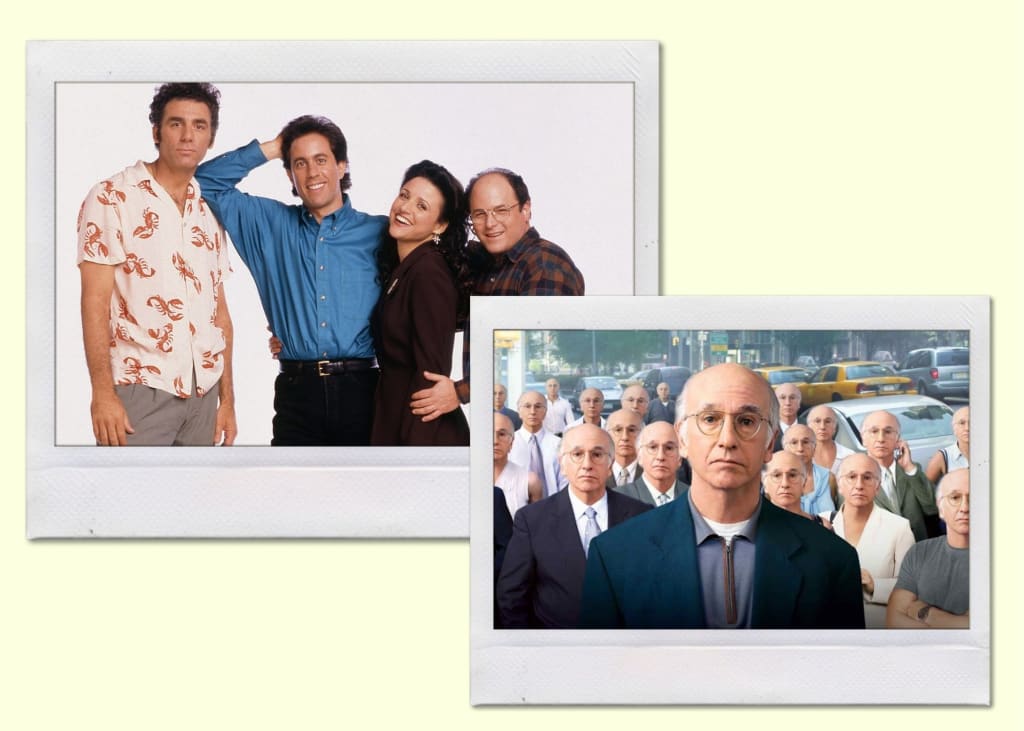 I don't care who you are, or where you're from. You could be a born and raised American, or a Native of a small Peruvian village, but if you hear the word "Seinfeld" you will know exactly what that means. It's not referred to as one of the most genial comedy sitcoms of all time for no reason. For a 'show about nothing' it has a whole lot of something! A wonderfully bizarre story line following the lives of four socially inept friends living in the heart of New York City. Now there are tons of other shows one can argue has its similarities. A group of friends or family based in a popular city with their own funny scenarios living day to day life; sounds the same to me, right? Absolutely wrong. Seinfeld's jokes are elite, the situations are incomparable, and the characters are like no one you'd ever meet. There's Cosmo Kramer, the loveable and goofy next-door neighbour who lives in our hearts rent free. His comedic approach is very slapstick, almost like a modern-day Buster Keaton. There's Elaine Benes, the leading lady of the gang. She's funny, neurotic, and she has a certain masculine touch to her strong feminine presence, perhaps that stems from hanging out with only men all the time. Can't forget about George Costanza. He's angry, he's unreasonable, and his lack of morals or and disregard for social cues creates for many interesting situations. If you ever thought to yourself; who would ever do such a thing? George. George would do such a thing. And of course, the glue or silly puddy if you will, that holds the group together, comedian Jerry Seinfeld. Their lives are more chaotic than the Brooklyn-Queens expressway in the middle of rush hour. For nine years they have filled our homes with laughter and memorable quotes I still personally use to this day. Referring to a man as 'sponge worthy', 'yada yada yada' and let's not dismiss the iconic Soup Nazi catchphrase that even our children's children will be saying. But of course, all good things must come to an end. And even though I rewatch the show a handful of times per year, I still craved more humor like this.
Well, if you loved "Seinfeld" you have to watch "Curb your enthusiasm".
Unlike "Seinfeld", this show is located in Los Angeles, California. If that makes you think it will be a happy, easy-going sitcom with a sunny disposition; you're wrong. You see, "Curb your enthusiasm" is a comedy series that follows the life of Larry David, the creator and writer of "Seinfeld". Why is that interesting, you ask? Because George Constanza's character was based on real-life Larry David. That's right. It's George's attitude, and crazy situations on a hilarious platter. Unlike a cheesy spinoff, the audience is treated to an authentic front seat watching Larry David live his life as a Hollywood writer, getting into trouble due to his bluntness, unethical morals, and inappropriate antics. There's no laugh track, but the comedy is constant and gold! (It's gold, Jerry! Gold!) It could be a subtle facial expression, a witty, smart-ass remark, or even body-language that will leave you in belly-aching laughter. Cheryl David is married to Larry, and her character brings a comforting touch to the show as she puts up with his foolish behaviour and often snaps him back into reality. Jeff Green is Larry's agent, but the best part of Jeff is his wife Suzie and the relationship she has with Larry. They hardly, if ever agree on anything which results in chaotic bickering and hysterical comebacks. Because the show is based in Hollywood and Larry David is a renowned TV writer, there are many credible celebrity cameos including our funny foursome from "Seinfeld". Those episodes in particular are so entertaining because we get to see Elaine, George, Kramer, and Jerry outside of their characters, and interacting as real people.
The side-splitting and sometimes cringey part of the show is that Larry David always says what is on his mind. We all know the frustration of someone budding in front of us in line, or not wanting to make small talk with an acquaintance on the street. We may roll our eyes or mumble a few words of profanity to ourselves and then we move on with our day. Larry insists on confronting these thoughts and situations which never fails to create a very amusing scene. "Curb your enthusiasm" isn't as family friendly as the original television sitcom holding a R rating due to its mature jokes and sometimes explicit content, however this simply allows for more writing flexibility and humor potential.
If you haven't jumped on the Larry David bandwagon, I strongly suggest you hop on immediately. Let's spike the views on Crave and petition for an eleventh season to return! After all, what else is Larry David doing? Watch one episode and you'll fast realize this show is 'prettay, prettay… prettay….good."