'Y&R' spoilers: Kyle makes the first move with Summer during their road trip
The tables have turned and there will be no going back.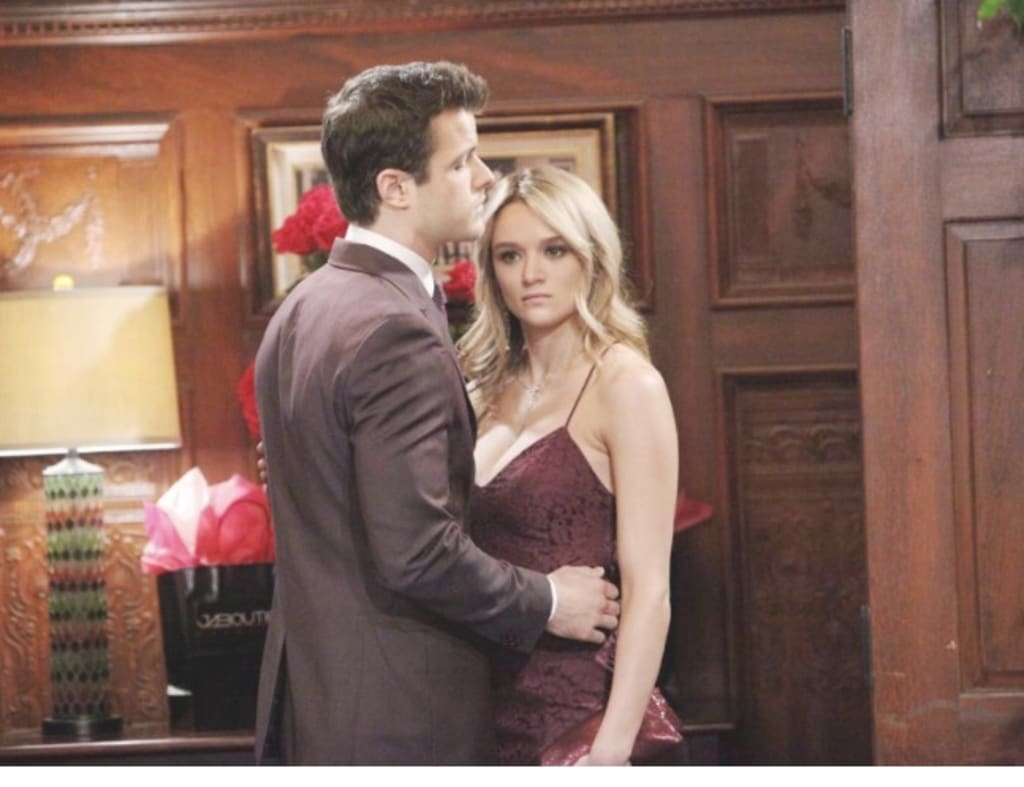 On Wednesday's episode of The Young and the Restless Theo set up the perfect storm between Kyle and Lola as Summer watched them both fall into the trap. Things had been going pretty slow but now it seems Theo's plot to destroy his cousin'marriage, is full steam ahead. Mr. Vanderway seems to believe he will be doing everyone a favor by getting his way and taunts Summer about her feelings for Kyle. Spoiler alerts from Soaps She Knows indicate that things will come to a head next week after Kyle hits Theo in the face. Perhaps Lola might even side with her husband's cousin. Whatever causes the altercation it will probably signal the beginning of the end for "Kola".
Spoilers say that after the encounter between Theo and his new cousin, Kyle and Summer take off on their business trip. It is during Skyles' road trip to the west coast that Kola' fans will be disappointed because Kyle will make the first move and kiss his ex. This situation has been building for quite some time as the roles have been reversed beteeen Kyle and Summer, which will make the situation more pleasing for Y&R viewers who believe the children of Jack and Phyllis should be together. Summer has backed down from trying to break up Kyle and Lola , while Theo has gone out of his way to ensure the marriage does not last. On Wednesday he played "Kola" like a fiddle and got them both to reveal what is in their hearts.
Kyle practically flipped out when Theo mentioned mixing business with pleasure with Summet, when it really was none of his business. Lola looked like a love sick puppy when she thought Theo was dating again and Mr. Vanderway loved it. Kyle noticing his wife's growing feelings for his cousin will infuriate him to no end. This may be the fuel to the fire of what causes him to kiss Summer. Spoilers don't say if anything else will happen between them but if it does, it looks like Summer will not be to blame.
Initially Summer was immature and trying at every turn to come between Kyle and Lola." This is why she gets under Mariah's skin. Now she is backing off and has actually become fond of her former husband's new wife. This is why she sought Mariah's intervention and Ms. Copeland needs to know that her precious Lola is not a saint. At some point she and her bestie will have a talk and he will probably emphasize that Theo and Lola are the problem. Kyle may even shut Mariah down when she starts trying to blame Summer.
Until Wednesday, it was not clear that Lola was developing feelings for Theo until he tested the waters. Mr. Vanderway met with a business associate at Society and Lola wrongly believed it was a date. Theo looked smug as he saw that Kyle's wife seemed disturbed he was with another woman. Summer who came in with Kyle, explained that it was a business meeting but both Kyle and Theo caught the relief in Lola's eyes.
When Lola went to the kitchen, Theo encouraged Kyle and Summer to take all the time they needed on thrift trip to the west coast and even suggested they try to seal an additional deal. When Kyle seemed indifferent, Theo said he could go in his cousin's stead and perhaps mix business with pleasure. Summer sent Kyle to the kitchen to prevent the two men from coming to blows. Y&R is speeding up the action to build suspense for next week,
On Thursday Lols seeks help from Mariah in keeping the situation beteeen the cousins from exploding but it's probably already too late. Soaps She Knows indicates that Kyle will punch his cousin, so obviously Theo makes a move on Lola. So now, in addition to Dkyle growing closer as friends and business associates, there is Theo pining away for Lola and also the first hint that she cares for him too. Keep in mind that Kyle abruptly kicked Summer out when they were married and immediately became engaged to Lola, then married her. It's not clear why he abruptly broke Summer's heRt but they have slowly made their way back to each other.
Theo can't wait for Kyle and Summer to be out of the way so that he can have Lola to himself. This is why he suggested that "Skyle" take all the time they need. Be on the lookout for updated spoiler alerts and continue watching The Young and the Restless weekday afternoons on CBS at 12:30 PM EST. Some exciting episodes are coming up and you don't want to miss them.
tv
Cheryl is a poet, freelance writer, published author and former Newspaper columnist. She has degrees in Psycology and Biblical studies. She enjoys sharing natural cures, and Nostalgia related info. Tips are greatly appreciated.
Receive stories by Cheryl E Preston in

your feed