'Y&R'Spoilers: Dina's grandson's make life-altering decisions
Kyle and cousin Theo will both reap from what has been sown.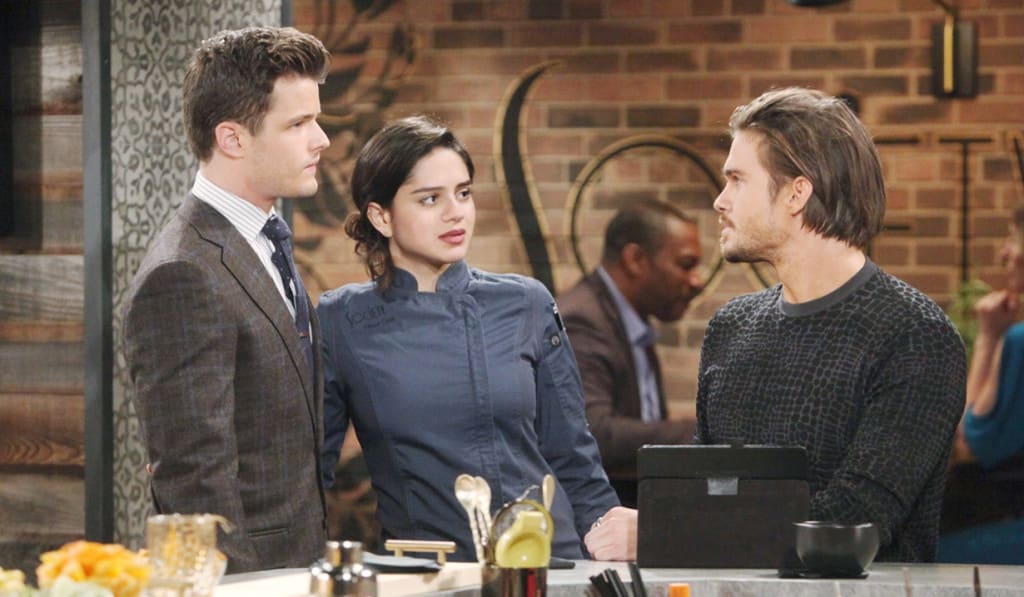 Kyle will hit Theo
Soaps She Knows at Soaps.com obtains their information straight from the CBS studio. For this reason their spoiler alerts are accurate and don't change. Here is what will take place during the next two weeks on The Young and the Restless.
Dina Mergeron's grandsons will find themselves squaring off with each other and it is Theo who initiates the drama. The spoiler indicates that he will somehow surprise Lola and Kyle will punch him. There are several things that could take place that will lead to this altercation. Theo might spontaneously kiss his cousin's wife, or tell her that he loves her and she relay the information to her spouse. Kyle could walk in just as his new relation makes a declaration to or plants a lip lock on Lola. It will be one thing for Kyle to hear the news, but a whole different situation if he sees it for himself. There is also the probability that Theo will share whatever he does with Summer, or perhaps she walks in on an intimate moment between Lola and her husband's cousin.
Summer could decide to keep quiet and let the chips fall where they may, or she may run straight to Kyle, and it sends him gunning for Theo. Ever since Theo brought Zoe to town, Kyle has believed his new relative was out to get him. Last week, Theo admitted to Summer that he was going to make a move on Lola and now according to Soaps She Knows, this is exactly what he is going to do. Spoilers also reveal that Ashley will be back and Jack will be dealing with a crisis at Jabot. This could be related to business or the fallout from the confrontation between Kyle and Theo. Jack's son knows that his cousin is holding the Zoe card, just waiting for the time and place to use it. He may reveal it to both Jack and Lola in order to dig the knife in a little deeper.
Soaps She Knows also is revealing that Kyle will make an admission to his father. This could be about anything but it probably has to do with Theo or Summer. Kyle may tell his dad that he simply cannot work with his cousin because he does not trust him, or he may share with Jack what led up to his punching Theo. Kyle could admit to his father that he still has feelings for Summer. During the week of January 20th Skyle will take a road trip together. No details have been given but it's probably related to Jabot business. Kyle and Summer may grow closer during this trip and Theo and Lola will have a lot to say about it.
Soap Dirt says that Kyle will punch his cousin because he finds out how much time Theo is spending with his wife and points out that Lola is not the innocent that some viewers believe her to be. Y&R fans will recall that Lola made a big deal about her virginity, but gave herself to Kyle while he was still married to Summer. This spoiler says that Mrs. Abbott is going to take Theo's side against her husband and right after this is when "Skyle" take a road trip. This sounds like the C0-CEO of Jabot is having a knee jerk reaction and this will only lead to trouble. A few weeks back, when Kyle realized that Theo was hanging out at Society, while Lola was working, he ignored Summer's request to go home, and said he was right where he wants to be.
In the beginning of his relationship with Lola, Kyle was on to Summers tricks and went out of his way to protect the woman he loves. Now, however, Summer has matured and stopped chasing Kyle. He is seeing her in a different light and going out of town with her is not wise. Lola let Kyle know last week that she thought the photo Summer gave him for his birthday was inappropriate. This should have been a wake up call that Ms. Newman was getting a little territorial. Now, instead of working out the Theo issue with his spouse, Kyle will pout like a child and leave town with Summer, which is a recipe for disaster. The former spouses have been bonding at work and its apparent they care deeply for each other. Who knows what will happen once they are alone together.
There is also a possibility that while the cat is away, the mouse will play and Theo will take advantage of Kyle being out of town. Tension has been brewing for a while between the cousins and it sounds like it is all about to hit the fan. Both Theo and Kyle will soon reap what they have been sowing. One has been pining away for a married woman and the other may cheat on his wife. Be on the lookout for spoiler alerts to update this situation and be sure to tune in to The Young and the Restless weekday afternoons on CBS at 12:30 PM EST.