William deVry seems to be saying goodbye to General Hospital
Julian Jerome's portrayer is sending subtle hints that he has indeed been let go from the ABC daytime drama.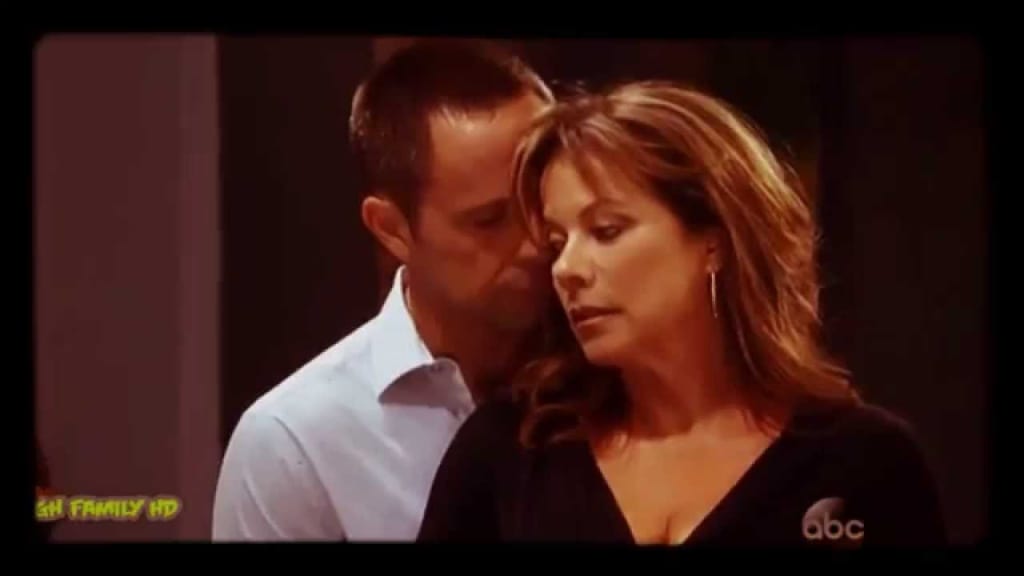 It seems that it is becoming clearer that William deVry has indeed been let go from his role on General Hospital. The actor has not come right out and addressed the issue but he continues to drop subtle hints. A few days ago he said that if he lost that job, he would not return as Julian Jerome. He also expressed his opinion that the role should not be recast. deVry was off the show for a while a few years back when his character went to jail but he returned. Now the actor has seemingly addressed his current situation on Twitter.He posted a photo of a building that is labeled as General Hospital with the caption" Goodbye Yellow brick road" and " Say goodbye to Hollywood."
The actor is Canadian but it's not clear if he is really leaving Hollywood and possibly going back to the land of his birth or he is figuratively speaking. Many of deVry's Twitter followers have been weighing in and letting him know they will miss him but so far he has not been responding. General Hospital viewers are also sharing their views on Facebook groups and the majority don't want Julian to go. Julexis fans feel they have been cheated out of seeing their favorite couple get back together. Some who watch the ABC daytime drama want Julian to pay for his crimes but those who know the truth are otherwise occupied.
Nelle's dead, Britt is busy being chief of staff, Brads in jail and feeling remorseful while Brook Lynn is worried about her throat healing, and her living quarters. Julian Jerome could say goodbye to Port Charles in several different ways. Earlier spoilers thought he might die in an explosion at the Floating Rib or either pretend that he did. There was an explosion in Port Charles on Thursday but it did not take place Mac Scorpio's establishment. Valentin and Anna escaped death when they were able to get out of a warehouse where Alex had trapped them and rigged a bomb. The duo escaped their handcuffs and were outside by the time the bomb went off.
It's not likely that there will be two explosions on General Hospital so the warehouse might be what was in the photo of a burned out building that Soap Dirt is addressing. Ryan Chamberlain has been stabbed so if he dies Nelle's letter may not make it to Sonny. This puts Julian in the pocket of Cyrus Renault. Somewhere down the line he might cross his benefactor and Cyrus could have Julian killed. The others, however, who know that Julian hid the Wiley secret might crack and eventually tell. Brad, Brook Lynn, or Britt could see to it that Mr. Jerome pays for his crimes. A lot rides on the letter that Nelle left with her prison pal.
Kevin is Ryan's next of kin so if the demented doctor dies, his twin would obtain his personal belongings. This would have Ava struggling to take matters into her own hands and Sonny being suspicious. In the meantime, Julian might decide to receive help from Nikolas, obtain a new identity and leave Port Charles. Quite a few fans of William deVry have asked him how his character will exit Port Charles but he has not addressed this question. Spoilers do not give much input regarding Julian so fans will have to watch and wait. Soaps.com does say that next week Mr. Jerome will make a confession. The spoiler emphasizes that no one knows yet who he is talking to, what he confesses or how much he leaves out.
Julian fans will agree with William deVry that they do not want his character recast. The best case scenario would be for the veteran actor to remain on General Hospital. Based on his recent tweets it sounds as if this is not going to happen. Continue to be on the lookout for spoilers, breaking news and updates related to William deVry and his days in Port Charles. Steve Burton left the ABC daytime drama years ago and said he was done with acting. He first went to The Young and the Restless where he portrayed Dillon McCay and now he is back on GH. When it comes to soap stars the best thing viewers can do is to never say never.
celebrities
About the author
Cheryl is a poet, freelance writer, published author and former Newspaper columnist. She has degrees in Psycology and Biblical studies. She enjoys sharing natural cures, and Nostalgia related info. Tips are greatly appreciated.
Reader insights
Be the first to share your insights about this piece.
Add your insights