Wield the Power of the Mad Titan Thanos (and Drink Your Coffee) With This Limited Edition Mug!
The exclusive, limited edition Marvel Thanos Infinity Gauntlet 16 oz. Prop Replica Molded Mug.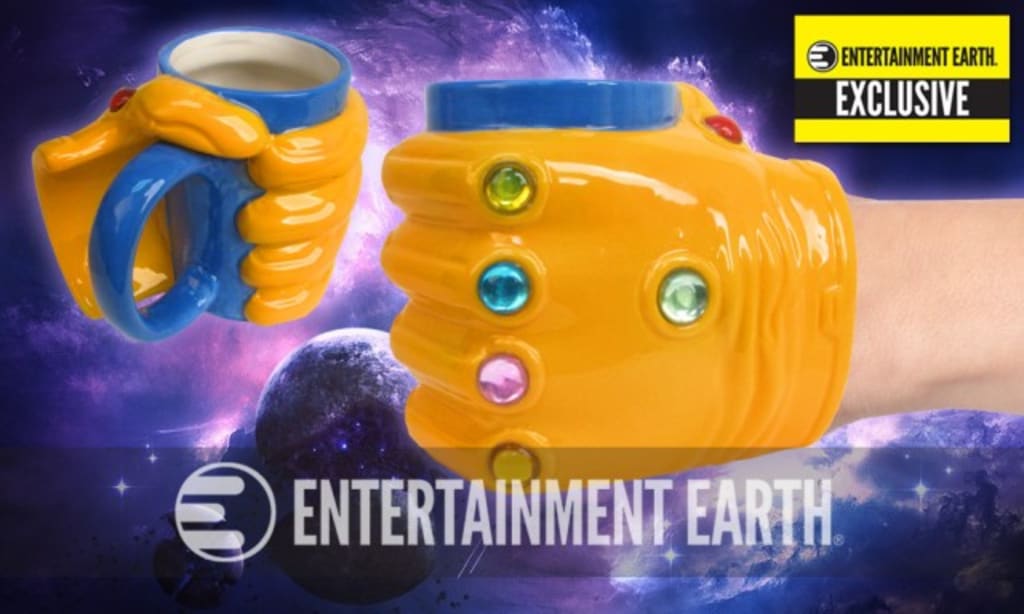 Last February, Entertainment Earth announced an exclusive Infinity Gauntlet mug, set to be released in September 2015. Pre-orders were high, and excitement was through the roof. And then, when the excitement was at it's breaking point . . . the mug was delayed. Indefinitely. Luckily for us, "indefinitely" was surprisingly short, which is why right now, the mug is on sale. Not a pre-order, not a hold, it's simply on sale. So it's with great pleasure that Entertainment Earth presents to you, the exclusive, limited edition . . .
Marvel Thanos Infinity Gauntlet 16 oz. Prop Replica Molded Mug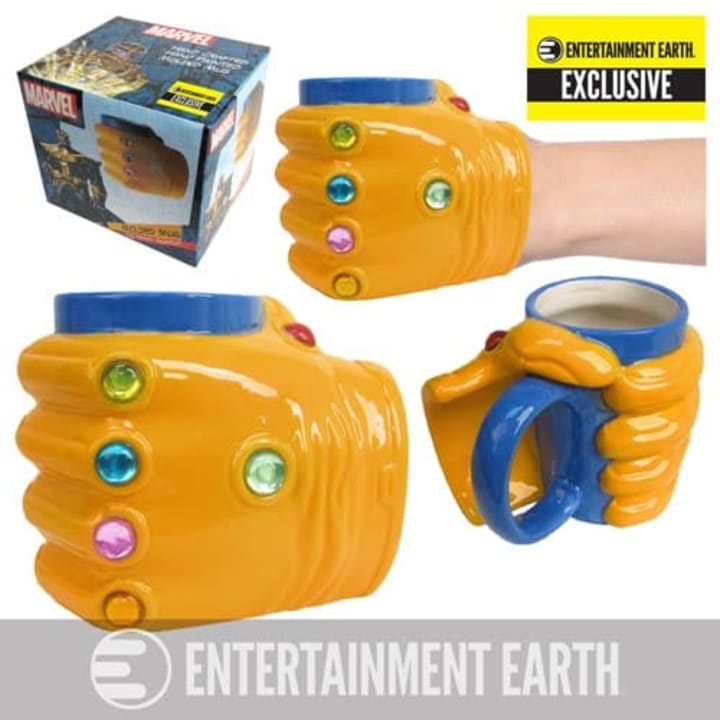 Marvel Thanos Infinity Gauntlet Molded Mug - EE Exclusive:
Harness the power of the Infinity Gems!
Seize control of your coffee with this exclusive molded mug!
You are the Titanian Eternal - Thanos!
Awesome prop replica of the Infinity Gauntlet.
Entertainment Earth Exclusive! Harness the power of the Infinity Gems and seize control... of your coffee! Featuring the six Infinity Gems, the Marvel Thanos Infinity Gauntlet 16 oz. Prop Replica Molded Mug Entertainment Earth Exclusive is a fun way to hold 16 ounces of your beverage, and it's also a fantastic prop replica. This is an excellent choice for any fan of Marvel. Bring home the power of the universe and heft your coffee like the Eternal of Titan! Made from ceramic. Hand wash only. Not dishwasher safe. Do not microwave. Ages 13 and up.
We reserve the right to limit quantities ordered
So basically, you get a mug that's shaped like one of the most important objects in the Marvel universe (which includes both comics and movies). Something to keep note of however, this is a one-time thing. When these are sold out, they're not gone for a week or two, they're gone forever. If, for some reason, you haven't already ordered it, let me tell you why you should.
Shipping and Delivery

Unlike many websites, Entertainment Earth ships any In-Stock sales within one business day. And seeing as this is either here or it's not, you're guaranteed to have it shipped in a day (or less!). Once it's sent out, the delivery time varies. For me, it took six days, but some of that can be attributed to issues at customs (I live in Canada with the polar bears and igloos). Even still, it took less than a week at regular speed shipping. If you can't wait that long, you always have the option to speed it up!
Packaging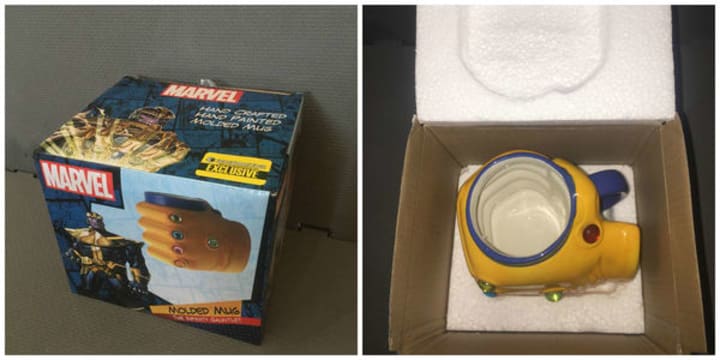 Obviously, the actual box for the mug is placed inside another, larger box, where it's surrounded by paper to keep it from getting damaged. Once you open the mug's box, you find the mug is kept safely in its spot by two, shaped styrofoam boards. The mug fits into the shaped styrofoam pretty well, and neither of them break, making it easy to pack away if needed.
The Mug

Much like the actual Infinity Gauntlet, the mug is golden-yellow with six gems. The colours are the same as the comics, except without a fade to white in the centre. All the gems are translucent and slightly reflective, giving them an ethereal look and feel. While the glove portion of the mug is the traditional golden-yellow, the actual mug (you know, the one holding your drink) is royal blue. It's not too visible when you're holding it in front of others (because you'd be holding the blue handle), save for a little blue ring at the top. Beyond the colour scheme, the detailing is really magical, with each finger having a little ridge on top, to look like there's lining there. The part near your wrist also has some marks carved in, as if the gauntlet is rumpling when you put it on, like so: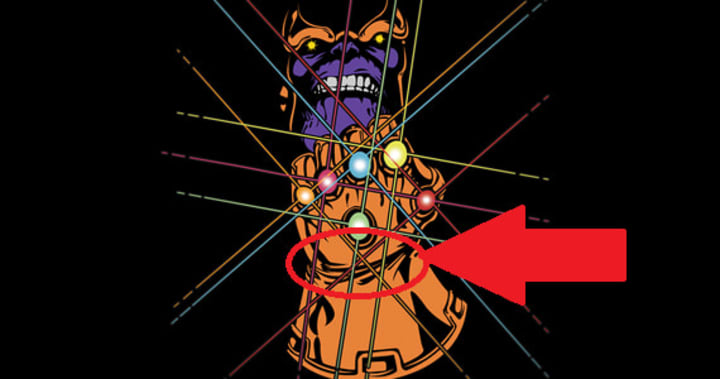 And of course, if you're a stickler for comic-book accuracy, the mug also has the little clasps at the hem of the glove.
Care and Information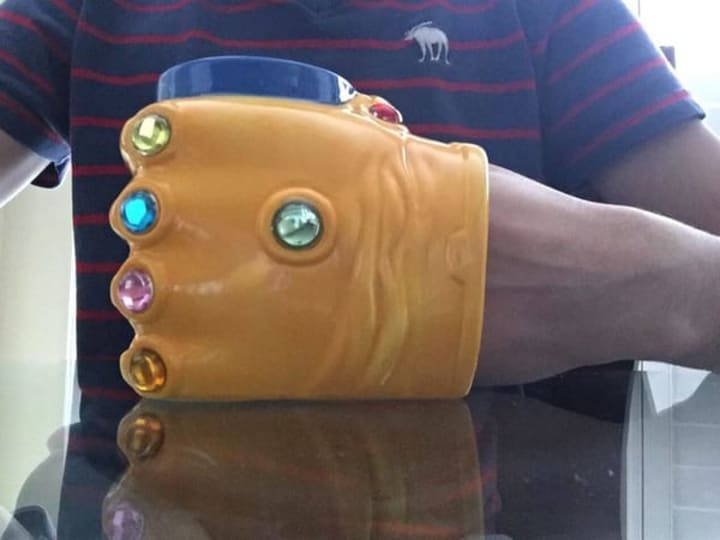 Seeing as it's hand-painted, the mug isn't dishwasher safe or microwavable, so it has to be hand-washed (a small price to pay, really). And as previously stated, it can hold 16 fluid ounces. When held at the handle, your hands should very nearly disappear, leaving the back of your hand/wrist (depending on your hand's size) as the only visible part, making it look like you're actually wearing the gauntlet. And of course, just like in the comics, it's left-handed (though still surprisingly easy to hold, coming from a right handed person).
Cost

Given what you've read already, it'd make sense if you guessed that the price for this woul be uncomfortably high. You'd be forgiven for guessing that, because you're dead wrong! The mug is actually only $15.99 USD!
Stuff You Need to Know

All in-stock item's shipping is free when the order is over $79, and select pre-orders are also free. Unfortunately, as this is a one-time offer, if you don't order it now, you won't ever order it. There is a limited quantity out there, and they're not going to be made again after that, so now's your chance! Also, credit cards are only charged when the order is ready to ship, so no need to worry about that.
TL;DR
It's insanely comic-accurate
It arrives rather quickly
It's only $16
It's not dishwasher/microwave safe
It's only here for a limited time (and then it's gone)