Why I Love Kala (Disney's 'Tarzan' Franchise)
Considering how having two antagonists made the first film uneven, she still managed to leave a lasting impression that will undoubtedly touch families of the future.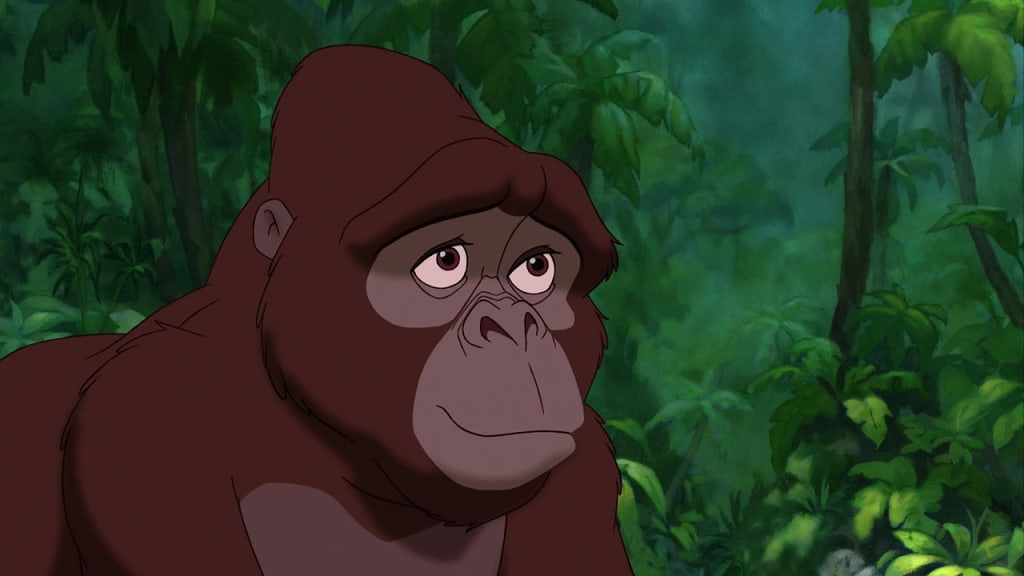 Image courtesy of Heroes Wiki - Fandom
The older I get, the more I realize that we all—regardless of age—should really be talking about parents in fiction more often than we already do. To those who have or wish to have children biologically or through adoption procedures, parenthood in our world is arguably the most important part of being a human; through varying levels of communication, education, discipline, support, and bonds, it virtually shapes the kind of societies we end up living in for as long as we're here.
Naturally, our experiences, expectations, and covets will be—at least, to a degree—reflected in the media we consume on a quotidian basis, and that includes parent-child relationships. Over the decades we've seen depictions of good, bad, and more nuanced parents in film, literature, and many other resources currently available to us.
Here, I'd like to focus on who I believe is one of many great examples of parents in fictional narratives, and that is Kala from Disney's Tarzan. For those of you who haven't seen the film or the accompanying television series, she is Tarzan's foster mother who finds him as a baby in the treehouse his biological parents built after the latter two were killed by the leopard Sabor.
After rescuing him from Sabor, she returns to her gorilla family with him in tow and decides to take him in as her own despite her partner Kerchak's reservations. The two would then go on to share a touching relationship with just enough drama and turmoil to make their unbeatable love convincing to the viewer.
But before I continue, I do want to address Kerchak's position throughout most of the film, because it's never a good idea to omit voices in favour of pushing a preferred narrative that only offers an incomplete view of a given issue. There's always a reason for differing opinions and learning opportunities can only support the development of a healthy, multifaceted dialogue.
As the leader, Kerchak shoulders the responsibility of his entire family's wellbeing. That's enough for him to be wary of anything that crosses their path. In his lifetime, he has undoubtedly seen many things, but prior to Tarzan, he's apparently never seen a human being. Even if Kala provides the best upbringing possible—which she does—how do they know that his potentially unpredictable nature won't betray her affection, his friendships, and everything he knows to be just?
Not to mention that they'd lost their own child to Sabor not too long before discovering Tarzan. On top of all the stress he has to endure with every passing second of his day, Kerchak now must grieve the loss of a complete innocent he created with the love of his life.
I don't blame him for feeling invalidated, especially when the two of them at that point were his true bliss. He even openly expresses that he doesn't want Tarzan to be regarded as a replacement—it makes sense that he presumably would want to love him for him, and not to simply fill a void in his heart.
Still, Kerchak clearly loves and respects Kala; he wouldn't honour her wishes otherwise, no matter how gruff he seems. Considering that Tarzan is in his most vulnerable state, Kerchak evidently doesn't have it in him to leave a baby all alone in an environment where everything is out to get them. He makes sure no one in his family gets left behind—he doesn't make an exception here.
Now onto Kala. She very much reciprocates Kerchak's sentiments, and I have no problem believing she realizes the difficult situation he's put in. She understands the values of patience and perseverance; at no point does she discourage Tarzan from trying to have a relationship with Kerchak just because they disagree on him. Nor does she force co-parenting on Kerchak, and she'll always be the first to admit when he is right about anything.
Kala makes the bold decision to keep the child, regardless of what it is or what it looks like. She doesn't think about herself, the others, or what it means for the future—she's only thinking about Tarzan. Neither Kerchak nor Kala are necessarily wrong in their different ways of thinking: he needs to be certain he can trust and truly warm up to Tarzan, which he does sooner than we think, while she trusts her instincts. She is accountable for everything that comes with raising him. However, this doesn't mean that she'll throw herself a pity party the second it gets frustrating having to defend Tarzan while pleasing her family.
And it does. But instead of blaming him—since she knows it's not his fault—she uses sweet metaphors to explain what makes them truly the same and that he only needs to be himself no matter what goal he wants to reach. She is unfailingly gentle though doesn't shy away from some playful banter when the opportunity presents itself. She is supportive of him making his own choices but isn't afraid to give her opinion on things and reveal her emotions about one day possibly being away from him forever.
As it turns out, Kerchak is justified in being on his guard when it comes to many of the humans who arrive in Africa. Humans are complex beings—we know that better than anyone. But although she initially fears the presence of Tarzan's newfound friends Jane and Professor Porter, she eventually gives her son the benefit of the doubt when she sees with her own eyes just how sweet and incredibly naïve they are around the gorillas.
Kala comes to treat Jane as her own daughter when the latter helps rescue her and marries Tarzan, and they are able to confide in each other whenever an issue arises. They are protective of each other, and share adorable moments of affection, like whenever Kala takes her hand or when Jane takes a risk to give her a bouquet of flowers after Tarzan does as they're sliding on trees. She knows her son will never be tainted or taken away from her in Jane's company.
I haven't seen the midquel, Tarzan II, but judging from the Disney Wiki, it sounds like Kala's character remains intact. Like the day she meets Tarzan, she puts herself in danger to save him and doesn't stop advocating for her well-articulated beliefs. Even though Tarzan replaces the late Kerchak as leader in the series, she's still the main voice of reason in the family's eyes and advises the former in a composed manner without actually taking control. She recognizes his cooperation, but also his intelligence, and trusts him to think of a plan that'll benefit them all.
Jane calls Kala "beautiful," but she isn't just commenting on her appearance—she can see what a kind, unassuming soul she is just by looking at her. It's no wonder they soon become the closest friends in the jungle. She, being the equally as wonderful person she is, is in awe, like anyone who appreciates a character like this would be. She loved her the moment she saw her, and so did I.