Why Hallmark Christmas Movies Are the Cure for What Ails My Stupidly Simple Soul
Just a small-town girl with a fatal weakness for living in a corny festive fairytale world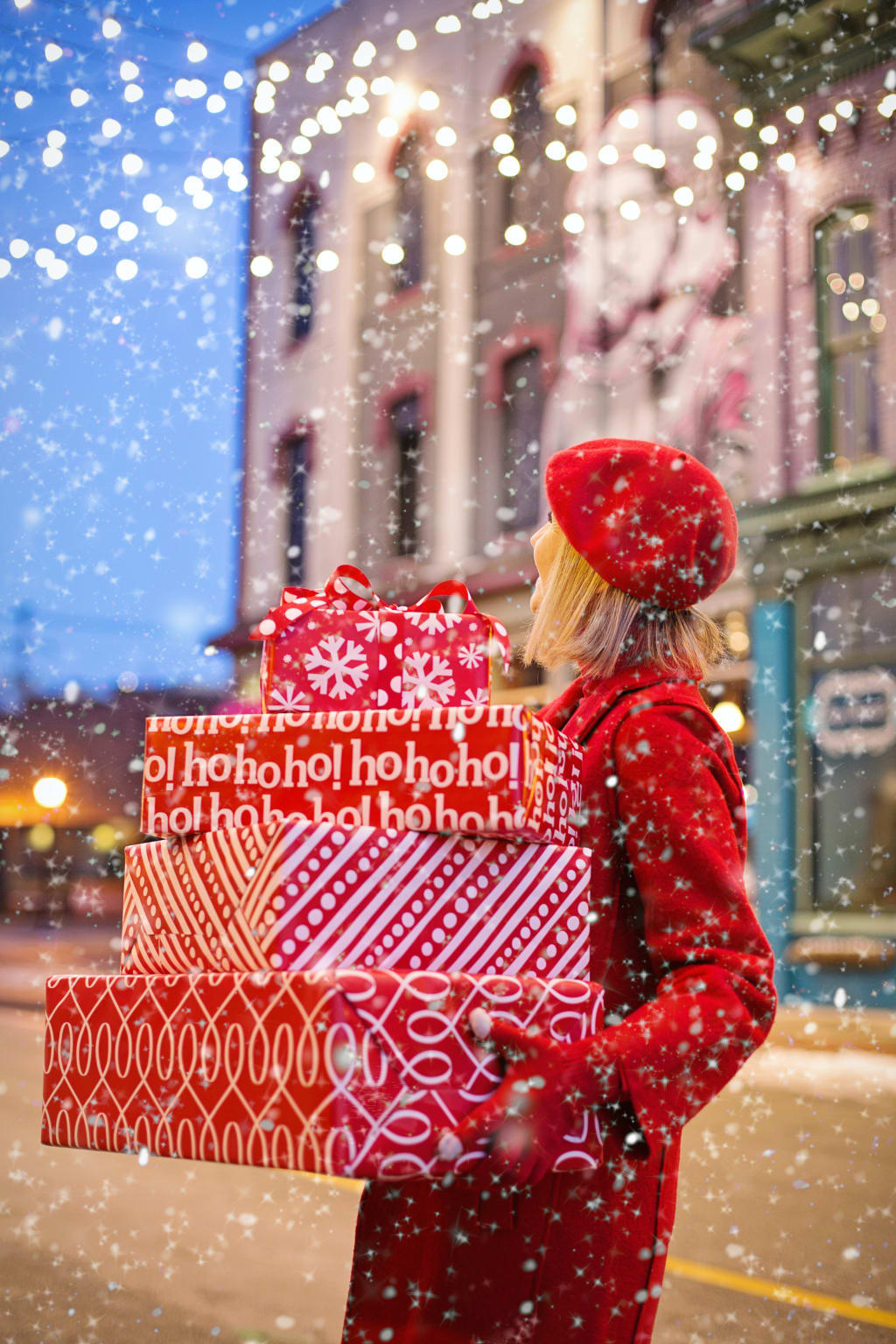 Photo by Jill Wellington from Pexels
Every year, when November hits, I get an undeniable hankering for it. I try to stay clean, I attempt to get a hipper festive film fix with Netflix, but the truth is I really only want to plug my veins into the purest visual hot cocoa and peppermint Xanax of feel-good around. They tempt me like an irresistible sleighbell's ring siren song.
Hallmark Christmas movies, I wish I knew how to quit you. You just hit different from the rest. You're the impossible dream, the long lost crush or mythical perfect man who loves Christmas, the abandoned youthful dreams, the perfect snow globe magic dust small town world that some of us are willing to suspend disbelief and pretend exists somewhere out there still.
I know you are bad for me, I tell myself every year that I am too good for you, too smart for your predictable storylines, cliched characters and pat happy endings. I roll my eyes and laugh at your hackneyed setups, I snort in derision when you have fake looking snow sets in California (we all know Canadian-filmed Hallmark is where it's at) or sub-par romantic leads with no chemistry. I have standards, and I rate you all on a ruthless Christmas movie scale of 1–10. I am your most ardent servant, while at the same time being your biggest critic.
I have certain expectations of you, and sometimes you live up to all of them, and much like the first sweet hit of eggnog and sugar cookies, it keeps me coming back for more, year after year. You're smart, too, you know what I want. When you are good, you are very good.
You have a way of casting that hot guy from that show we had a crush on ten years ago that maybe didn't get the big breaks, or that pretty but not annoyingly so woman we have seen in some stuff who we can sort of relate to, you know, if we had become a CEO of our own company or were orphaned but also perhaps secretly due to inherit a large fortune that would solve all of our as well as our hometown's church/orphanage/Christmas tree farm's problems. We know that we too would be a regular Scrooge at the end of A Christmas Carol should the situation ever present itself, because we also enjoy being the hero in our own story, which is obviously much more ideal if money is no object.
We like the simple things too, though. We're pretty sure we could be happy living the good life in a large well-decorated farmhouse on a Christmas tree farm with our hunky childhood crush who already has a sweet daughter because he's a widow. We won't even have to give birth or change diapers!
We can still take the train to NY a few days a week to be successful rich businesswomen if that's what we want. Just so long as we are home five days before Christmas to run the town's cookie-baking competition/tree lighting ceremony/church concert. And as long as someone is rich, or quite rich, preferably. Christmas isn't about money, obviously, but it sure helps!
We will have plenty of time for ice skating, snowball fights, red jackets, fluffy hats, wooly sweaters and velvet cocktail dresses galore….life is so much simpler in Hallmark Christmas movie land, and if we're being honest, it's a helluva drug. Just sit back and relax, shhhh don't overthink it, get cozy and let its holiday magic dust wash over you…
🎅❄❄❄❄❄❄❄❄❄❄❄❄❄❄❄🎅
We have a tree, thankfully the Christmas tree farm had a perfect tree for us, the grumpy hunk who cut it for us looked strangely familiar though? We exchanged a couple of looks and then it was snowing and then we had an impromptu sled race and we were drenched in snow so we had to change into cozy Christmas p.j.'s and there was hot cocoa and cookies and a fire and now I am pretty sure we are in love?
This all happened yesterday but clearly, life moves fast in Mistletoe Falls! The Christmas angel our tragically departed mom left us has sadly disappeared but lucky us, we still have a small-town best friend to dry our tears. We really must find her the perfect Christmas gift, so after a coffee date in the world's cutest coffee shop, we make our excuses.
The twinkly old man with the white beard who runs the local mercantile notices us looking a bit lost, and asks what he can do to make our Christmas wishes come true. It's funny, he seems familiar, yet surely we would have noticed him around town before?
We know it's dumb, and we are grown-ass businesswomen, but for some reason, we want to give him a hug and tell him all our woes. Look, we all know he is overkill, and yet…every time a bell rings, an angel gets its wings, and faith is believing in things when common sense tells you not to, am I right?*
We head home with our parcels wrapped prettily, yet rustically, like in Little House on the Prairie or something. Every lamplight on the street is festooned, every fairy light strung in hopes of a perfect Christmas, and we have faith that pure holiday happiness awaits. We deserve nothing less.
We awaken pretty and fully made up in our festive jammies, a warm fire ablaze in our room, our bedroom Christmas tree sparkling reassuringly.
We still have to bake those cookies though! And find a present for Hometown Hank. If he even IS the one, I mean, our city boyfriend Jack showed up out of the blue last night, oopsie we forgot all about him! He looks out of place in our hometown, somehow, funny that. We had to let him have the spare room, it's Christmas after all.
Oh, Jack has found our uncle's stash of Christmas sweaters, since he had nothing to wear he put one on and obviously looks dazzlingly handsome in a city-slicker way. Is it getting hot in here?
Hometown Hank knocks on the door right as we are having coffee, "Oh no!, it's not what it looks like!", we say unconvincingly. He looks hurt and confused, he thought we were baking cookies this morning like all grown adults make time to do together. "It's ok, I just…wanted to give you this, don't open it until midnight on Christmas Eve" he gestures wanly to a brown paper parcel he is holding which is wrapped up with care/a tartan old-timey ribbon that looks familiar. He smiles sadly and walks out the door, his farm-honed muscles straining at his flannel shirt wistfully.
What's a girl to do? If only Mom was here, or our best friend, or that kindly old man Mr. McKringle from the mercantile — wait, shoot, we still have to pick up Hank's present today before they close! We had ordered it especially earlier in the week via the mercantile's catalog, which was not at all a problem for an on-time Christmas delivery in our rural hometown. We apologize to Jack who looks annoyed and hurries out the door, looking effortlessly flawless in our cashmere Christmas sweater and designer boots.
Snow is falling peacefully as we walk into the door of the mercantile to the sound of the doorbell chiming. Children are singing carols and being angelic and not horrible in any way, ever. It almost makes us want one, weird! As they finish "Deck the Halls" and depart with candy canes from Mr. McKringle, he spots us with a twinkle in his eye. "Woah….ho ho! I have your special order!" he says, jolly as ever. "I was worried you wouldn't make it in time, I close on Christmas Eve every year". We look at him strangely, wondering why on earth this could be. Wait!….could it be? Noooo.
We wrap our present for Hank carefully and put it under the tree as a montage of our whirlwind Christmas romance plays to a soft rendition of "Silent Night". Snow is falling, heavily now, and as we look out the snow globe window we see Hank standing in the snow. He has on a rustic coat with a sherpa collar and looks a bit like a J.Crew model, we can't help but think wistfully.
We open the door and he bashfully offers us a plate of cookies that he and his daughter baked earlier: "We thought you could use these, especially if you uh, have company still" he says soulfully. "Oh thanks but Jack left, he had to get back to the city to help run my multimillion-dollar business….we decided we are better off as friends" we mumble shyly. "But I will take the cookies, thank you — I never got the chance to bake any and now it is Christmas Eve!" Hank smiles and notices the mistletoe hanging above the door….
🎅❄❄❄❄❄❄❄❄❄❄❄❄❄❄❄❄❄🎅
Thanks for indulging me! While I do sometimes judge myself for enjoying these occasionally (ok often) corny films, when done well they are a simple pleasure that undeniably hits a serotonin marshmallow cloud in my brain, on repeat.
They capture the seasonal wonder I am always secretly hoping for from the festive season. They make me feel warm and fuzzy and as cheesy as it is it's the truth. I don't think romantic Christmas films need to be smart or hip, when they try to get too clever with some of the Netflix films it kills the illusion and falls flat. Hallmark knows the formula, finds ways to reinvent it (quite impressive when you think how many there are!), and more often than not hits the holiday romance sweet spot for me.
We have a Hallmark app/streaming channel as an add-on with Amazon Prime in the UK I learned this week but tragically it doesn't seem to have the most recent films available. You can get a free seven-day trial, which I did, but I won't be paying for an app that doesn't have the most recent content available — sort it out for us Brits/Americans abroad Hallmark! In the meantime, you may find me jonesing for a holiday film fix, standing outside a local coffee shop, waiting for snow to fall.
*quotes c/o "It's a Wonderful Life" and "Miracle on 34th Street"! ❄🎅
This article was originally published by the author on Medium.
About the Creator
Hi, I mostly write memoir, essays and pop culture things. I am a long-time American expat in Scotland.
Reader insights
Be the first to share your insights about this piece.
Add your insights