What will be the fate of Skyle and Thola on The Young and the Restless?
Some viewers are tired of Kyle, Summer, Theo, and Lola. Others want to know what the future holds for these young couples.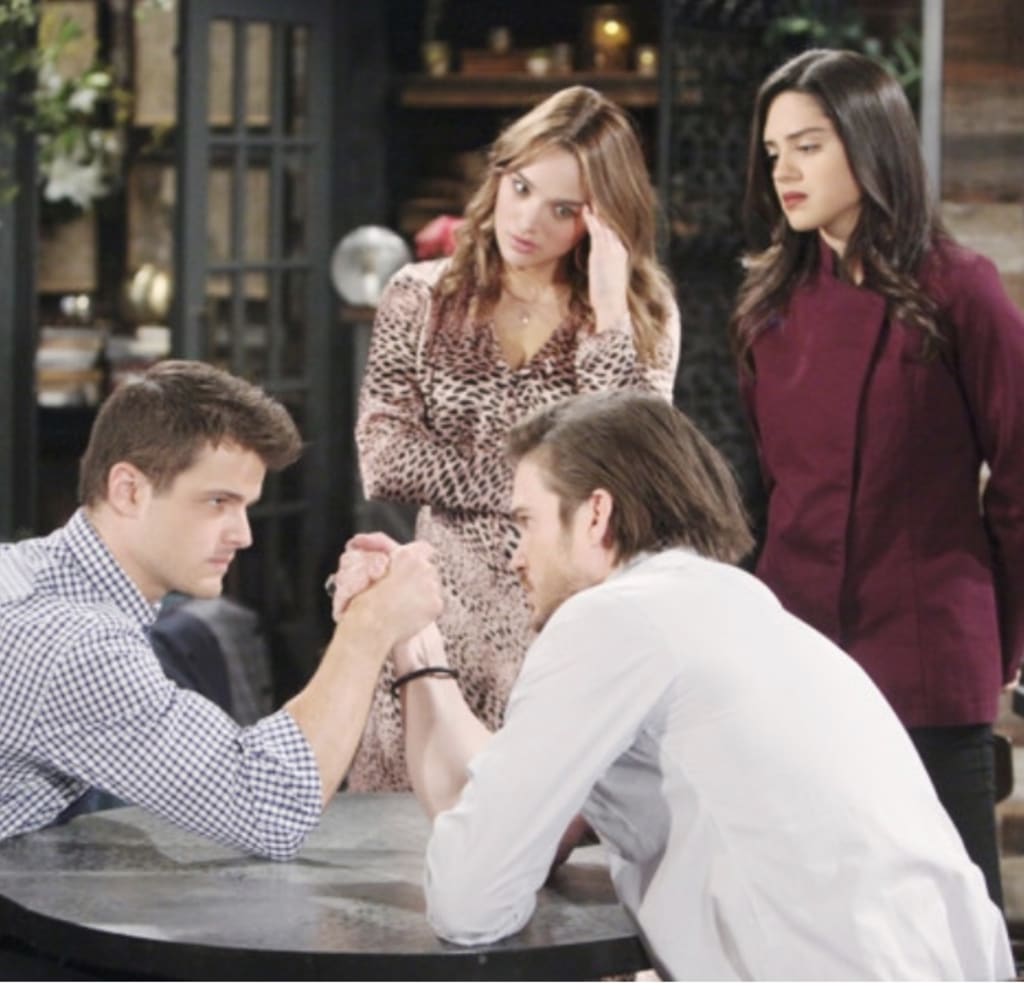 Will Y&R viewers care about Skyle and Thomas?
Some who watch The Young and the Restless are wondering about the fate of two young couples when the show begins taping new episodes. There are other fans who say they could care less about Kyle, Summer, Theo, and Lola. By the time the CBS daytime drama returns to the screen, there could be a number of storylines and characters that will no longer matter to viewers. Without seeing the current residents of Genoa City on a regular basis there may be many fans whose attitude is " Out of sight, out of mind". Prime time soaps ran reruns of the previous year, during the summer that helped viewers stay engaged until the new fall season. Although The Young and the Restless is airing classic episodes, none of that keeps the memory of recent storylines in mind.
It takes about 6 weeks from the time a program is taped before it ends up on screen. Perhaps The Young and the Restless could use the last weeks before airing new episodes to remind viewers of what their favorite characters were doing prior to everything shutting down. Regarding Thola and Skyle, there were rumors flying that Sasha Calle and Tyler Johnson had been fired and fans had several good reasons to believe this to be true. First of all the powers that be left Theo and Lola hanging when Kyle and Summer reunited. The mixed signals between Johnson and Calle's characters was enough to make your head spin. Theo started off being a good friend then began to pursue Lola. She later wanted to hook up with him after finding out Kyle slept with Summer.
Theo turned her down but continued to want to date her. They were about to take a trip to New York together but Lola then put the brakes on and they have been at a stalemate ever since. Lola was off screen a lot taking care of her restaurant in Miami. The fact that the writers gave her a second business to run from her home state, troubled many viewers. The consensus was that Lola was going to move back home permanently and manage the Miami restaurant. There was also a conversation that Theo had with Mariah where he said there was nothing left for him in Genoa City. Theo has been fired from Jabot and has no real ties in town. Without Kyle, in her life, Lola just does not fit in and many viewers are tired of her always being in the Society kitchen, wearing the same uniform day after day.
Many fans are saying they are tired of Kyle and Summer who are spoiled and entitled. Now that they are together, the fun has gone out of watching them make their way towards each other. Naturally Skyle are the next generation, the third level of Abbott's and Newman's. Should they have any children they will have created an heir, a great grandchild for Victor to try to control. Outside of that viewers are doubtful this couple will survive. Everything regarding Newman Enterprises and Jabot Cosmetics is changing. Ashley had asked her nephew Theo to work for her in Paris. Some viewers think he still may do this. It's not likely that Lola would go with him and leave her restaurants behind but you never know on the soaps.
No one wants to see Kyle and Summer making out at the family business all the time. Jabot as well as Newman needs challenges. Victoria is running her father's business and it's not the same as when Victor was pulling everyone's strings. The shift to the next generation leaves Victor and Jack without much to do. They are fans favorites and viewers do not desire to see them fade into the woodwork for the younger set. The writers have had time to think out the future of Genoa City and fans hope they will bring back the glory days of the show. Changing the dynamic between Kyle and Summer so abruptly has brought confusion and anger form a number of Y&R fans.
Summer returned to Genoa City as a spoiled brat but Kyle was clearly still smitten with her. She went out of her way to tease him and flaunted in his face that she had gone to bed with his uncle Billy. Lola was a breath of fresh air that many viewers said they enjoyed. Once Summer realize Kyle had moved on she reacted like a true jealous ex and went out of her way to try to break him and Lola up. Problems arose when Kyle came up with the crazy idea of offering marriage to Summer if she would be Lola's organ donor. Some viewers thought Skyle would realize at this point that they truly loved each other. The rumor mill indicated that the reason Kyle broke Summer's heart was because someone in top brass wanted Kola together. Supposedly when this CBS exec retired, the script was flipped and the road to Skyle rediscovering each other was paved.
Until The Young and the Restless begins taping again, fans will not have spoilers giving updates. There is no way to know at this point in what direction the show will take. Be sure to be watching for spoiler alerts and breaking news as it becomes available. Take into consideration that Y&R may be preempted for coronavirus updates. Watch your local listings and continue watching each weekday afternoon on CBS.