What's Next for Daniel Goddard and Eric Braeden
Cane Ashby and Victor Newman are both at a crossroads.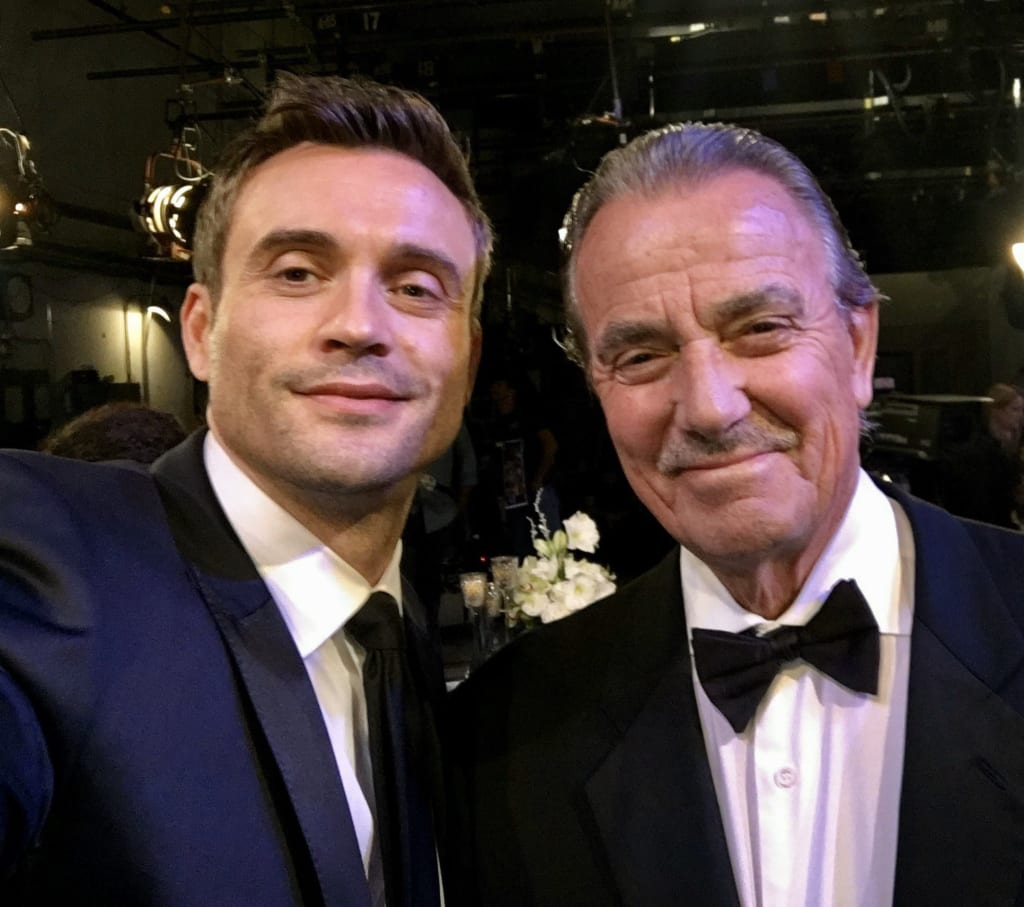 Daniel Goddard celebrate's with Eric Braeden
They say a picture is worth a thousand words and this recent selfie that Daniel Goddard took of himself and Eric Braeden speaks volumes. Goddard congratulated his former co-star on four decades of portraying Victor Newman and said he wishes he could be there. What a bittersweet moment that shows the disparity of working on daytime television. Goddard was fired after 14 years in Genoa City and Braeden is celebrating 40 years on the CBS daytime drama. The man who portrayed Cane Ashby did not get the chance to be a part of the soap opera for that long. He was abruptly fired and continues to be shell shocked by the decision. As Victor is preparing for a 50th anniversary bash at Newman Enterprises, Cane is allegedly off in parts unknown, searching for his father who made off with Devon's inheritance.
Victor has retired and Victoria is running the family business, but spoiler alerts indicate that things are about to become difficult for the most powerful man in Genoa City. He will be honored for his time at Newman Enterprises but there will also be some drama. Spoilers indicate that several familiar faces will return to town to celebrate with him. Paul will be called in regarding a situation that involves the elite in town, which suggests that the Abbott's and Newman's are the ones who are targeted. This issue most likely will take place during Victor's big event. Meanwhile, it seems everyone is moving along with no thought of Colin and Katherine Chancellor's billions and no one has received an update from Cane in a while.
A petition is being passed around social media that is demanding Daniel Goddard be rehired on The Young and the Restless. His fans are obviously hoping the actor will be re-hired as Doug Davidson was. Even if Goddard does not come back to Genoa City, there will need to be some closure for his character, even if it takes place off screen. At some point Cane must give an update on his progress or lack thereof in finding his dad. Both Jill and Devon will want to know what is going on and viewers are demanding this storyline come to a close. Fans are expressing anger on social media that this situation carried over into the New Year. Devotees of the CBS daytime drama are distraught that Colin was allowed to get away with Katherine's fortune.
The Young and the Restless never cast a child to portray Juliet's baby Sam and sent the twins away to college. Cane sold his home and Lily is moving on. It's as if the writers wanted to dismantle every aspect of Mr. Ashby's life in Genoa City. Daniel Goddard has not mentioned anything about a new job and the rumors he was joining The Bold and the Beautiful turned out to be false. It was said that he might be a possible love interest for Steffy Forrester, but she just reunited with Liam. Victor Newman has been involved in every possible scenario during the past 40 years so the writers will have to be creative when charting the next chapter of his life.
Daniel Goddard wondering where life is going to take him while Eric Braeden seems poised to remain on Y&R indefinitely brings to mind the phrase, "That's show biz." One actor who has reached retirement age after four decades on one show and another was released from his contract on the same daytime drama. Goddard congratulating Braeden on his success when his own future is uncertain shows that he is an upstanding guy. He is being optimistic and supportive in spite of how he was treated. For whatever reason, his former cast mate, Gina Tognoni seems to have disappeared. She has not commented on her situation since being replaced as Phyllis by Michelle Stafford.
Congratulations to Eric Braeden on 40 years as Victor Newman, on The Young and the Restless. Best of luck to Daniel Goddard in his future endeavors. May both men's future be everything they are hoping for. Be on the lookout for spoiler alerts to give updates on these talented actors and what they will be doing next. Continue watching The Young and the Restless weekday afternoons on CBS at 12:30 PM EST. Make sure you sign the petition to bring Daniel Goddard and Cane back to Genoa City.