Warrior Mine - Book Review
Recently I had the pleasure of reading "Warrior Mine," by Michele James, in return for my honest review.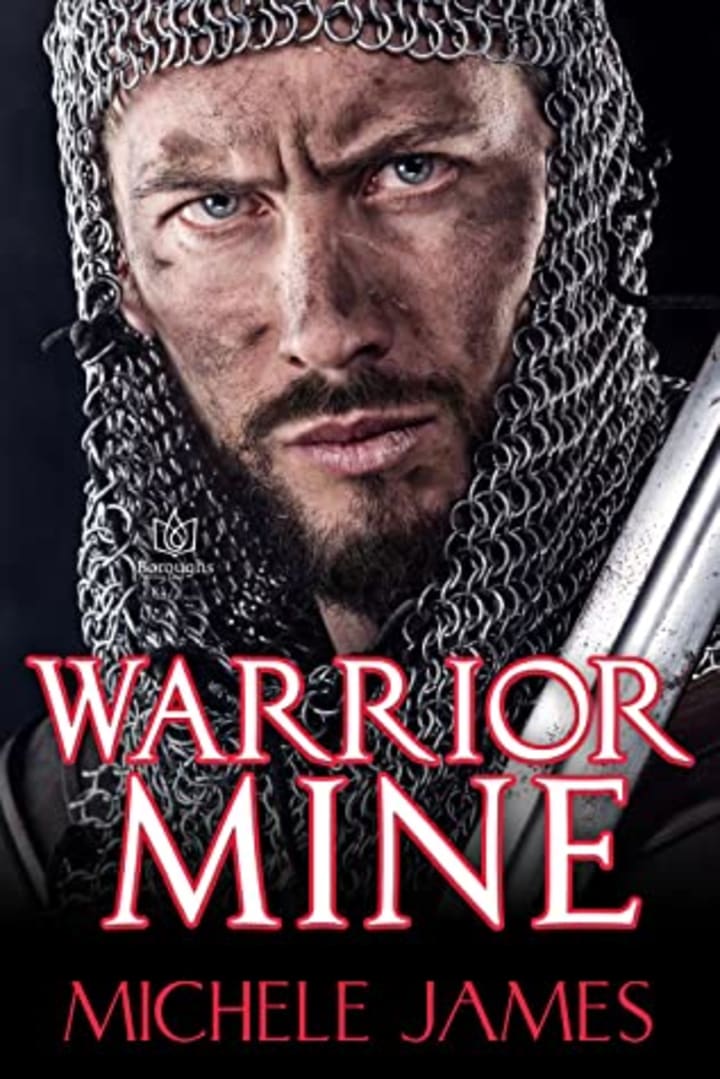 The Synopsis: With a temper fiery enough to warn off any soldier not to take what isn't offered, Lara's reputation as a wildcat is deadly. To add to her troubled life, which keeps most villagers at bay, she was born with the ability to foretell the death of her friends, enemies, and lovers.
When Lara's arrested for assaulting a guard, she's cast into servitude under Talon, the king's captain. She's foreseen meeting Talon for most of her life, and is now living her own private hell. Yet, as she gets to know him, she learns he's a man of honor who fights for her. And the dreams in which he dies become a recurring nightmare.
Worse, she can't imagine loving him for only a few weeks knowing she faces a lifetime of grief without him.
The Genre: Historical Romance
The Tropes: Enemies to lovers (very slightly), Forced proximity, Emotional scars, Everyone can see it, Destiny, Rough exterior teddy bear center.
The Spice Level: I give it a good 3/3.5 out of 5 peppers. 🌶️🌶️🌶️. The 4's and the 5's I usually leave for when you feel like you're sweating, so this is a pretty good rating.
The Characters 
Lara - Let me first say, as a curly/auburn-haired, hazel-eyed witch with an affinity for roses…I fully support Lara's characterization, although I'm not nearly as tanned or tall as she is. Lara is a "wildcat" whose sidekick is her wolf-dog named Wolf. Wolf is known to stay by his owner's side and protect her from any and all dangers, should Wolf take a liking to you, you can be sure Lara will too. Lara is the perfect ball of fire, many times when characters use their past as a reason for being on edge and ready to fight, their personality is just too much. I can think of many characters whom we were supposed to feel bad for because of their past, but their constant need to fight someone is just way too off-putting. You don't see that with Lara, her character is loveable and understandable, multiple times I found myself thinking she should have struck him harder when she found herself in battle. Never did I think she's being dramatic…a little over the top. As much as I loved the other characters, if everyone else died and Lara lived I would have been okay as she was my favorite…Lara would have suffered though so I am glad this does not end with her being forever alone.
Talon - Talon did not come off as the perfect gentleman in the beginning, I was a little cautious as I dislike when authors create a horrible person and just expect us to love him. Mini spoiler alert, Talon is not awful, the author does not force us to love an atrocious human being. Talon is a man who does things by the book, and while that can be agitating to some, it is a part of his charm and what allows him to be a nice guy. He does not abuse any power and hates those who do, and he always keeps his promises. He's patient and willing to wait for Lara to come around to him.
The side characters: Sometimes side characters are just there to exist and nothing more. James does an amazing job of rounding out her characters and has you rooting for Lara and Talon's friends, and wishing mass annihilation on their enemies. You know an antagonist is good when you are constantly thinking sometimes…sometimes violence is the answer…murder too. I mean man, did I hate the antagonists, which is good, that means James did her job by pulling such emotion from the reader, but I could feel my blood boiling every time their names appeared.
The Book: ⭐ ⭐ ⭐ ⭐  I give it a good 4.5/5 stars only because I do not give out 5 stars unless my world has been changed, which has happened before. The book itself was good, a lot of times with romance books there is so much focus on romance and nothing else. Sometimes I like that, sometimes you need a break and to just enjoy a good book that has romance without it taking over. "Warrior Mine" had good romance, but it also had a genuinely good plot outside of the romance. If you took away the romance and reworked it so it made sense without romance, it would still be a good book. I would say about 50% of the book has just an inkling of romance, and then once you got to the center it started to ramp up, but not in an in-your-face kind of way. The smut aspect of it was good, I feel like 3.5/5 peppers sounds low but it was genuinely written very well with minimal cringe. The scenes you got were short but sufficient, they weren't a slow burn but they weren't drawn out. I don't think this book needed more R-rated scenes, and I don't think they needed to be any longer, they were perfect just as they were. "Warrior Mine" doesn't have any of the cliches you see in general romance novels, most of the time you can see things coming from a mile away. While there were some points of foreshadowing in this novel, that's all that it was, small bits of "hey maybe this means something" and not "okay so this conflict is happening on page 10…so that means the book will end exactly like this." You can make guesses at what might happen, but there isn't anything obvious like you would get with a cookie-cutter romance novel. Again, mini spoiler alert, the one thing I was not expecting was the end. I kept looking down at the percent bar on the kindle and thinking I've read 95%?! This is happening with 5% left?! Nothing is rushed and nothing is left on a cliffhanger, everything wraps up before the end, it's just not the sort of thing you expect with 5% left in the book - I mean this is the best way.
The Author: "Michele James lives in a southern California beach town with one very understanding husband, two lazy house cats, and two crazy cattle dogs. She is the proud mother of an adult son and daughter and is the doting Oma to the most adorable grandson in the world. A mostly retired veterinary technician, she enjoys reading everything from cereal boxes to serious tomes, but fell in love with romance after discovering Jane Austen's Pride and Prejudice in junior high. She also enjoys gardening, cooking, watching movies without commercials, walking on the beach, especially in winter, rooting for LA Galaxy and Chelsea, and practicing yoga to work out all the kinks she spent her youth putting in."
You can learn more about Michele and her other books here: http://michelejamesauthor.com/
To buy Warrior Mine you can look for it on your favorite platform: 
About the Creator
Writing articles about mental health, education, astrology, and overall life. Writing fiction stories about whatever comes to mind! When I'm not writing you can find me crying about all the animals I can't adopt.
Reader insights
Be the first to share your insights about this piece.
Add your insights