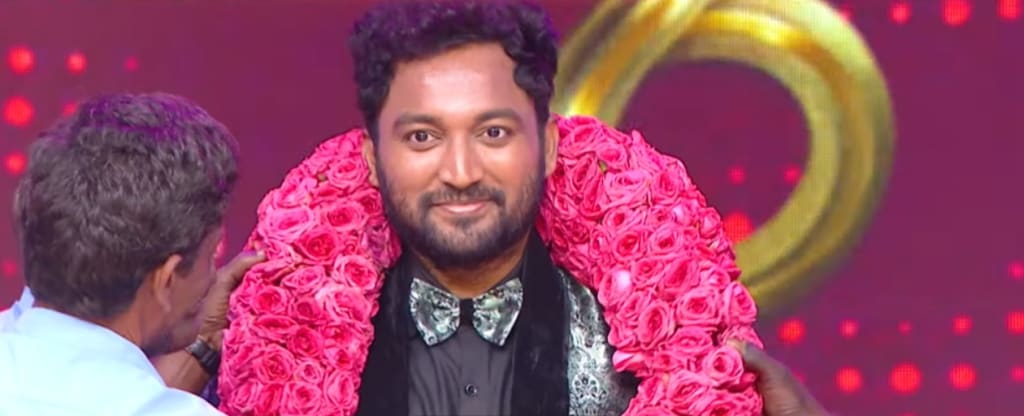 After the Bigg Boss program aired on Vijay TV, the Bigg Boss celebration is now on air. A video celebrating Vikraman, the runner-up leaving the winner Aseem behind, is currently going viral on the internet. The much awaited Bigg Boss season six had recently concluded after 105 days. Actor Aseem was announced as the winner of this season. This surprised many. Aseem was unexpectedly declared the winner when many expected either Shivin or Vikraman to win. This shocked many Bigg Boss fans. Aseem used to speak monotonously without knowing how to respect his fellow man as a human being, talking down to them and then going and asking for forgiveness. Due to this, he was nominated many times.
The video is given below
Azeem, who came in the nomination for 14 consecutive weeks, was hated by the people in the house. Kamal's fellow contestants had already started saying that Aseem is not fit to be in this house. He and Vikraman had the biggest rivalry. Many expected Vikraman to win the title. Vikraman's continued interviews after coming out set this a false precedent. What we thought should not happen in this society has now happened. He said that this is how he gets angry and that we have to bear it and it has become normal now. At this stage, the Bigg Boss celebration has started.
Many cleaners also come and pay respects to Vikraman by garlanding him. The promo is out now. Aseem fans are furious as to how it is fair to honor Vikraman after leaving Aseem who won the title. Watch the video below to see that promo too..!
Watch the video of Bigg Boss Kondattam below..!
Vikraman Career:
In 2020, Vikraman joined Viduthalai Chiruthaigal Katchi political party as the main spokesman from 2020 till 2022. During his term as spokesman, Vikraman "issued threats to Tamil daily Dinamalar and made secessionist remarks in an interview". He was also accused of insulting Shri Krushna "in a debate on the English news channel 'Times Now', by accusing Shri Krushna of illicit relationships in his youth with the Gopis."
Vikraman began his television career in 2016, he debuted in the talk show Nadanthathu Enna? Kutramum Pinnaniyum in 2016. Later that same year he made his first acting debut in the television drama EMI-Thavanai Murai Vazhkai playing the lead role as Santhosh alongside actors Pavani Reddy, Shyam Sunder and Haripriya. He later went on to act in another drama serial called Vinnaithaandi Varuvaayaa which aired on Star Vijay starring alongside actress Madhumila.
Becoming the first digital media political anchor to appear as a contestant in the reality television show Bigg Boss Tamil season 6 on Star Vijay (October 2022). In November 2022, Vikraman accused Sumanth C. Raman, a Tamil television anchor and sports commentator, of biased behaviour and unfair treatment towards people based on their caste.
Kamal Haasan praised the finalists and said that they all were the winners. Out of the three finalists, Azeem and Vikraman received the most nominations for eviction. Mid-season there were rumours that Kamal Haasan will quit the show after season six but the actor after announcing the winner in the grand finale, the actor bid goodye at the end saying, 'Until we meet again, Ungal Naan (I'm yours).' This has raised hopes among the actor's fans that he will return for the next season. Kamal Haasan has successfully hosted Bigg Boss Tamil for the sixth time, and he is one of the main reasons for it being the most-watched Tamil reality show.
The seventh season of the show will take place later this year.
Reader insights
Be the first to share your insights about this piece.
Add your insights