Victoria's and Sally's fangs are showing on 'The Young and the Restless'
Vicki can no longer hide her jealousy and is beginning to act out. Ms. Spectra is making a spectacle of herself all over Genoa City.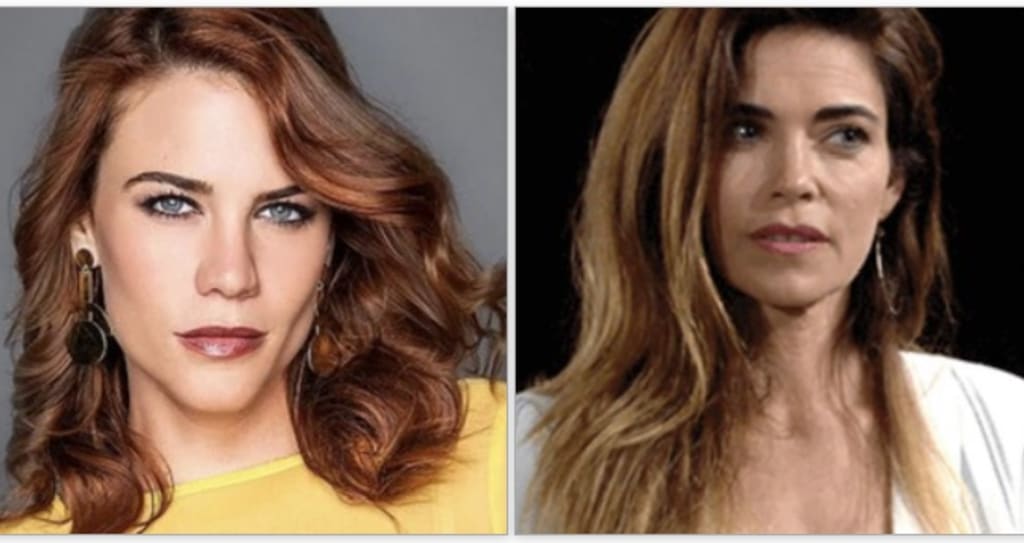 On The Young and the Restless, Victoria has not been very subtle regarding her feelings about her ex husband and the former wife of Cain Ashby. She has made snide comments to Lily who did not back down and is holding her on. On Monday, Viki grilled Billy about his holiday schedule and was clearly disturbed when he said he was going out of town for one night. She asked if Lily were joining him and insinuated that her children's father was grateful that his coworker stuck by him. Victoria was tying to downplay the connection as somehow superficial and Billy came right out and asked her if she had a problem with him seeing Lily.
Vicki responded that she was not jealous of the "whatever it is" between her former spouse and the new woman in his life. She went on to warn Billy that Lily might not be able to handle all that comes with dating him. Billy assured her that Lily could handle him and later made dinner plans in New Orleans, for himself and his new lady love, compliments of the Abbott jet. Before they could leave town, however, Vicki called saying that Johnny had overheard his dad saying he was going out of town and was worried he would not see him for Christmas.
It's possible that Victoria influenced her son to interfere with her ex husband's new relationship even though she assured him she liked Lily. The CEO of Newman Enterprises had never used her children when Billy was with Phyllis but something about Lily disturbs her. Perhaps Vicki can see that this relationship is more serious and genuine. Her attitude seems to be that she no longer wants Billy but does not desire him to be happy with anyone else. She is beginning to prove that she is indeed her father's daughter.
When Theo left Genoa City he warned Summer that Sally wanted her job and her man. Initially Sally was to spy on A Sbbott's for Theo to help him win his lawsuit. The two knew each other in New York and it looked as though they were going to become a dastardly duo. Theo ended up dropping the lawsuit and taking Jack's offer to work for the family business in Paris. he is gone but Sally is still plotting. Summer told Kyle what cousin said be he seemed unfased. Kyle said he could handle Ms. Spectra and obviously does not realize how determined she is.
On Monday Sally went to the coffee house and gave Sharon an over the top review of her coffee, adding that Jack Abbott had been the one to her to the establishment, Sally is showing herself more devious than when she was in LA and on The Bold and the Beautiful. At that time she was a victim of circumstance and people trying to destroy her. Prior to leaving LA she faked a terminal illness but that was in desperation. Sally called her sister on the phone and laid out her plans. She said that Summer was marking her territory but she could handle women like her and added that Kyle was a hottie.
She admitted that Lauren was very supportive but Jack Abbott was not someone she wanted to cross. Ms. Spectra is obviously rewriting recent history because while in LA, she was not able to keep a man. Thomas Forrester broke her heart twice and Wyatt Spencer dumped her for his high school sweetheart Flo. Dollar Bill Spencer ruined her business and the Forresters want nothing more to do with her. Viewers who know her history realize she is still trying to scam her way through life. it's obvious that The Young and the Restless is changing things because Sally's little sister Coco, as she was on The Bold and the Beautiful, would not be on board with such scheming.
Some fans of The Bold and the Beautiful who also watch The Young and the Restless believe that somehow Sally's past will come back to haunt her. It's possible that Summer or Jack might investigate her previous activities and share them with Lauren. In addition to having her heart broken 3 times while in LA, Sally lost her family business and ended up sleeping on the beach. It's not clear why she told her sister that she always makes thing happen because her past indicates failure. Stay tuned to find out what type of damage Sally and Victoria will cause as a result of their insecurities. It looks like there might be war with Lily and Summer but they are more than able to handle these two sharks.
tv
About the author
Cheryl is a poet, freelance writer, published author and former Newspaper columnist. She has degrees in Psycology and Biblical studies. She enjoys sharing natural cures, and Nostalgia related info. Tips are greatly appreciated.
Reader insights
Be the first to share your insights about this piece.
Add your insights