Unique Handmade Gifts for Miyazaki Fans
You'll be spirited away by these magical handcrafted gifts for all the Miyazaki fans in your life (that means you, too).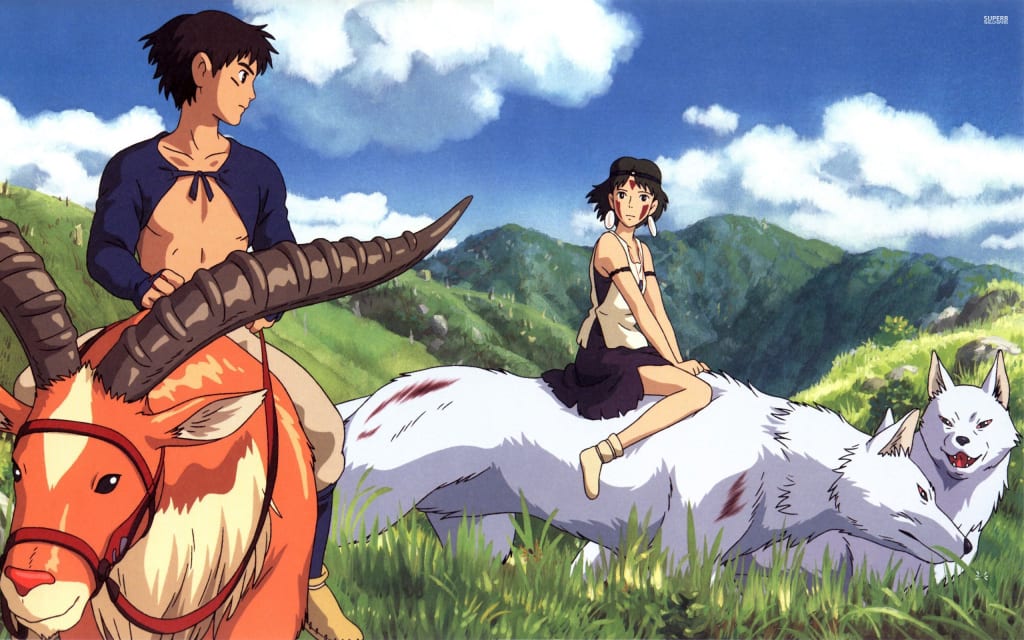 If you or someone you love is obsessed with Miyazaki and the amazing films of Studio Ghibli, you don't need a support group. You need handmade brooches, spoons, earrings, and art prints from Etsy! Ok, so maybe some of you DO need a support group, but that's ok. You can attend with your amazing gear and remind yourself that anything's ok, at least in moderation. From getting someone a big gift to stuffing a stocking, you can enjoy shopping for special gifts from the most inspiring animated films of all time.
Go stir up some delicious traditional Japanese food to eat while you watch My Neighbor Totoro. They feature Totoro, Catbus, and No Face and are made of sustainable, eco-friendly beech wood. Each one is uniquely wood burned by Etsy seller Zenibas Attic and if you love these there are many other options to choose from. They're a perfect housewarming gift and will be sure to be used for many years to come.
There is nothing that I love so much in art as a perfectly constructed woodblock print. This one is no exception. Printed on 15x20 rice paper with a deckle edge, this gorgeous art print from Woodcut Emporium is the best way to show your love for Miyazaki in a subtle, classy way that's at home in your office just as much as it is in your bedroom. The artist also offers a stunning Totoro print you'll want to look at all the time.
If you're as much of a pin freak as I am, you'll go crazy for this clever design of the master's face. Designed by Blake Jones and sold by Super Yaki, it's the perfect nod to Hayao Miyazaki's genius in one inch enamel form. This is a perfect stocking stuffer or a great little gift for yourself.
Etsy seller Obake Style has truly made a gorgeous piece of baltic birch wood, steel gold plated chain, and acrylic paints. It hangs on a 20 inch long gold chain and perfectly captures our favorite Miyazaki theme, modern industrialization bumping up against the Japanese Shinto reverence for nature. It comes in a beautiful matching box, perfect for gifting. I think this would be the perfect go-to piece for semi-formal events with just a simple solid color dress as its background, because it's definitely going to be the star of the show.
I love these little guys. I think Etsy seller Amiamour says it best: "These amigurumi soot sprites were dispelled out from their previous home by laughter and now need a new home! They like to dwell in dark places and neglected corners. The only food that they require is star candy." They're lovingly handmade from acrylic yarn, fun fur, polyfill, felt, and rhinestones, and they'd be a welcome addition to any desk or nightstand.
As Mesiree Ceramics says, "Everything you see here started out as a simple lump of mud." It's hard to imagine that someone could create such an adorable mug from a little dirt, but I believe it! They're lead free and food safe, and they can be washed in the dishwasher and used in the microwave. It's bright blue, holds sixteen ounces, and is rendered from the designers' own minds, not from a movie still. This Rainy Totoro Mug is also hand thrown on a wheel and the handles are handmade too. If you prefer Calcifer or Princess Mononoke, the shop has many different designs, so check them all out.
This one-of-a-kind needlefelted mobile from La Laine Creations is based on a twig wreath and features Oh-Totoro, Chuu-Totoro, Chibi-Totoro and six little soot sprites. It's a truly original item that adds a touch of whimsy to any room it's a part of. It would be especially sweet in a children's room or baby's nursery.
These adorable earrings feature Jiji wearing his trademark red gift bow around his neck, and they create the illusion that he's clinging to your ear! You can even get a magnetic version if your ears aren't pierced or a custom order with titanium backs in case you have sensitive ears. They began with a hand drawn illustration from Alex's Misfit Toys and were then printed on lightweight plastic - and lightweight is always a great thing for me when it comes to something dangling from my ears.
Want to make some cute Miyazaki style cookies, but don't have the time or inclination to spend hours cutting out and icing them? Try this simple Totoro Theme Engraved Rolling Pin from Rainbow Rolling Pins and you can be crunching up delicious Miyazaki cookies in an amazingly short time. Each pin is laser cut, hand oiled, and perfectly precise use after use.
What time is it? Miyazaki time! This black and white clock references 12 different Studio Ghibli films and is even customizable if you'd like to change up some of the hours - Etsy seller Letter Things suggests Burn Howl's Bacon, Clean up the Soot Sprites and See the Boiler Man, but requests that you send a message to discuss whatever options you'd like to see here. You can also choose from black, white, silver, or red for the outer rim of the clock itself. A reference sheet will also be included just in case you're not yet familiar with every Miyazaki film ever made.
There WAS a time when if you thought to yourself, "Man! How can I combine my love of Studio Ghibli's Ponyo and holographic glitter brooches?" you would have either had to make it yourself or spend your life wishing that such a thing existed. But then the internet came to be and now, thank goodness, you don't have to die with regrets. This heart-shaped pin-on brooch is sealed with resin for a durable finish by Etsy seller Fantastical Fun Shop, and fantastic fun it most certainly is. Stuff a stocking with this one and win.
About the Creator
I'm a writer in love with India, Stars Wars, fantasy, travel, and Thai curries. My childhood heroes were Luke Skywalker and Joan of Arc. I muse on superheroes, sci-fi, feminism, and more.
Reader insights
Be the first to share your insights about this piece.
Add your insights