Top Five Kids' Movies That Are Nostalgic and Totally Rewatchable
Adult or not, you'll definitely enjoy rewatching these movies over and over again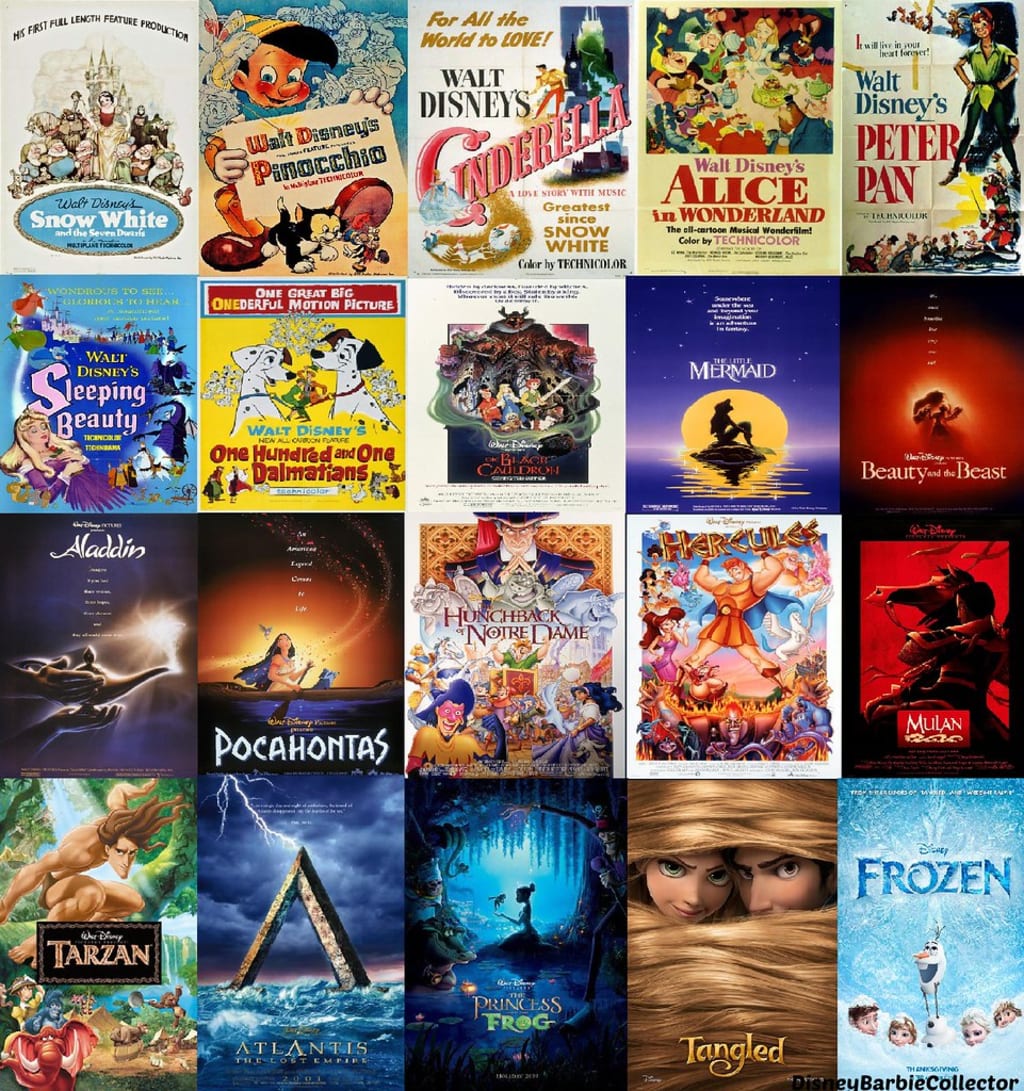 Some of the best Disney movies (I've only watched a few of them)
What kids' movies did you grow up with? Maybe like a lot of American households, you grew up with Disney. Or maybe in other households, you grew up with Dreamworks movies. Or perhaps a combination of both! Either way, theres still some great kids' movies that are totally rewatchable today. Some of those thinly-veiled adult jokes can hit you square in the face, though - and probably leave you turning red or chuckling under your breath.
Without further ado, these are the top five kids' movies that are, as my title says, nostalgic and totally rewatchable (in my opinion).
No. 5: How To Train Your Dragon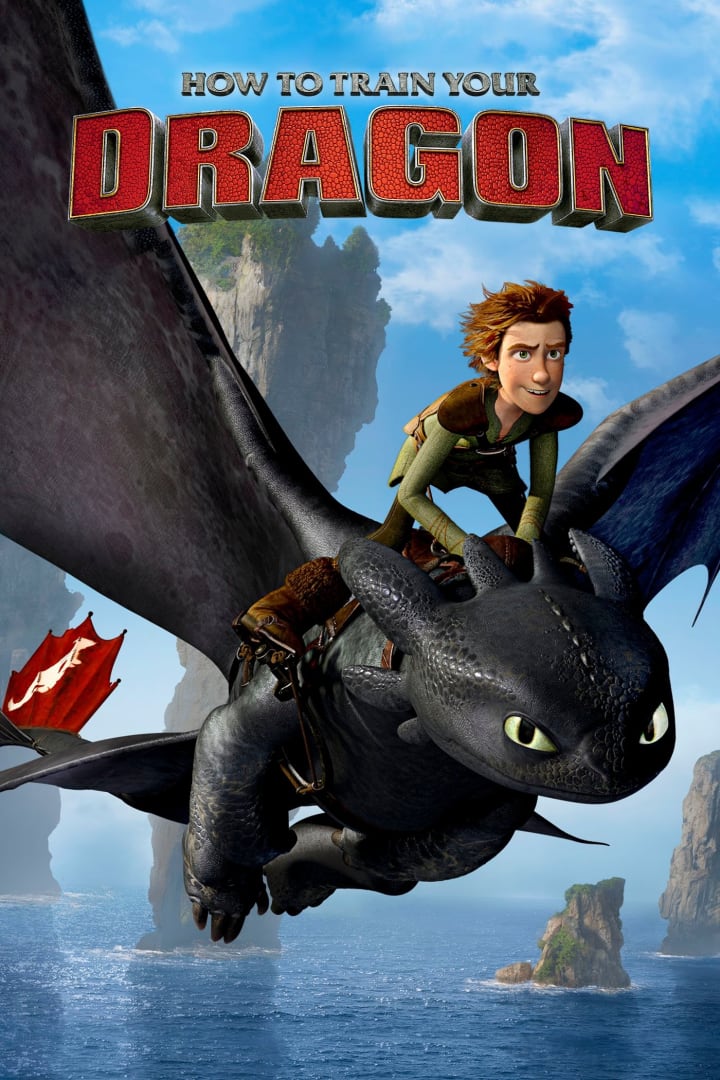 Starring: Jay Baruchel, America Ferrera, Gerard Butler, Craig Ferguson, Jonah Hill and Kristen Wiig
Release date: March 26, 2010 (USA)
Directed by: Dean DeBlois and Chris Sanders
Produced by: Dreamworks Animation
Rating: PG (for mild violence)
Runtime: 98 minutes
Adapted from: How to Train Your Dragon by Cressida Cowell (2003)
Sequels: How to Train Your Dragon 2 (2014), How to Train Your Dragon: The Hidden World (2019), as well as five short films and three television series
I was absolutely in love with this movie when I first watched it, so much so, I saw the third and final film, The Hidden World, in cinemas when it first released. It holds a special place in my heart as one of the best kids' movies I've ever watched. It's a wonderful adventure and is a lot like the animal adventure films of the 2000s/2010s, such as Marley and Me and the A Dog's Purpose film series, or even more lighthearted features like Air Bud and Free Willy. At its core is a story about friendship: between a dragon and a boy who isn't like the other kids - or like other Vikings. He's not particularly tough or strong or open to killing dragons, but when he stumbles upon Toothless, what ensues is a hilarious and heartwarming adventure between boy and dragon as they work to get the people of Berk to accept dragons as a special kind that needs to be protected, rather than hunted.
No. 4: Despicable Me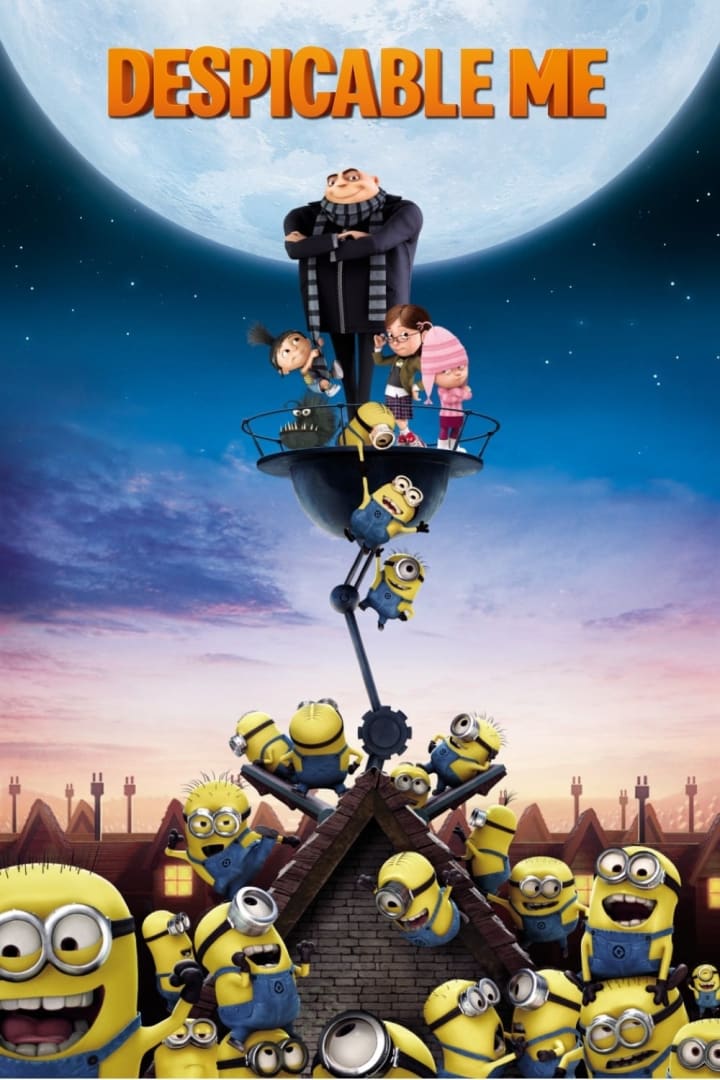 Starring: Steve Carell, Jason Segel, Russell Brand, Miranda Cosgrove, Kristen Wiig, Will Arnett and Julie Andrews
Release date: July 9, 2010 (USA)
Directed by: Chris Renaud and Pierre Coffin
Produced by: Illumination Entertainment
Rating: PG (for mild violence and crude humour)
Runtime: 95 minutes
Sequels: Despicable Me 2 (2013), Despicable Me 3 (2017), and two prequel films, Minions (2015) and Minions: The Rise of Gru (2022), with a fourth Despicable Me film to come in 2024
I love this film. And while I haven't seen it in a fair bit, I still think it's nostalgic because the Minions are so loved world-wide, as well as the film franchise. It's so loved that it can be a bit overdone at times, but I think with the new 'Rise of Gru' film that it'll be a fresh take on the central human character of the film and hopefully breathe new life into the franchise. This movie is off-the-charts hilarious and even a little cheeky with its mild sense of crude humour (blame the Minions for that one!) that'll fly over the kids' heads, but it's got a great message of family that will warm your heart and have you laughing your head off at the same time.
No. 3: Over the Hedge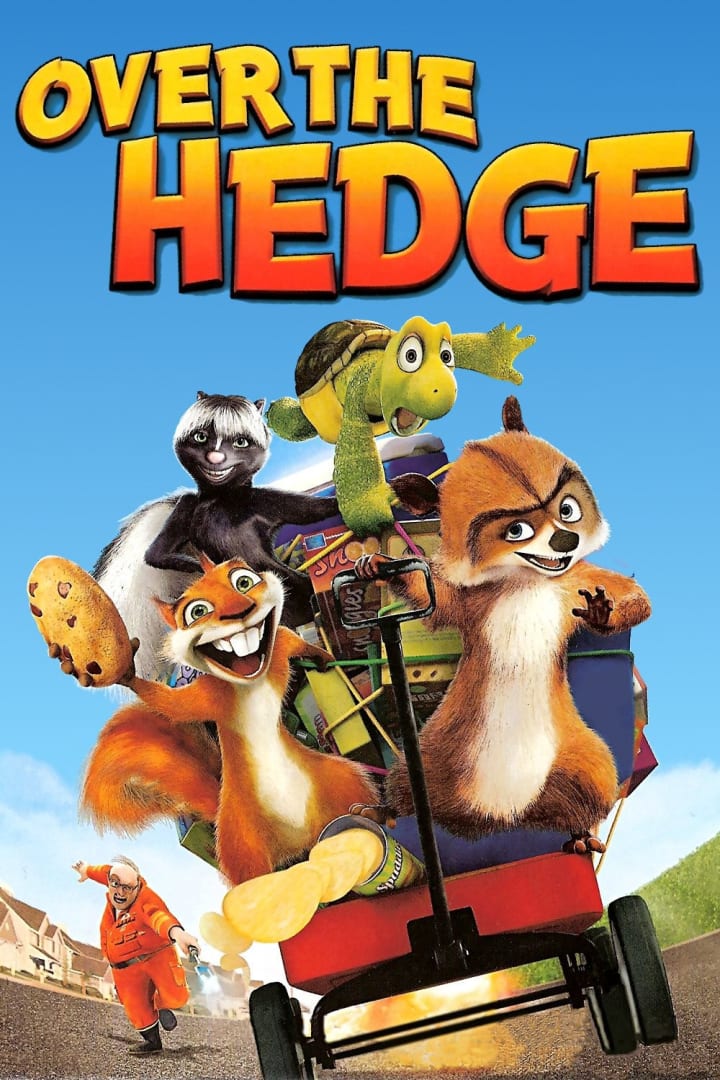 Starring: Bruce Willis, Garry Shandling, Steve Carell, Wanda Sykes, Avril Lavigne, Nick Nolte, William Shatner and Thomas Haden Church
Release date: May 16, 2006
Directed by: Tim Johnson and Karey Kirkpatrick
Produced by: Dreamworks Animation
Rating: PG (for mild cartoonish violence)
Runtime: 83 minutes
Adapted from: the comic strip Over the Hedge by Michael Fry and T. Lewis
I've always loved this film. It's funny, lighthearted and delivers a timeless message of family. It's hilariously chaotic while still having a solid storyline. The film starts when the lead of the film, a raccoon named RJ, steals a wagon full of food from a black bear named Vincent. Vincent catches RJ in the act and demands that he return the food by the full moon, or he'll find him and *cue the cutting noise across throat* kill him. Frightened by this prospect, RJ uses the new land development and the group of woodland animals living on the other side of a tall hedge for his own purposes of getting the food he needs for Vincent. For a animated character, he's got great character development. He starts out as manipulative and cunning, but the extenuating cirumstances that surround the film mould his character into a kind, empathetic character who cares very deeply about the family he's found.
No. 2: Beauty and the Beast (1991)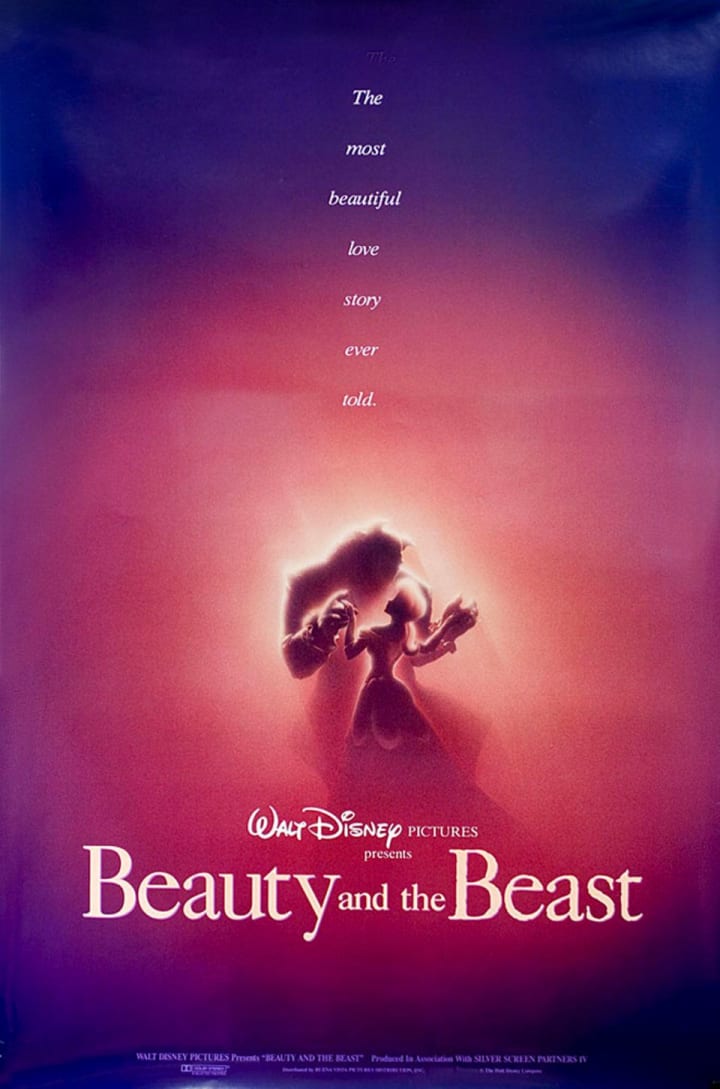 Starring: Robby Benson, Paige O'Hara, Jerry Orbach, David Ogden Stiers, Angela Lansbury, Richard White and Rex Everhart
Release date: November 13, 1991
Directed by: Gary Trousdale and Kirk Wise
Produced by: Walt Disney Animation
Rating: G (some scenes may scare young children)
Runtime: 84 minutes
Adapted from: Beauty and the Beast by Jeanne-Marie Leprince de Beaumont (fairy tale, 1756)
Sequels/reboots: Beauty and the Beast: The Enchanted Christmas (1997), Beauty and the Beast: Belle's Magical World (1998) and Belle's Tales of Friendship (1999), as well as a live-action reboot, Beauty and the Beast (2017) directed by Bill Condon and starring Emma Watson and Dan Stevens
This is a timeless film and I've enjoyed it ever since I first watched it. It's a great movie for a rainy day and the live action is just as wonderful. The original film, however, holds a massive level of nostalgia as a long time Disney fan and I enjoy watching it every now and again when I get a chance. Belle and the Beast has always been one of my favorite movies/TV love stories and while I absolutely love Dan Stevens and Emma Watson's acting in the live action, I much prefer the original for its great music, lovely sense of humour and gloriously colourful animation.
No. 1: The Lion King (1994)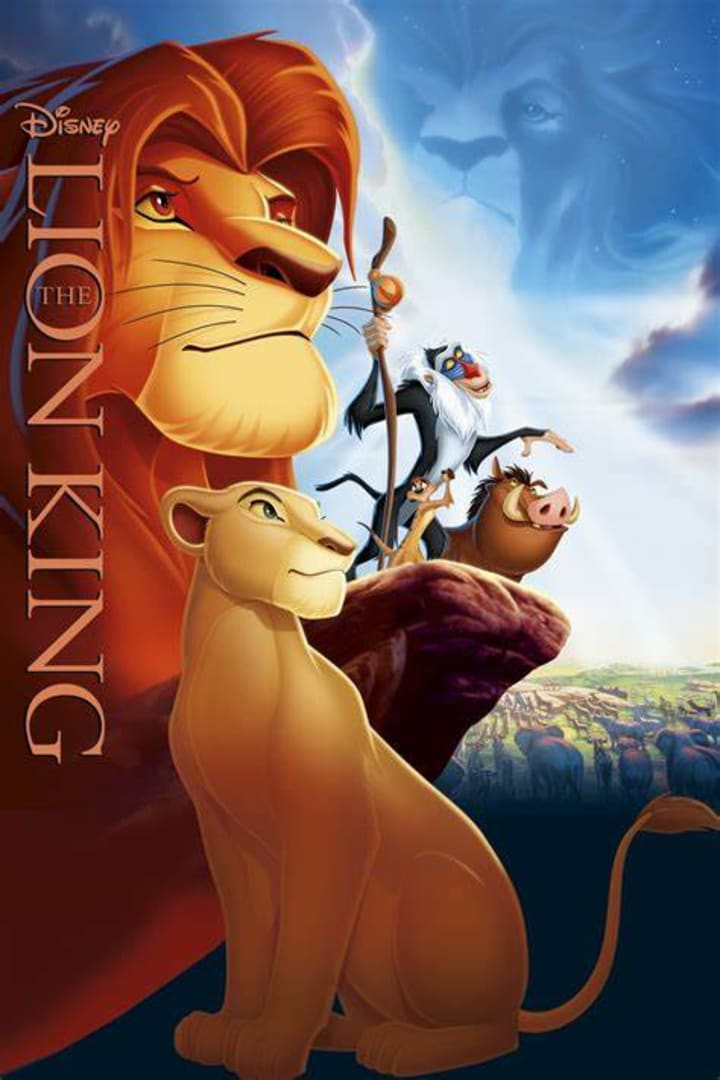 Starring: Matthew Broderick, James Earl Jones, Jeremy Irons, Ernie Sabella, Rowan Atkinson, Whoopi Goldberg, Cheech Marin and Jim Cummings
Release date: June 15, 1994 (USA)
Directed by: Roger Allers and Rob Minkoff
Produced by: Walt Disney Pictures
Rating: G (some scenes may scare young children)
Runtime: 88 minutes
Sequels/reboots: a Broadway adaptation in 1997, titled The Lion King, as well as a film sequel titled The Lion King: Simba's Pride (1998) and The Lion King 1 1/2 (2004), two television series, titled Timon and Pumbaa and The Lion Guard respectively, and a live action remake of The Lion King in 2019, directed by Jon Favreau and starring Donald Glover, Beyonce Knowles-Carter and Chiwetel Ejiofor
This is one of my favorite Disney films. I've always loved the songs and while the live-action is really not the greatest movie I've ever seen, the opening number of the film, 'Circle of Life', still managed to make my heart swell at the majesty of what the live action had done with the original. That being said, that was probably the only good part of the film. The original, however, has everything that makes it a great Disney film and the perfect one to rewatch over and over again. It's got the songs, the story and the amazing animation and characters. The film never gets old every time I watch it. Its sequel, Simba's Pride, is perhaps the best Disney sequel I've watched to date and it did not disappoint in terms of characters, animation or smashing hit songs that are impressive every time I listen to them.
And that closes out my list for the top five kids' movies that are totally nostalgic and that you should definintely rewatch!! As always, thanks for reading and make sure to head on over to my Patreon and Linktree to show me some more support so I can keep writing great movie and TV reviews - and fun articles too!!
movie
About the author
Hi!! My name is Taylor.
I'm big on writing about fanfiction, movies, TV and of course my own original stories (mostly fantasy stories, featuring bad-ass female characters)
My Wattpad profile:
https://www.wattpad.com/user/WinterPhoenix123
Reader insights
Nice work
Very well written. Keep up the good work!
Top insight
Heartfelt and relatable

The story invoked strong personal emotions
Add your insights