There is an underworld of men who don't wipe their asses. And it has become a work of art on eBay
New challenge for artists: It consists of smearing the body in paint and then printing your body on canvas.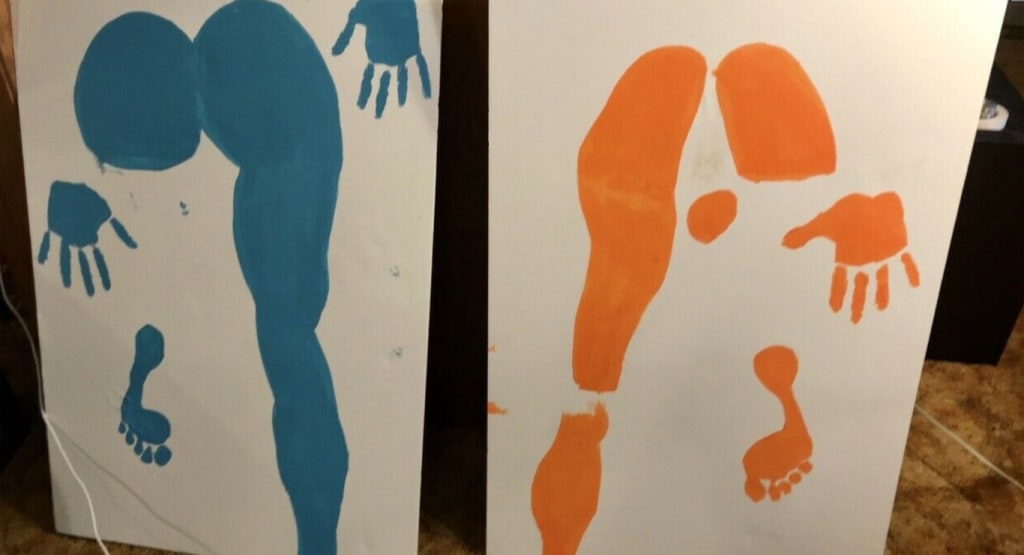 printing your body on canvas.
This is the story of the week on TikTok: apparently, in the social network of video pills, there is a new challenge for artists. It consists of smearing the body in paint and then printing your body on canvas. @ aleasha89 thought, it was a fun plan and offered his best friend to do the test at home.
The result left the artist stunned: a brownish imprint had been left in the place where her asshole should have been. Her colleague had not applied all the cleaning that she should to her private part. Cut to: the receiver of the painting has returned it disgusted. The girl is trying to place it on eBay under auction starting at $ 10. Although the post has gone viral, at the moment there is only one (and miraculous) bidder.
This anecdote from Aleasha is the last link in the chain of horror stories that have been circulating on the Internet for more than five years about men who do not clean their assholes. The frequency with which this problem appears within the forums on sentimental inquiries has made it become a cliché of the genre, a subtopic with its corpus, although it is also a question that continues to arouse the astonishment of those Internet users who are confronted with this stranger reality for the first time.
Real men don't part their cheeks
The most widely publicized story was the one Keith Calder posted on Twitter three years ago. Some of the comments from a Reddit comment read:
My husband is not liking me ... We have been married for two months, what should I do? One time we were doing it, I was on top of him, and when we finished there was a brown welt where his ass was on the sheets. […] In the end, I told him about the cleaning cloths, and his response was to get angry and yell at my face. He told me that real men don't part their cheeks or open them or whatever, nothing happens that way. Any suggestions or advice? Don't be hard on me!
The deeper you go, the deeper this nightmare goes. Here is the chronicle of one of its protagonists: "I didn't start cleaning my ass until I was 16 (and nobody was doing it for me, no)." In it, she tells how this boy plain and simple did not know to apply toilet paper until it came out clean, and deduced that the area would never be completely free of poop. This post, shared 46,000 times, says, "Today-I-screwed up because I just learned to clean up there." The aforementioned admits that he thought there was no problem with his method until his girlfriend gave him a link on how to do it (yes, apparently there are web pages that explain to people and taludita the mechanics of the act).
Another guy here asks, "Hey, do you have to remove all the excrement down there or just the fattest?" A girl here implores: "This boy spends his day with remains between his buttocks. Is it an insurmountable reason for rupture? " The network has shown us that it is a phenomenon that crosses national and language borders.
Curious viewers also wonder about the daily existence of these men. Many wonder if they are people who spend their lives smelling bad wherever they go, if for eons the people around them, say, gym buddies, decided to ignore the situation instead of having an awkward conversation with these guys.
Some blame high-fat diets, others being too hairy. The conclusion most shared by the community is that it is another of the symptoms of a culture of toxic masculinity.
Don't ask, don't tell
Are there women who do not clean the area? We have some isolated case that confirms this, but these are exceptions, the prevalence is overwhelmingly male. The idea is further reinforced by the answers given by many of the protagonists: here one hides that doing that is "gay" like many redditers say they have met colleagues who tell them that, to rub the area they seem like homosexuals. Here another makes a long diatribe by which he justifies that, since:
There is nothing more feminine than applying products on your body, by the same logic I do not clean my butt. I have not cleaned it in about 4 years and I have NEVER had any problems, my digestive system is in the top 1% and I have never felt the need to "clean". If you shit and need to clean up, you have a castrating GI tract and that's your problem.
In other recent paranormal occurrences in the world of male frailty, there is a stream of men who avoid calling themselves gay or bi and prefer the term "androphile", less "inverted" and less associated with having a pen. Gay men who define themselves as misogynists and who fear the prospect of anal sex is categorized in networks as "g0ys". In other pastures, men who define themselves as straight and who for whatever reason want to have sex with other men and who, instead of calling themselves gay or encore or curious, prefer the more robust term "sex between colleagues" or "buddy baiting".