'The Young and the Restless' spoilers: Victoria attempts sabotage on Valentine's Day
Vicki will ruin February 14 for Billy and Lily but her actions will come back to bite her.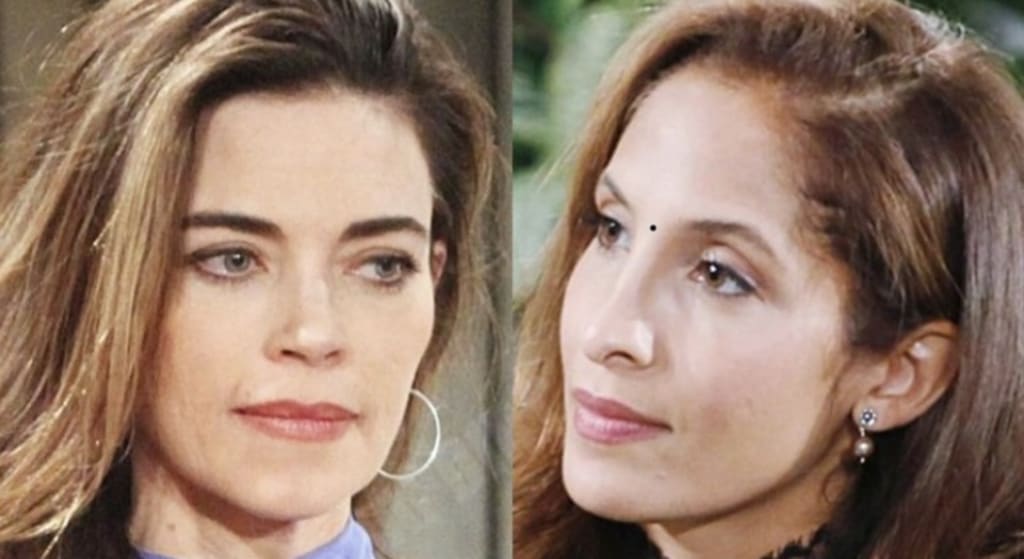 Fans of The Young and the Restless were hoping that Victoria Newman was about to settle down and leave the green eyed monster behind. She admitted to her ex that she was jealous that her children like his new love interest. She even confided in her mother that she is feeling some kind of way about Lily dating Billy. Instead of backing off, however, Victor Newman's daughter is going to show herself to be every bit as ruthless as her father. According to Soap Dirt the current Newman CEO is going to ruin Valentine's Day for the Bill and Lil.
The spoiler does not give details of what Vicki is planning but only that she will interfere with the plans her children's father has made for February 14.Many Y&R viewers were hoping Victoria would move on and find herself someone else to love. Fans say they are not enjoying this petty side to Victor's heir apparent. One would think that finally obtaining her dream job of running her father's company would keep her occupied but it has not. Instead of focusing on the boardroom Vicki has her mind on what Billy and Lily are doing in the bedroom. She even used the children several times to try to keep the duo apart.
It's really sad to watch Victor and Nikki's daughter being so obvious about wanting to break this couple up. Many of those who enjoy The Young and the Restless don't believe Vicki truly wants her former husband back. They think she can't stand that he is truly happy with Cain Ashby's ex wife. It's one thing to be vindictive but to sabotage Valentine's Day is pretty low and so beneath Victoria. She was not this bad when Billy was dating Phyllis. This turn of events is interesting as a little over a year ago it was Billy who was heading to the dark side.
His behavior was so boxy that rumors were flying that Jason Thompson might be fired from The Young and the Restless. The writers turned Billy Boy around and now it's his ex who is slipping into darkness. Billy is showing no signs of wanting his ex-wife back and seems totally in love with Lily. Most viewrs approve of this relationship and would like the couple to be free from Victoria's games. Being her father's daughter, Vicki is unable to accept Billy Abbott for who he really is. She kept trying to change him and prove to daddy dearest that Billy is someone whom he clearly is not.
Now in hindsight. Victoria can see in Lily's actions where she went wrong. The former Mrs. Ashby is accepting her new love with all of his flaws and not attempting to change him. She is treading with caution but willing to move forward. This is something Vicki was unable to do and now she must watch another woman succeed where she failed.Celeb Dirty Laundry suggests that Victoria might use the kids again to interrupt Billy's romantic evening with Lily but this is only a suggestion as nothing has been revealed. What is known is that due to the impeachment hearings upcoming episodes might be delayed.
Genoa City is supposed to celebrate the holiday on Monday the 15th but it may not air for a day or to afterward. Soap Dirt teases that this time Lilut is going to stand up for herself with Victoria. Viewers know that Lily has been trying to be understanding but enough is enough. At this point viewers should not be surprised if a cat fight occurs because of the way Victoria is behaving. Celeb Dorty Laundry days she is wondering what might have been and that her feelings for her ex husband are resurfacing again.
Billy does not feel the same about his ex and had not for more than a year. He dislikes Victor Newman and as long as he is with Vicki, her father will always be butting in. It's surprising that Victor has not yet warned Lily to run fast and far away from Billy Boy, but it won't faze her because she is sticking by her man. Once Lily and Billy both see throug Victoria and stand up to her she might lose some leverage. Soap Dirt say Lily is going to defend her relationship and this might be something that Victoria will not be expecting. Be sure to stay tuned to find out what Bictoria will be up to and how Lily and Billy respond.
tv
Cheryl is a poet, freelance writer, published author and former Newspaper columnist. She has degrees in Psycology and Biblical studies. She enjoys sharing natural cures, and Nostalgia related info. Tips are greatly appreciated.
Receive stories by Cheryl E Preston in

your feed