'The Young and the Restless' spoilers tease Chloe will flip on Chelsea and clear Adam
Victor's visit will put fear into Kevin's wife and she will consider if protecting her BFF is worth all that she may lose.
Celebrating the Soaps and Celeb Dirty Laundry are both suggesting that Chloe will be the one to take down Chelsea. The spoilers say that Adam will indeed be vindicated and that Kevin's wife might be the one who is responsible. On Tuesday Victor told Adam to hide in the Tac House while he spoke to Michael Baldwin. He then shared with the DA his belief that Chelsea faked her paralysis and framed his son. The Newman patriarch also threatened to vindicate Adam himself if Michael did not take Rey off of the case.
Viewers have already been complaining on social media that Detective Rosales should not be investigating his own poisoning. Some fans have said this is a good time to bring Paul in to solve the case. Michael warned Victor not to get involved and to allow law enforcement to do its job. Spoilers say that Victor is going to pay a visit to his former daughter in law this week and her BFF will be the one to let him in. He will ask for alone time with Ms. Lawson and Chloe will comply.
Victor is going tell Chelsea he knows that she has been faking her paralysis and that she set Adam up for poisoning Rey. He will threaten to expose her and Ms. Lawson will be frightened at the prospect. After Victor leaves, Chloe will panic and ask Chelsea to fill her in. She is already distressed with how far this scheme has gone and was hesitant from the beginning to get involved. During an interview with Soap Opera Digest, Melissa Claire Egan admitted that Chloe is not happy with her character, Chelsea. Egan was quoted in the magazine as saying, "Chloe is like, 'What did you get me into? I have children. I could be in so much trouble if we're caught.'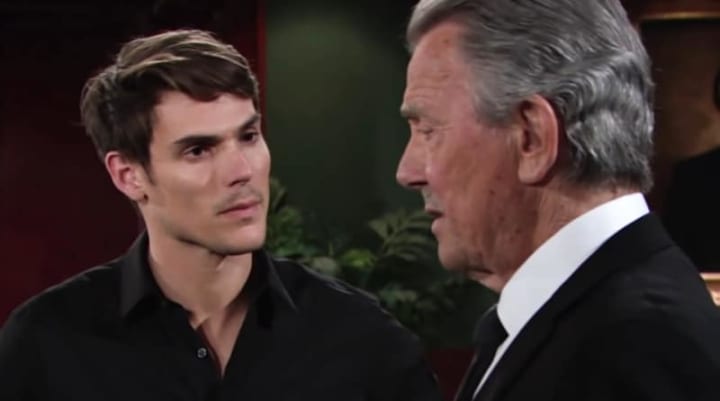 This is why spoilers are suggesting that Chloe will buckle under pressure. Once Chelsea fills her in on Victor's threats Chloe will consider what is best for her family. Chloe and Kevin have dealt with Victor in the past and were never able to outsmart him. Chloe knows that she practically got away with shooting Adam before and everyone knows how much she hates him. Perhaps she ponders the fact that she could be considered the mastermind behind Chelsea's deception or considers that her friend might blame her for it all.
When Victor was talking to Michael he told him that he believes Chloe helped Chelsea, Perhaps the DA might have a talk with his sister in law and tell her how much trouble she could be in and this will also give her a reason to reconsider her position. In addition to Chloe snitching, it's also possible that Rey could change his mind. Chelsea laid it on thick on Tuesday when she tried to convince Rey that Sharon and Adam still cares for each other. This could cause the detective to think twice about Sharon saying that Chelsea is faking her paralysis.
Viewers who were once against Adam are now on his side and do not like this version of Chelsea that is playing out on screen. She should have known better than to get herself in Victor's crosshairs because no one ever wins against the Newman patriarch. Viewers cannot understand why Genoa City residents never learn and continue trying to fight against the most powerful man in town. Even Victoria had to be reminded by her father on Tuesday not to cross him. Whether it's Chloe. Rey, or Victor who takes down Chelsea, one thing is sure. Sometime in the near future, Adam Newman will be vindicated.

Cheryl E Preston
Cheryl is a poet, freelance writer, published author and former Newspaper columnist. She has degrees in Psycology and Biblical studies. She enjoys sharing natural cures, and Nostalgia related info. Tips are greatly appreciated.
See all posts by Cheryl E Preston →