The Young and the Restless fans furious that Kyle broke Lola's heart
The good entensions of Jack's son backfired and now there is collateral damage. Those who were team Kola are not happy at all.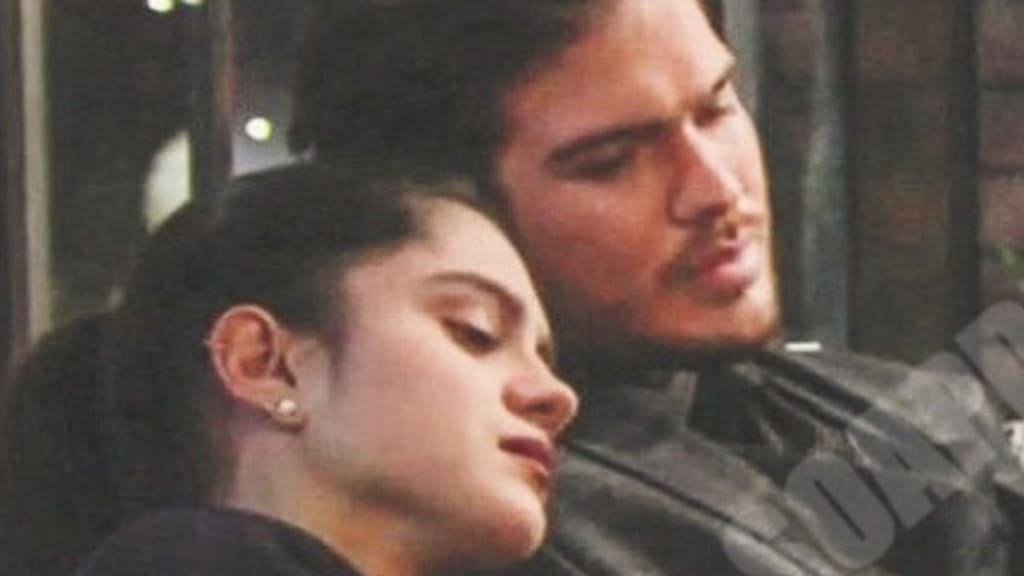 Lola and Theo are getting closer
The Young and the Restless has moved quickly in the past few days to destroy the life of Lola Rosales Abbott. Many viewers are angry about the way things went down, while others believed it to have been inevitable. On Thursday Kyle moved out of his home and got a room at the Grand Phoenix. He and Summer wasted no time in hooking up. On Mondays episode, Theo observed Skyle's walk of shame into the Jabot office and immediately ran to tell Lola her husband had cheated. She was so upset that she threw herself at Theo but he had the good manners to tell her no. Rewind to about 18 months prior and everything was different.
Lola was new in town, a virgin and working from her food truck. Kyle was disgusted by Summer playing games and having recently slept with his uncle Billy. He practically forced Lola to give him a chance and date him. Once they married Kola fans wanted the to stay together, but Summer seemed destined to get her man. For Lola to go from trusting Kyle with her virginity and now she's throwing herself at Theo is troubling to some viewers but others see this as par for the course.
Kyle tried to explain to his dad what happened but viewer responses on social media indicate that not everyone cares. Kyle told Jack that when Lola woke up from her coma the way she looked at him made him feel he should be with her. A lot of viewers said that Kyle slumming it to please Lola would never wor and now it has not. In recent weeks, Theo has pointed out that he and his cousins wife were not born with silver spoons on their mouths and don't fit into Jyle and Summer's world. Now it's all in the open and Kyle and Summer have crossed the line by committing adultery so what's next?Theo admitted he wanted a Lola but put the breaks on things for now. Jack told his son not to rush into anything but it's too late for that.
Kola fans can thank The Young and the Restless writers and a CBS executive who were team Kola for their misery. These individuals flipped the script after Kyle was already married to Summer. Now those who are in charge have decided to reverse that decision. Having Kyle explain himself to his dad, and Lola admit to Mariah that she likes Theo were probably meant to soften the blow. Now everything is in chaos and Kola fans are up in arms with good reason. Lola tried to stay away from Kyle and keep her virginity intact. He chased her mercilessly in an attempt to get Summrr out of his blood. Lola broke up with him over an expensive handbag he gave her torn Christmas and again after seeing zSummet kiss him at the cabin.i Kyle practically did back flips to be the man he thought she deserved but he nrver was.
Now Kyle is finally growing up and admitted to Jack that Theo was nevervreslly the problem, but look at what happened along the way. First Summer was deviststed and Jack even pointed out that she may have donated a kidney to Lola without marrying Kyle. Now Lola's heart is broken and Theo has been misjudged as well. When the dust settles there is no telling where all of this is headed. It's not likely that Skyle and Thola will go off to their separate corners and live happily ever after. Mariah will do her best to make sure of that but she should be focusing on her own life. Tessa is away on tour and Ms. Copeland has been hanging out with the pretty blonde bartender. Tessa is Kyle's best buddy but it's really not her call to tell everyone who they can and cannot fall in love with.
Kyle seemed sincere as he told his father he was torn between the two women and loved them both. As I mentioned in another article this situation reminded name of the NBC sitcom A Different World. Summer, like Whitley played so many games that Kyle moved on with Lola just like Dwayne moved on with Kenu. Eventually Dwayne had to lets Kenu go because he could not get Whitley out of his head or heart. Last week Kyle admitted to Lola that Summer was stuck in his head as well as his heart.
It's interesting that Theo has been painted as the dog in all of this mess, but he is the one showing the most restraint. Kyle had only walked away from his marriage for a matter of moments when he jumped in bed with Summer, giving his wife no thought. Whether you were team Skyle, indifferent to this storyline or wanted Kola together, there is probably one thing all Y&R fans can agree on at this point. Kyle and Summer deserve each other. Both are spoiled rich kids who are used to getting their way. It may not be intentional but they continue to hurt others as well as themselves. They may truly be in love and are each other's soul mates and they are probably sorry for all the collateral damage. However this relationship ends up, they will have made their bed and are lying in it.
Neither Lola nor Theo have any real ties to Genoa City. Although her business is thriving and he is Dina's grandson they both feel like outsiders. They may stay in town or Theo might contact his aunt Ashley and accept her offer to work in Paris. Lola might go along and become a famous European chef. The idea of this duo settling down together is difficult for viewers to consider. There are also fans who still despise Theo and wsnt him gone but that does not look likely to happen anytime soon. Stay tuned weekday afternoons to find out what happens next.
entertainment
Cheryl is a poet, freelance writer, published author and former Newspaper columnist. She has degrees in Psycology and Biblical studies. She enjoys sharing natural cures, and Nostalgia related info. Tips are greatly appreciated.