'The Young and the Restless' fans find Lola boring and want to see Kyle with Summer
Skyle fans are making noise and want to be heard.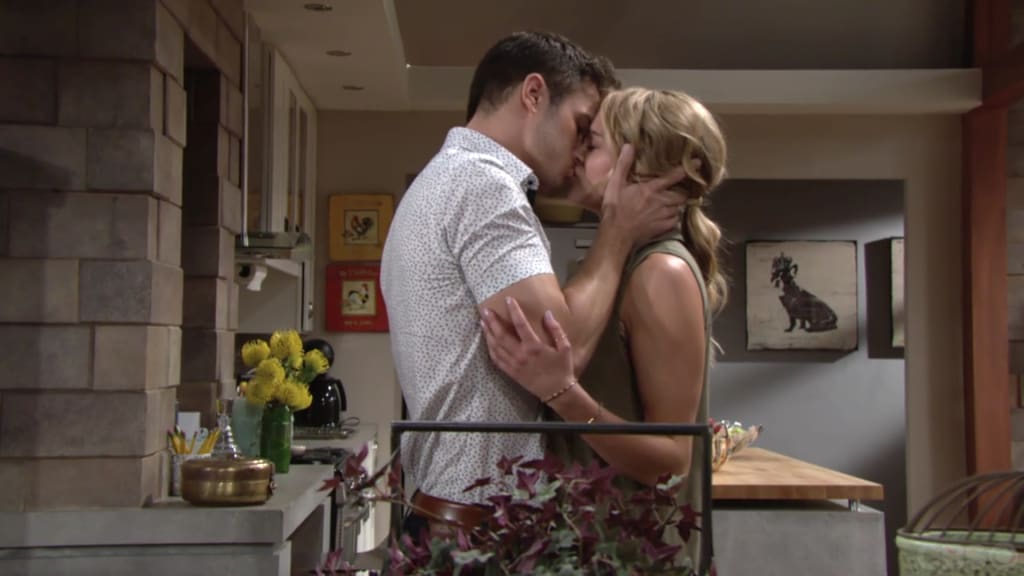 Skyle fans want this couple together ASAP
Two weeks ago, Soaps She Knows announced results from a poll they had done with viewers of The Young and the Restless. The spoiler asked whether Lola or Summer should end up with Kyle. Overwhelmingly those who watch The CBS daytime drama indicated they preferred the current Mrs. Abbott over the first one. This week, however, fans posting on social media are saying something different. They are expressing their opinions that Kyle and Lola together are boring and they prefer Skyle to Kola. When Jack's son first met his current wife, he was absolutely exasperated with Summer who had returned to Genoa City in full "Snowflake" mode.
Phyllis and Nick's daughter had stolen a vehicle, and was condescending when she talked with Mariah and Tessa. She even made disparaging comments about their budding relationship. Kyle's feelings for his ex were not reciprocated and she bragged in his face about wanting to sleep with his uncle Billy which she eventually did. Lola was the polar opposite of Summer as she was sweet, kind, thoughtful and a virgin. Kyle obviously enjoyed finding a woman who was different from Summer and fell hard. Ever since they moved in together however, Kola has been sugary sweet. Playboy Kyle Abbott who was raised in the lap of luxury is now slumming.
Viewers expressing their opinions say they are tired of Kyle and Lola kissing all the time. This is probably because the couple is always smooching like teenagers and it does seem to be over the top at times. Skyle fans believe Summer is a much better fit for Jack Abbott's son because she is more outgoing than her rival. For whatever reason the writers keep Lola working at Society in her uniform most days. Her character has not been allowed to stretch and grow while Summer on the other hand has done a complete metamorphosis.
On the episode scheduled for December 31st, Kyle, Summer and Theo are working when Lola brings them lunch to the office. Later Theo tells Summer he knows that she wants Kyle for herself. She responds by saying that he turns into a puddle whenever Mrs. Abbott is around. It looks like both of them are somewhat in denial about their true feelings. When Kyle was alone with his cousin, Theo brought up New York Kyle became angry telling him never to mention it again. The men looked as though they might come to blows but Jack enters and days he needs to talk to his son.
Many viewers are getting frustrated because they believe the writers are prolonging the inevitable and they want all the in between drama to be over with. It's looking like things will get worse before they get better but Skyle fans will probably get their wish. The fact that Nrw York was brought up is an indication that Theo is not above using it. He could tell Jack and or Lola or possibly leak the tale to the media. This would probably cost him his job at Jabot and his friendship with Lola.
When the dust settles it will be Summer sticking right by Kyle's side through it all. Theo obviously feels he can never measure up to his former party buddy and resents Kyle looking down on him. Something has got to give and Theo would do well to heed Summer's warning. She reminded him that Kyle is the bosses son and heir apparent but he probably won't pay her any mind. Those who are in favor of Kola must see the handwriting on the wall and realize that all that is taking place will eventually reunite Kyle and Summet as this seems to be the writers end game.
tv
Cheryl is a poet, freelance writer, published author and former Newspaper columnist. She has degrees in Psycology and Biblical studies. She enjoys sharing natural cures, and Nostalgia related info. Tips are greatly appreciated.
Receive stories by Cheryl E Preston in

your feed