The Young and the Restless: Chelsea needs to find her place
Nick, Billy, Adam, or Kyle which man will it be and where will she end up working.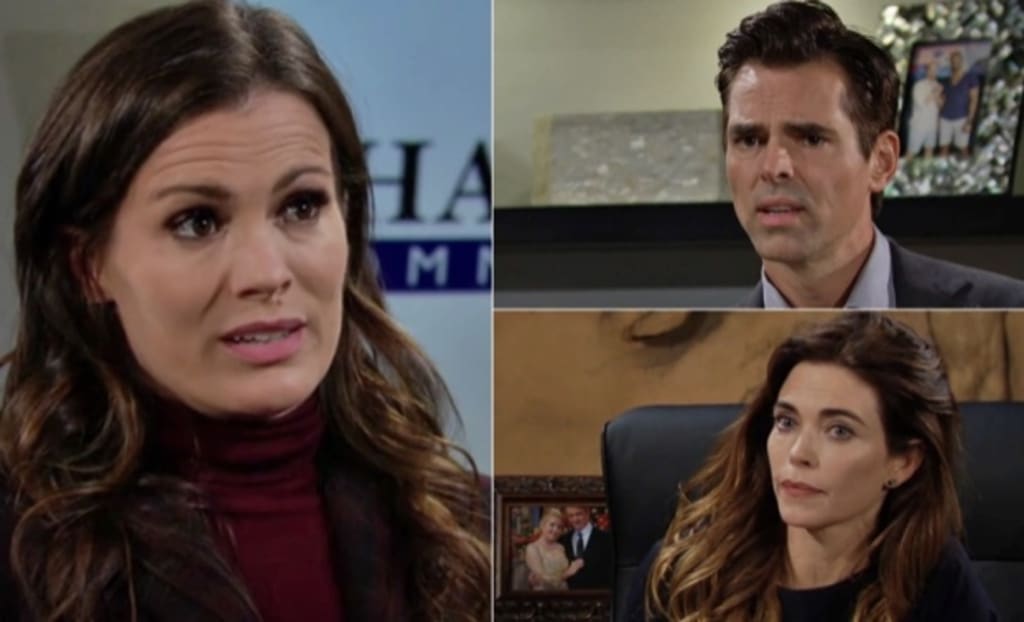 Chelsea's dilemma continues
The Young and the Restless writers still cannot seem to figure out what to do with Chelsea Lawson (Melissa Claire Egan) now that she is back in Genoa City. The powers that be continue to place this character in situations that cause spoilers to predict wild speculation that does not materialize. Since the actress returned from maternity leave a number of scenarios have been presented about her alter ego but none of them have worked out.
It had been projected that Chelsea would end up with Rey Rosales (Jordi Vilasuso) but he was written out of the CBS soap. It was teased she might reunite with either Adam Newman (Mark Grossman) or Nick Newman (Josh Morrow) and last week Kyle Abbott's ( Michael Mealor) name was suggested as a possible love interest.
Now spoilers are teasing that Chelsea will grow closer to Billy Abbott (Jason Thompson) who is having problems with Lily Winters ( Christel Khalil). Earlier projections suggested Billy and Victoria Newman (Amelia Heinle) would reunite but Vicki has cut off everyone and returned to Ashland Locke ( Robert Newman).
Adam is head over heels in love with Sally Spectra (Courtney Hope) and Nick has been sticking close to Sharon Rosales Sharon Case) since Rey died. It's not looking like either man will be paying Chelsea any attention right now so that leaves Billy and Kyle as prospects.
Chelsea and Kyle might grow closer
Spoilers have suggested that Kyle and Summer Newman ( Allison Lanier) will hire Chelsea to work with them and things between Summer's husband and her uncle's former wife might become too close for comfort. The two already bonded somewhat when Kyle thought he had to protect Ms. Lawson from Adam.
Fans wondered why this scene was inserted and what it meant. Some Skyle fans who cannot get used to Lanier as Summer don't seem to mind if the couple breaks up. Others say Kyle and Summer deserve some time to be happy before they are ripped apart.
Recent spoiler alerts indicate that soon Billy and Chelsea will have a close moment but this may not necessarily lead to anything romantic. Billy is really not satisfied with the merger between Chancellor and Hamilton Winters and he and Lily are disagreeing on business as well as his constant interference in Victoria's life.
Billy and Chelsea don't enthuse Y&R viewers
Billy and Chelsea are connected because she gave birth to his son Johnny after Victor had her drug Billy b and have sex with him. There really is no way to know for certain where Chelsea's life is headed and whether any of the projections will come to pass. Most Y&R fans who have addressed the issue are not enthusiastic about this possible pairing.
When Chelsea returned to Genoa City she began working with Chloe Mitchell (Elizabeth Hendrickson) and Sally at Newman Media. She was all over the place with her feelings for Adam and also his growing closer to Sally. Now Chelsea and Chloe are working with Lauren Fenmore ( Traci Bergman) but Summer wants her to design for Marchetti. Chelsea needs to find her place and thrive in Genoa City instead of being portrayed as the outsider always looking in.
Chelsea needs her own life
There is more to this character than her mental health issues and her obsession with proving Adam is a bad guy. The writers are not making it clear what direction she is headed in but fans hope she will not cause problems for Skyle who recently returned to Genoa City. Some fans say it's past time for Lily and Billy to be over but no one can see him with Chelsea because of past history.
Will Chelsea end up with Nick, Adam, Kyle, or Billy? Are Lily and Billy over and could he possibly reunite with Victoria? The writers are going to do what they think is best in spite of fan protests so stay tuned to The Young and the Restless to find out how all of this plays out. One thing that is certain is that fans agree Chelsea deserves her own life.
celebrities
About the author
Cheryl is a poet, freelance writer, published author and former Newspaper columnist. She has degrees in Psycology and Biblical studies. She enjoys sharing natural cures, and Nostalgia related info. Tips are greatly appreciated.
Reader insights
Be the first to share your insights about this piece.
Add your insights