"The Young and the Restless" celebrates Doug Davidson
Two episodes this coming week will feature PauWilliams. Fans are not impressed and want the character back in action in current day Genoa City.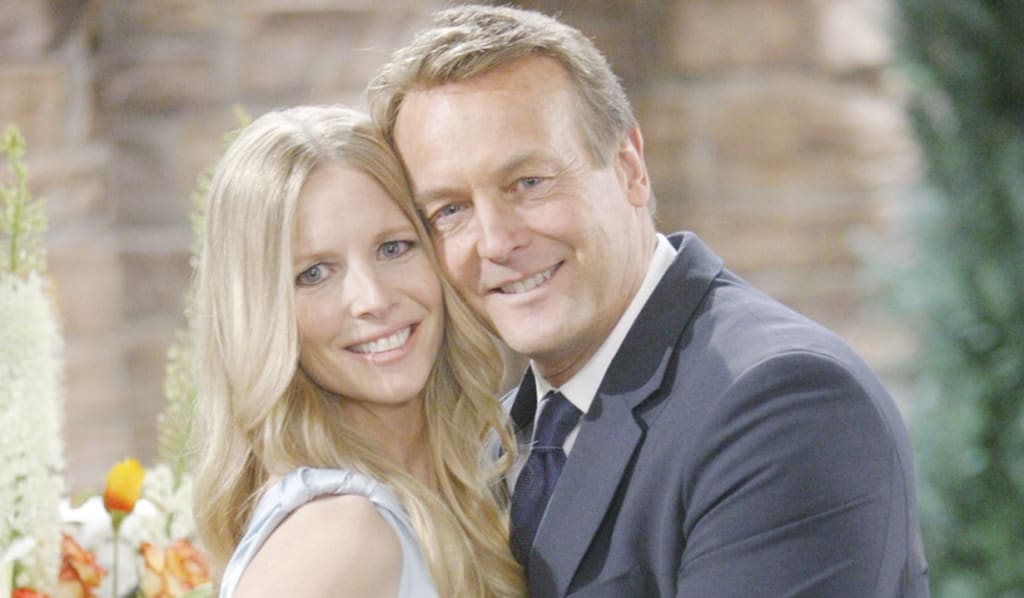 Paul and Christine will be featured this week.
Spoiler alerts are revealing that a fan favorite will have a lot of on screen time this week in Genoa City. Soap Dirt indicates that during the week of June 29-July 3, The Young and the Restless will feature Paul Williams in two episodes. Each one will show one of Paul's weddings and his mother Mary will also be seen. The 1994 wedding is Paul and Christine but Soap Dirt does not say who he married in 1996. Soaps She Knows indicates that it will be the second marriage to Christine. It's great to go back down memory lane but viewers are not impressed when it comes to the Genoa City police chief. Fans complained on social media not long ago when Paul and Christine's honeymoon was featured.
It reminds them of how bad the CBS daytime drama has treated this Emmy winning 40-year veteran. Those who enjoy Y&R don't want to see Paul in flashback episodes, they desire to see him have storylines in current day Genoa City.Doug Davidson was off the soap for close to a year, when Mal Young was the head writer. Young was let go and John Griffith was hired. Griffith promised to bring back the glory days of Genoa City and initially, things looked promising. Doug Davidson was brought back to the shown and he and other veteran characters were getting more screen time. Viewers were happy and then everything changed.
There was an episode, that many fans said was embarrassing for the actors who were in it and there was an uproar and many complaints. Christine and Lauren were in a restaurant waiting for their spouses when the men came through the door arguing about their racketball game. Paul and Michael had not played racketball in over 20 years. The scene was pretty awkward and some fans felt the writers were indicating that these beloved characters were better off in the past. Just as quickly as they had been given more air time, it was taken away. When fans reach out, Doug Davidson says that the Y&R execs have his number and can call him any time they desire.
Soap Dirt also reveals that in this coming week's flashback episodes viewers will see quite a few former characters who are no longer on The Young and the Restless. Malcolm Winters, Stephanie Simmons, and Olvia Hastings will be featured, along with Danny Romalotti who confides in Katherine Chancellor. The late Kristoff St. John will be also be featured as Neil Winters. Crazy Isabella who stalked Paul and Chris plus Damon Porter will also be featured this week, as he pursues Phyllis. Sharon will set her sights on Nick and Soap Dirt is building this up a week filled with Paul Williams, but again this will only infuriate his fans.
Soaps She Knows says that this week Mary Williams will let her son know that she has problems with Christine after Paul proposes. Longtime viewers will recall that these were some great episodes and indeed the golden era of Genoa City. It's good to know that the classic episodes will soon be coming to an end because fans are longing for fresh episodes with their favorite characters. It's not clear what The Young and the Restless is up to regarding Paul but many viewers are indicating on social media that they want to see more of police chief Williams, and also Chris, Lauren, and Michael.
Fans can only hope that the powers that be have made some positive changes while on hiatus that will benefit both the cast and those that watch the show. The Young and the Restless is tentatively scheduled to begin taping new episodes on July 6 and fresh programming should be on the screen sometime in mid to late August. The Bold and the Beautiful shut down after the first day back on the set but things are up and running now. The new changes because of the coronavirus may cause a few bumps in the road so fans should continue to exert patience. Stay tuned for updates as they become available.