The Geek Girl's Recap of 'DWTS' Season 28: Week 7
Who brought the ballroom heat and who got burned and had to leave?(And what are this fan's thoughts on the way the show is doing things?)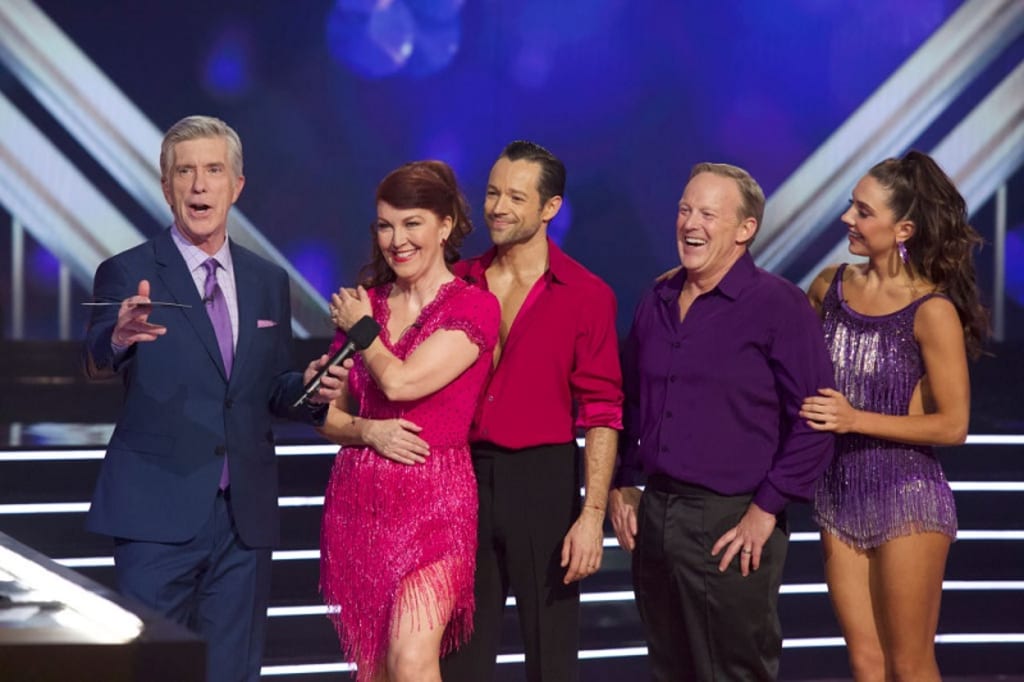 Monday Leaderboard (Combining both individual scores and bonus points from dance-off round)
James and Emma (32)
Hannah and Alan (31)
Kel and Whitney (30/30)
Ally and Sasha (30/30)
Kate and Pasha (26/30)
Lauren and Gleb (24/30)
Sean and Jenna (20/30)
Bottom Two: Kate and Pasha, Ally and Sasha
Eliminated: Kate and Pasha. This bottom two is mostly upsetting because both had positive nights this week. Maybe Kate's time was soon if not now, and I hate to think it. Kate was a good underdog, and even had some weeks where she landed among the top three or very close at least. Even the judges were confused as to why either of them had to be their decision. If the powers-that-be over the show don't want a second or third repeat of last season's "mirrorball miracle", they may need to go back to the drawing board because this setup hasn't been working to that favor.
Geeking Out: Thoughts on "fixing" the show
Here's what I think formulates most of the upsets on the show: Diversity and variety in the show's celebrity contestants have been hallmarks to the show. With said diversity and variety comes a blend of contestants with underdog skills/stories, some with natural ability or background that serves them well on DWTS, and maybe even sheer "high school popularity" sometimes too.
The show intends to have something for everybody, between these core aspects, and because there isn't always any one goal at play, come elimination popularity may trump talent, talent may win out over the underdog's breakout night, or vice versa. So to hopefully change the end results, something should be fine-tuned towards what should be glorified or rewarded: the talent, the hard work, or the popularity?
Maybe judges' input be given more weight to curb the effects of popularity over the other factors?
Or narrow down a season's casting to include more people just with potential comeback, natural talent, or a strong following? Think like a best in class or the All-Athletes mini-season.
Or reset the voting mechanics so:
more of the nation can have a say after their favorites/everyone has performed, and/or
all the contestants have a fair amount of time to receive votes. Whoever dances first this season has all of the two hours to collect votes. Where whoever goes last has maybe all of two minutes before the window closes.
Just my two-cents from an average blogger (and her other favorite blog) though. Here's what went down this week:
Geeking Out—Individual Dances
Firstly, Sean's "regular" pro partner Lindsey took some time from the show this week to be with her family after her mother-in-law's passing, so Jenna stepped in.
They danced a jazz routine to "Come Sail Away" by Styx, homaging Sean's experience in the US Navy. His segment was cheesed up to boot, from performance even to some of the judges comments. Len opened with stating the annoyingly obvious fact: "We keep throwing you off the boat, but the viewers keep throwing the life preserver." Though, as always Len respects his efforts. Bruno said that Finding Nemo's, Dory, had better direction, but nobody does fish out of water better. They were given 20 out of 30 points.
Lauren and Gleb jived to Elvis Presley's "Hound Dog". She emphasized in her rehearsal package how her grandmother was her biggest influence personally and her inspiration for this dance. They earned 24 out of 30, rocking an authentic fifties vibe with strength and confidence, but still not free of mistakes. Nonetheless, Len said he felt she deserved to stay should ballroom fate try taking a toll for her.
Kel and Whitney danced salsa to "This is How We Do It" by Montell Jordan. Kel's jam as a song and a performance as he received the first ten paddle of the season (and a standing ovation for it!). Their individual dance score was 28 out of 30, which got bolstered by extra points from winning the dance-off round.
Ally and Sasha danced a paso doble to her new own new song, "Iron". In a word, she was fierce, earning the first perfect score of the season!
Hannah and Alan quickstepped to Tom Petty's "American Girl" and made a performance comeback after reconnecting with herself and her roots. "American Girl" was her song. They earned 29 out of 30 and extra points from the dance-off.
Kate and Pasha jived to Linda Ronstadt's "Heatwave", which was a celebration of her recently passed sister. Len called it a joy to watch, yet not her best but not her worst. They earned 24 out of 30 for this round, but won two more points in the dance-off.
James and Emma danced a contemporary to a moving rendition of Journey's "Don't Stop Believin'", all the while reflecting on his parents' unshakable belief and support for his acting dreams. They earned another perfect score for the night, along with immunity from the dance-off and two extra points as the scoreboard leaders.
Geeking Out—Dance-Off
The six competing couples were paired up and each given a dance they would perform simultaneously for the judges. The judges, in turn, chose a winner among the two. The pairings and dance assignments were pretty fairly matched:
The (next) strongest contenders: Kel and Whitney dancing jive against Ally and Sasha. The judges claimed this was one of their more difficult choices. Both were top-notch and had incredible content. Ultimately, Kel was given 2 out of 3 of the judges' votes.
The underdogs: Sean and Jenna dancing cha-cha against Kate and Pasha. Both celebrities had this dance earlier in the season, so have had some room for improvement, which really showed in Kate as she was the unanimous choice.
The southern belles: Lauren and Gleb dancing salsa against Hannah and Alan. A dance neither of them had before, by the way. Like with the first dance-off routine, both girls were good performers in their own way. But Hannah was chosen across the table.