The Disney Hanukkah Episode and Cultural Mashup Pain
Elena of Avalor's "Festival of Lights"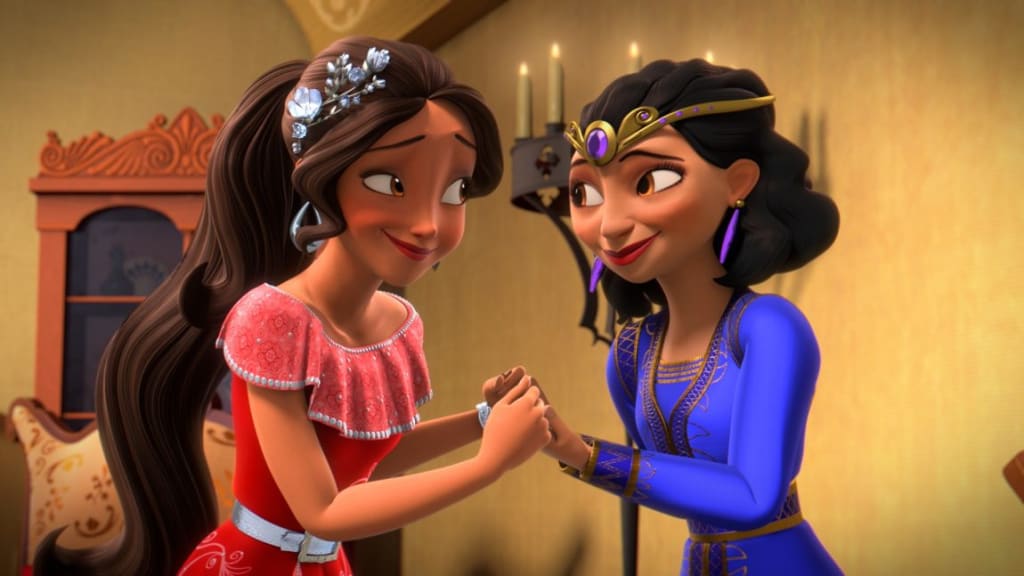 Disney's first Jewish princess?
The long-awaited Elena of Avalor episode "Festival of Lights" written by Rachel Ruderman was Disney's first Hanukkah episode of anything, though they had had Jewish characters like the woodcutter's axe in other stories such as the Beauty and the Beast Christmas special. Jews across the internet were eagerly looking forward to this inclusion in diversity. More interestingly, the Latina princess and her culture were not going to include the basically default Ashkenazi (German and Eastern European derived) Jewish traditions but the much less well-known Sephardic ones. Sephardic Jews, who are nearly never represented in popular media, were especially intrigued.
Three characters from the kingdom of Galonia are shipwrecked in Elena's kingdom, prompting a dramatic rescue. "In our kingdom, a mitzvah means a good deed," Princess Rebekah, Prince Ari, and their Bubbie explain. Certainly it does, in a Hebrew term known to all Jewish cultures, used correctly here. Jewish viewers will certainly respond, as they will to the young people's Hebrew names. The small family's clothing is vaguely Arabic, reasonably fitting for Jews within Elena's unspecified but Latin-inspired fantasy kingdom. Any Jew from Galonia, Serbia (and there are very few after the Holocaust) likely would be Sephardic (though their kingdom name may be coincidental). The characters never use the word Jewish or mention God, but that also seems fitting for the positive-on-representation but light-on-history-or-geography show. Elena herself has been alternately criticized and complimented for her lack of a specific culture.
The catch is that Bubbie is Yiddish for grandmother. Rebekah also teaches Elena the term "nosh" for snack. Yiddish, a blend of German and Hebrew, was the daily language spoken by the Ashkenazi, while Sephardic Jews spoke Ladino, a Spanish and Hebrew blend (both languages are spoken by few today, though some scholars lovingly preserve them). Why couldn't Rebekah bring in a few Ladino words instead of these not-particularly necessary Yiddish ones?
Sephardic Jews, a tiny minority within the tiny minority of Judaism, cling to their cultural identity and resist being lumped in with eastern European traditions. Thus, this is a clumsy, rather insensitive cultural mashup. Even Americans or Israelis coming from multiple blended traditions are unlikely to make bimuelos for a "nosh."
The trio tell Elena the story of Hanukkah in a few sentences, in a story of freedom and expression that may resonate with many young viewers. However, Bubbie realizes that her "hanukkiah" (the most correct term, though "menorah" is certainly more standard among Jews and well-known to non-Jews) went down in their shipwreck. The shape of said Hanukkiah is the most standard pattern, in contrast with the intricate scrollwork often expected of a Sephardic menorah (it's within the range but very basic and universal instead of culturally specific). The majority of songs are also different between cultures, but no actual Hanukkah blessings or songs appear in the episode.
Elena sympathetically offers to host their family's holiday celebration. She quietly adds that she's not sure how, asking them all for help. This is a standard pattern in intersectional stories—modeling for children that it's all right not to know how another culture practices, but politely offering to learn is the right way to go. Fair enough. Continuing her inclusivity, she and her family make their visitors' recipes, play dreidel, and do Hanukkah crafts. She also, refreshingly, does not compare Hanukkah to Christmas. She does note that their beloved bimuelos (donuts) are similar to her culture's buneulos, which is completely accurate and helps show commonality.
In response. Rebekah sings about making guava bimuelos with honey-orange sauce and latkes, followed by chocolate coins. There's an image of a present briefly going by. One catch: presents are modern American, added to the holiday to compete with Christmas. Chocolate coins are standard for American Hanukkah, used to play dreidel. However, their origin dates back to Christmas coins, invented soon after chocolate reached Europe. In twentieth-century America, this custom merged with the Polish-Jewish one of giving Hanukkah gelt, or money, first from parents to children to give their teachers, then to children for them to keep. Again, this tradition is commonly seen in American party stores but not at all Sephardic.
Bimuelos with honey-orange sauce are indeed the Sephardic Hanukkah tradition, adapted from Spanish bunuelos. Each culture fries treats at Hanukkah, sufganyot (Middle Eastern jelly donuts) for Israelis and latkes (potato pancakes) for Ashkenazi, still sold today as snacks at German Christmas fairs complete with applesauce and sour cream. Once again, traditional Sephardic families would be unlikely to make latkes. So close to Turkey, if the family is from actual Galonia, they'd likely eat dairy products for Hannukah. Modern Americans sometimes serve Israeli-style or plain old American jelly donuts, but most haven't discovered bimuelos (though it looks like we should start).
A solution to this jumble would have been to have this family have one cultural tradition but mention others (some people fry potatoes or jelly donuts, but we have our family's bimuelos) or have grandma be an Ashkenazi immigrant who brought her traditions to the Sephardic family. Clearly, this episode is meant to wave to Jewish and non-Jewish American children most familiar with American, mostly Ashkenazi, traditions and also exist in Elena's Latina world. Of course, it stumbles in both areas, especially the latter.
Ari teaches Elena's little sister dreidel (an iconic Hanukkah game and suitable for children, but derived from the Yiddish word drei, to spin). The children make dreidels and then assemble a new menorah out of the nuts that go with screws—a common children's craft in modern America as they're the right size. The kids onscreen decorate their menorah with blue mosaic patterns, an art form associated more with Sephardic culture. They all race to assemble everything by sunset—universal to all Jewish holidays worldwide.
The celebration, with small dipping sauce bowls looks a bit Middle Eastern, though a plate of what appears American cupcakes looks out of place. (Certainly, blue frosted cupcakes and sugar cookies feature at American Hannukkah parties, but likely not at the setting of the show). All in all they have a happy holiday and I'm pleased Disney brought in a Hannukkah episode. I would have been more pleased if it had felt Sephardic.