The Dark Knight
#3/100 of My Favorite (Random) Films- In no particular order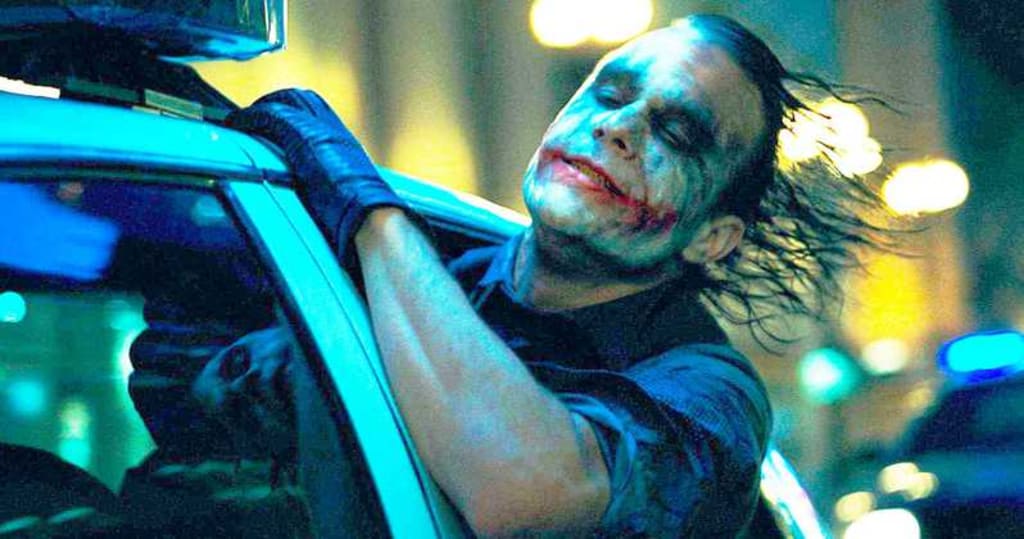 For starters, this is my husband's favorite film.
He once sat with me during a watch and when Scarecrow mentions taking the Joker back to his "office", my husband said "that means Arkum. Like the asylum there?"
I was well aware of that. I told him that in any Batman trivia, the name of the asylum is like, question #3 most of the time. It is one of the most well- known concepts of the Batman universe lol.
Other than that, I will freely admit I have only seen this movie in it's entirety probably only three times maximum.
And frankly, I didn't have much of an appreciation for it as I do now, post being his girlfriend. I saw it, thought it was a pretty good flick, and moved on to the next superhero movie. Don't get me wrong, in Heath Ledger we trust. And the overall plot of the film was very intense and kept my attention throughout. But then, after Zac and I started dating, and I saw just how much he loved this film, I started to see it for what it really is: fantastic.
Now, my title is pretty boring just being the movie title. I wanted to call it "A very poor choice of words- The Dark Knight" taking a direct quote from the clown prince of crime himself, right as he is about to through Batman's girlfriend out a window. However, that title would have been super misleading. This is in no way a negative review. Don't get me wrong, this is a superhero movie you have to be in the mood for. Not as colorful and flashy as the Avengers movies we have all become so well acquainted with in the past decade or so.
In the early 2000's, superhero movies were not the mega-hit blockbusters they are now, thanks to the Marvel universe. Sure Batman and Superman movies and shows had been made, but they were campy, cartoonish. They were not taken seriously by the masses as entertainment. They were for people in one specific market. Then Batman Begins released and broke things open. But, Batman Begins was even proceeded by the Tim Burton Batman universe, introducing a grittier look into the franchise. One could also make the case for Watchmen, as the gritty, trying to be an almost "realistic" and "real world" portrayal of superheroes.
So, when the Dark Knight was released, people flooded the theaters. Suddenly, more people were going to see a superhero movie. People who never would have seen that type of thing after turning age 10, were now suddenly interested in DC's (in my opinion) second most popular super hero character.
I do sincerely think the Dark Knight helped ignight the phenomenon that Marvel is now capitalizing (and doing very well with, don't get me wrong). But it also set a precedent for the gritty and dark movies that DC is still desperately trying to cookie cutter recreate in the same way Marvle pumps out movies like the Duggers pumped out childeren, only with definitely very less success.
But it was just something about this movie! The casting makes you feel like these people and events are real. The drama, the emotion, the push and pull is captivating.
This movie took risks to get itself into a market that would not reach its full potential for at least 5 more years. But people became obsessive. The merchandise alone from this movie became a cultural staple.
It's not perfect, but there is a reason it is on many Top 10, Top 20, Top 100 lists. You almost don't feel like you are watching a superhero movie. The Dark Knight brings you enough into that reality that you get sucked in, and it leaves you thinking about it long after the film has ended.
review
About the author
Philadelphia photographer and wife, with a love of cheese, adorable plants and true-crime documentaries
Reader insights
Be the first to share your insights about this piece.
Add your insights