'The Christmas Chronicles' Review
Need a good, fun new Christmas movie? This is it.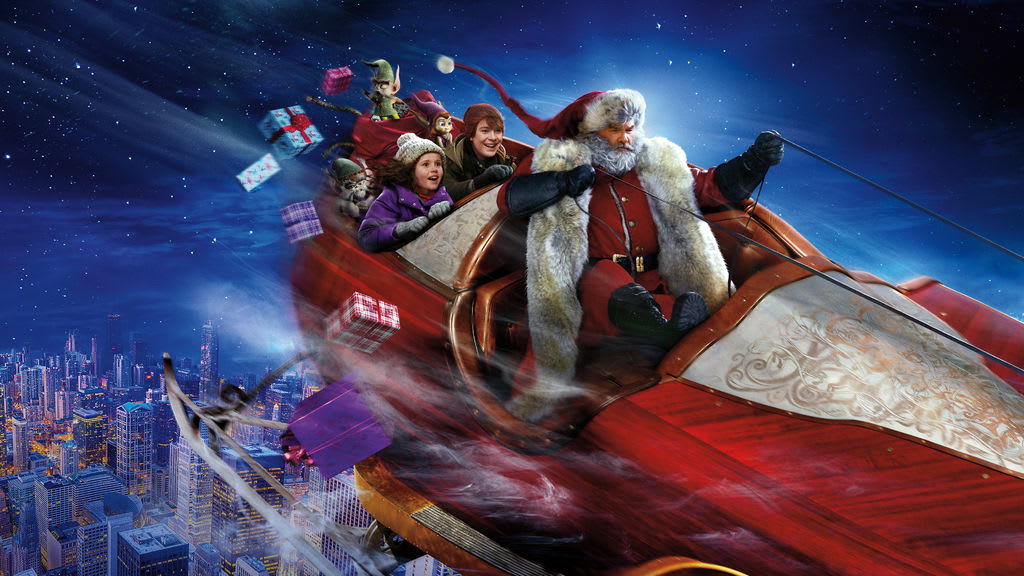 So, I am always skeptical when it comes to my Christmas movies. It has to be super cheesy or gives me the Christmas spirit feels! This wasn't cheesy at all. It gave me all the Christmas feels a movie could give!
The premise of the show is about a family who has fallen down on hard times and Christmas used to be their favorite time of year. Now, not so much. When Kate, the daughter, is sending a video diary to Santa she wants her family to be as one like it had always been.
Fast-forward to a couple scenes later, Kate and Teddy, her brother, try to catch Santa in the act. Once they find him and tag along on his job, Christmas is in trouble and the kids are the only ones who can help him a long the way.
Kurt Russell plays Santa Claus, with Goldie Hawn playing Mrs. Claus, the pair make a modern awesome pair as the newest rendition of the classic Santa Claus story. And here is why it's awesome... (spoilers)
Christmas Songs Incorporated Throughout the Movie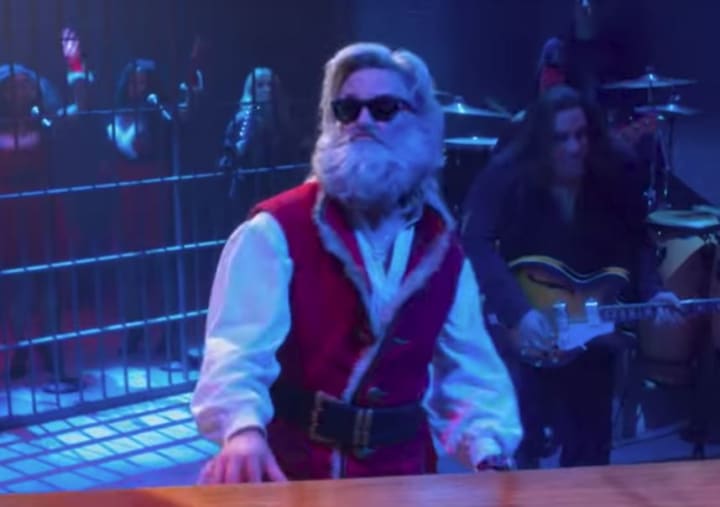 So Kurt Russell is an awesome Santa Claus! I will discuss why later, but throughout the movie he quotes Christmas songs and then if you keep singing the lines, they totally play out in the movie!
The first one was, "Rudolph the Red-Nosed Reindeer." The classic where Santa says all of his reindeer when he flies! That happens when they are flying in the sky!
The second is, "Winter Wonderland." Santa is arguing with cops trying to get his reindeer an he hear's bells so he says, "Sleigh bells, are you listening?" The lyrics to that go, "Sleigh bells ring, are you listening, in the lane snow is glistening, a beautiful sight, we're happy tonight..." And in the show the reindeer come down the road (lane), with snow on the ground and Santa and Teddy (one of the children) are happy to see them! Way to go Netflix ha!
The third song is, Jingle Bells. When flying the reindeer, the jingle bells need to be attached on the reindeer's reins. Kate says jingle bells multiple times like in the song!
The fourth being, "It's Christmas Time, Pretty Baby" that Kurt Russell sings while he is in jail. He gives all his prison mates instruments that they all used to play when they weren't criminals. Santa does this to try and bring the Christmas Spirit back up!
Kurt Russell Played an Awesome Santa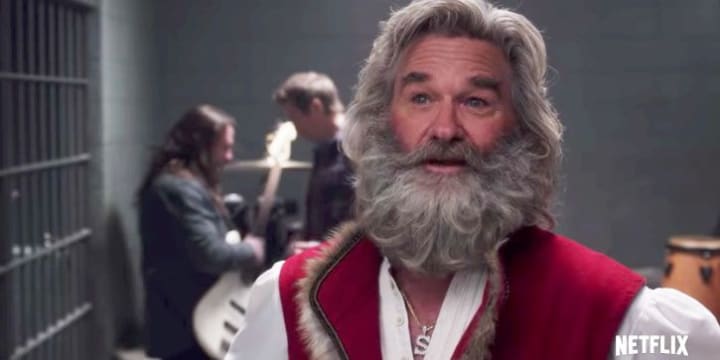 This modern twist on Santa was just what everyone needed. Russell plays him so cool and refined. He does have his moments, but he is inherently good! He just wants everyone to be nice to each other and be happy in their lives. He is also super funny and has a great voice.
The kids make a comment about him not being the fat Santa! So Santa says how he can eat millions of cookies and can stay fit! He also knows everything about everyone and the world. He knows what everyone wants for Christmas and how to make the spirits high for everyone. He also gives a lot of tough love. Which you wouldn't think about coming from the happy holly jolly man, but it gives the kids the love they need.
It's also almost like he is omniscient. He knows what's going to happen and can almost read someone's mind. He also brings the children on this adventure because they needed it. He doesn't need their help at all, but bringing them along brought them together as a family and made them want to always be good and believe in Christmas.
The Kids Had So Much Character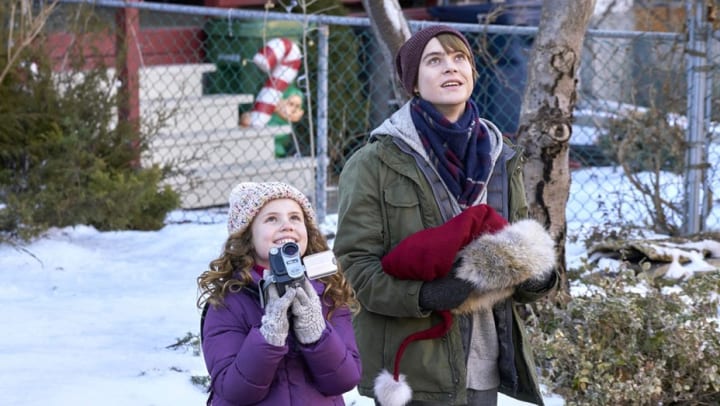 So we are first introduced to the family from old homemade videos of Christmas morning. The family loved the Christmas season! Especially the dad. Tragically, he died. I am assuming he was a fireman because the son said he died while rescuing people in a fire. That and there were probably subtle hints.
But the kids are practically on their own now since mom has to work a lot. So in the classic movie standards the older sibling (in this case, the brother) becomes a rebel and starts the line of becoming a criminal. The sister is super cute and definitely has an amazing future as an actress, but in this show she is the true believer of Santa and wants to get her brother to believe.
They band together to get a video of Santa. They end up getting on his sleigh and going on an adventure with him.
The biggest character development is with the brother. He becomes close with his younger sister and gets closure with his dad through Santa's magic. He also becomes the brother that his sister needs and the son his mother needs.
The Message It Brings Is Wonderful!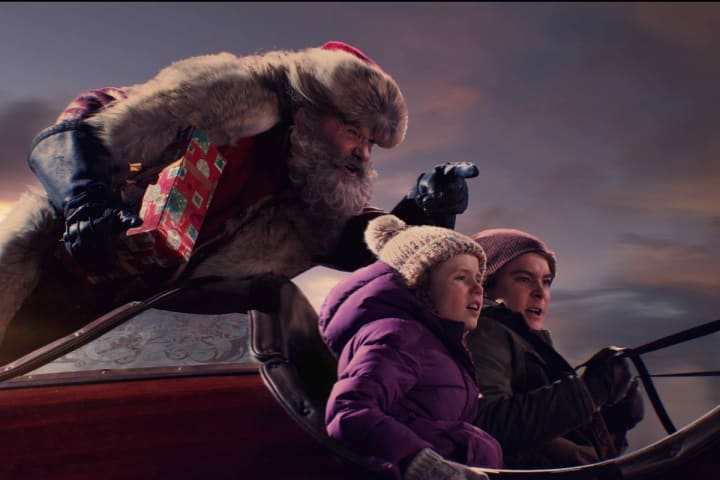 The message of this story isn't about the difference between being naughty or nice, but about the belief in being your best self. It's not believing in Santa that brings Christmas spirit , it's about you believing in goodness in yourself and others.
We also learn about the family dynamics with Teddy, Kate, their mom, and late father. They are struggling and Teddy isn't helping, Kate is almost too young to understand, so hits home at some points, but she is so sweet and caring that you love her because she just wants her family together for Christmas.
The Elves!! And Goldie Hawn!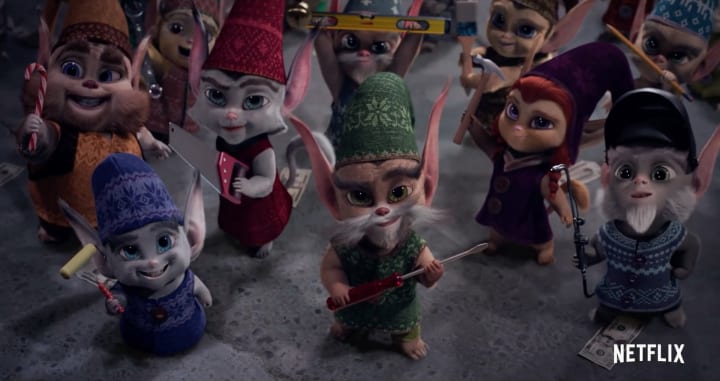 The elves were hilarious. The Claus' and the elves spoke some sort of combination of Nordic languages and it makes so much sense! Santa lives closest to those countries and so it would make sense that those languages would have an impact on their language. But Santa and the elves speak all languages, but this would be their main tongue. It was pretty cool to have that small feature.
Plus the elves are so stinkin' cute! I mean look at them! And their voices have like tiny voices. So adorable.
Goldie Hawn is Mrs. Claus. Kurt suggested it himself! And it totally works. Goldie is only in at the end, but she is so natural with Santa, which makes sense because they have been together since 1983! It was like this is what ended up after Overboard. Just kidding, but could happen.
Oh and it's a huge family affair... I'm not telling why, just figure it out! ha!
A couple things that I thought about in the movie that kind of let my spirit down were that angst-y teenagers who don't listen to their parents are always learning kindness and that their family loves them from strangers who have a lot of wisdom.
But watch it... Right now!

Rich Burton
I am a recent college grad in Business Communication I am a Marketing Assistant for a digital signage company now and I just write for fun! I'm hoping to become a published writer one day! #anythinghelps
See all posts by Rich Burton →