The Catcher in the Rye
The great literary hallmark of J. D. Salinger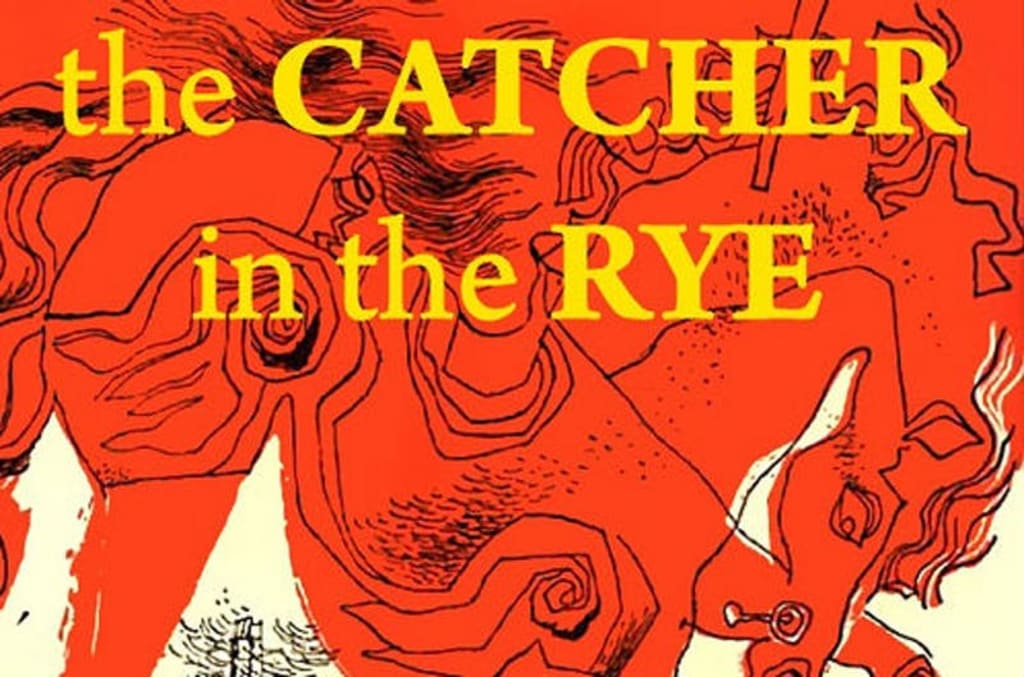 The cover of the first edition of the novel remains an absolute classic.
I can gladly say that The Catcher in the Rye was an important book for me at high school. It still is, though not in the same way that it used to be. I read it multiple times when I was younger, never failing each time to get drawn into the enthralling story of one Holden Caulfield, the lead character. I used to identify with him a lot more than I do now, probably because I'm currently learning how to live like a mature adult. This is something Caulfield never deals with, and I can understand why many readers would find such immaturity irritating. He never fully matures as a person. But in the context of the plot of Catcher, this side of his personality should make perfect sense to those who went through similar experiences when they were teenagers, and many teenagers are most likely going through them right now.
Caulfield is a product of the bland American society that came out of WWII, a privileged young man of middle class stature who isn't exactly sure what he wants in life. His impulsive trip to New York City says everything about this, highlighting his inner need to find himself in a world that he finds totally hostile and false. He calls everyone and everything "phony", a reflection no doubt of his disillusionment with things. The author of Catcher, J. D. Salinger, depicts Caulfield in a sympathetic way that makes the reader, lonely teenage boys above all, feel like they can relate to him. Salinger knew which audience to target. He also knew how to mould a character that represented a specific kind of youth from a specific kind of generation, an alienated one, and one that he'd deliberately observed so as to report on it in Catcher.
We have no choice but to listen to him, to his endless complaints and grievances. We can disagree with him but we can't ignore him. He's someone you either love or hate, and someone you love to hate as well. So, in my view, how the reader judges Caulfield at the beginning of the story will most likely determine how they tolerate the rest of it, as it's only told from his limited perspective. Then again, without this sense of limited perspective on the part of Caulfield we wouldn't have Catcher as a novel, purportedly one of the best that 20th century Western fiction has to offer. Whether you agree with that or not, you can't disagree with the great impact it's had on literature and writers in general, and this is because of Caulfield. His voice is hypnotic. He makes it what it is, and we can't help but be mesmerised by his journey, even if we dislike him.
There are certain people who feel just that. One possibility for why this is could be that many, or those who've read Catcher, see themselves in Caulfield and recoil accordingly. Or maybe it's to do with how he expresses himself. The markedly unreliable point of view that Salinger constructs for Caulfield, regardless of how judgemental he can be towards other people and things, is what really sustains our attention. It sustained mine, so much so that it often felt like I was inside Caulfield's head, and I didn't always want to be. It was hard to get away from him sometimes. But, importantly, I feel like there's an inherent danger to identifying with him too much: it can prevent you from growing up, the very thing that Caulfield avoids doing throughout Catcher. One can acknowledge and understand his situation without having to replicate it in real life.