'The Bold and the Beautiful needs to bring back Pam
Allie Mills is a beloved actor and her character is much needed.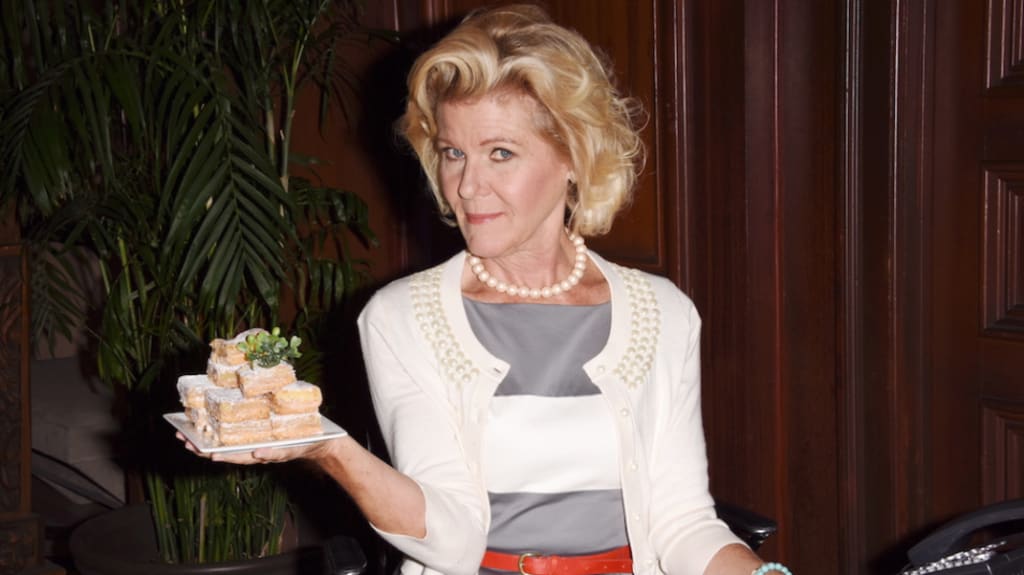 Ally Mills as Pam with her lemon bars
Last week Charlie Webber, (Dick Christie) returned to The Bold and the Beautiful. He was troubled that Thomas took the Hope lookalike mannequin to his apartment without permission. Fans noticed that Charlie's other half, Pam Douglas, (Allie Mills) was nowhere to be seen, and hope she will soon return as well. It was announced in November 2019 that Mill was taken off contract and would appear on a recurring basis. In February 2020 the actress was dealt an even harsher blow when her husband, entertainer Orson Bean died after being struck by two vehicles.
The 91 year old actor and comedian was crossing Venice Boulevard on foot making his way to see a play, at the Pacific Residence Theatre. His wife, Mills was a volunteer usher at a production of Arthur Miller's "All My Sons.". Beane had parked his vehicle on the opposite side of the street and was crossing alone in the dark. Los Angeles police said the actor was at a marked crosswalk around 7:30 p.m. when he was struck by a Honda Civic traveling west. As he was getting up he was hit a second time by a Toyota Prius and both drivers remained on the scene of the accident. Mills and Bean had been married in 1993.
There has been no word regarding whether Ally Mills will even desire to return to work but viewers truly miss her. Together Pam and Charlie solved many mysteries and everyone in town loved her lemon bar treats. Eric really needs his sister in law to help reign him in from taking Quinn back. Pam would like nothing more than to see Quinn's portrait removed from the mantle and her sister Stephanie's picture back in it's rightful place. Viewers cannot understand why Shauna and her besties are still around after their deeds were found out. Both Wyatt and his mom have been trying to wear Eric down and get him to forgive and forget. Pam and Charlie have had dealings with Quinn's crazy side in the past and do not trust her.
Many viewers also want to see a wedding between Charlie and Pam who have been together for quite some time without tying the knot. Some fans did not like the fact that longtime characters like Pam and Charlie were sidelined while newcomers Flo, and Shauna were getting a lot of air time. Pam is needed at her front desk to keep up with all the changes that are taking place. Sally Spectra has come and gone, Zende is back and working for the family business and Carter was promoted to CEO of Forrester Creations. Mr. Walton just proposed to Zoe who seems to have some reservations and may have feelings for Zende.
Zoe's sister Paris just came to town and has chastised her sibling for not truly making a choice between Carter and the adopted Forrester. Pam might be the only one who can keep score with who is dating whom and make sure everyone else knows what's taking place. Spoilers have suggested that Paris might go after Carter and Zoe give in to her feelings for Zende. Pam is the eyes and ears of the company and she would be on top of all this drama. Charlie already suspects something is off with Thomas and if his lady is by his side, he will get to the bottom of the issue.
The dynamic between Liam, Steffy, Hope, and Thomas keeps shifting and now Dr. Finn is in the mix. Be on the lookout for spoilers and updates to find out if Ally Mills will return to The Bold and the Beautiful, or Charlie will be flying solo from now on. Charlie and Pam are a dynamic duo who play off of each other well. There are some fans who believe we should not see one without the other. This couple also brings much needed comic relief at just the right times and fans adore them. If Ally Mills has retired or decided she does not desire to portray Pam then fans can wish her well. If the issue is the brass at B&GB not using her, the viewers can let the execs know they desire her back on the screen.
tv
Cheryl is a poet, freelance writer, published author and former Newspaper columnist. She has degrees in Psycology and Biblical studies. She enjoys sharing natural cures, and Nostalgia related info. Tips are greatly appreciated.
Receive stories by Cheryl E Preston in

your feed