The Bold and the Beautiful may turn Paris into a Mammy
Tuesday's episode indicates that Ms. Buckingham could begin caring for Hayes Forrester Finnegan.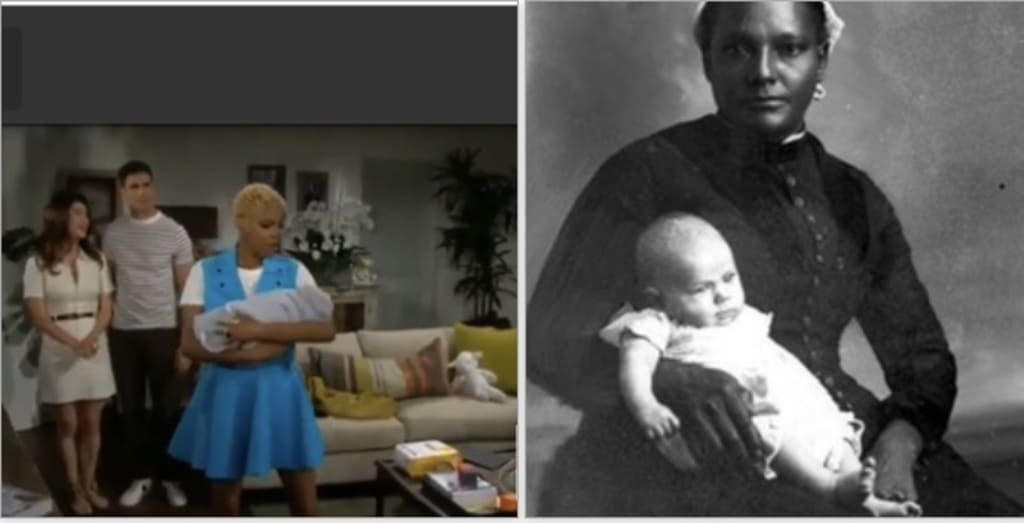 Could Paris be viewed as a stereptypical character if she becomes the Nanny?
As you read this article please keep an open mind and do not turn it into a racial debate. Having said that, the facts of what THE BOLD AND THE BEAUTIFUL SEEMS TO BE DOING need to be addressed.
Spoiler alerts for THE BOLD AND THE BEAUTIFUL indicate that Paris Buckingham will soon be offered a big opportunity. It's being teased that Brooke might see that she gets a promotion at Forrester because she was instrumental in Quinn and Carter's affair coming to light. After a visit to Steffy and Finn's home on Tuesday, it looks like Paris might get a different kind of offer but it will not be one that she cannot refuse.
Ms. Buckingham could be offered the position of babysitting or becoming a nanny for Finn and Steffy. In the eyes of some viewers, however, Paris will be going from the boardroom to becoming a modern-day mammy. There was a time when African American women were only able to obtain certain types of jobs, both on screen and off. Maids, housekeepers, cooks, and nannies were the only way for women of color to earn a living.
There were situations where African American women lived with the family whose child they took care of and only went home on weekends. Finn and Steffy might offer Paris a chance to live in their beach home and she could do her Forrester work remotely. IF Paris moves in then she might be helping with Kelly and Beth as well when possible.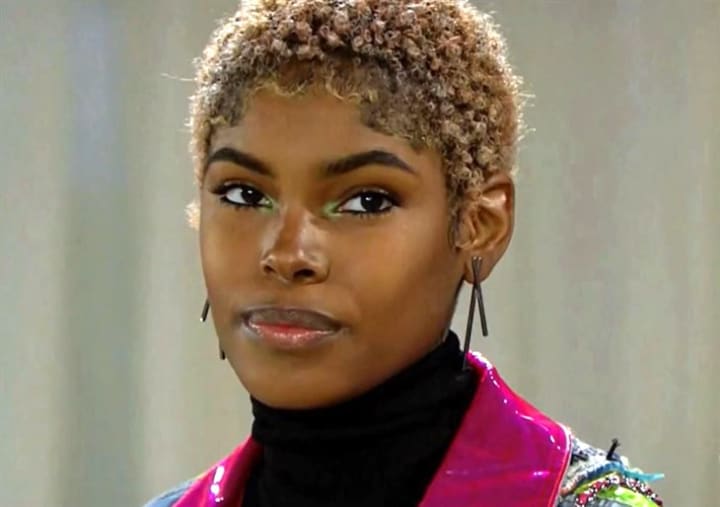 There are people of color living today, (Including myself) who listened to their grandmothers and great-grandmothers telling stories of how they were the only ones who could calm the angry child of their white employer or they were the only one who could rock him or her to sleep. Many of us heard the tales of how these children cried for the black women to stay with them, pulling on their coattails and begging them not to go home.
Seeing Hayes calm down only when Paris picked him up brings these memories to mind. In a number of the movies dealing with the slave era, there were times when children were given to the mammy's because the parents could not quiet them.
Black women who chose acting as a profession found that these stereotypes also carried over to the big screen. In most of the old black and white movies, people of color were maids, butlers, cooks, housekeepers or chauffers. American society has come a long way in both reel and real life. The symbolism of where THE BOLD AND THE BEAUTIFUL seems headed however could take us back in time.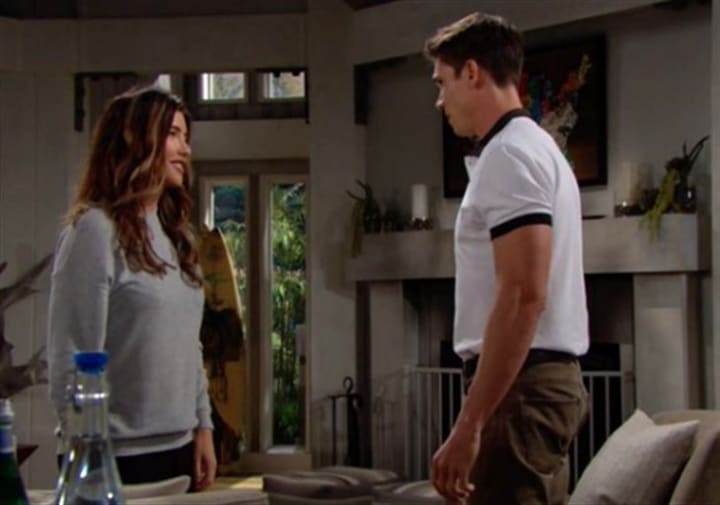 Diamond White portrays Paris Buckingham who is a college graduate with experience in social work. She was hired by Ridge to head up the Forrester Foundation because of her education and past experience. No one goes to college to become a babysitter but it looks like this is where Paris is headed. Finn and Steffy were having trouble getting their baby to stop crying when Ms. Buckingham showed up.
Paris came to the home on Forester Foundation business but when she saw the dilemma she took little Hayes in her arms and began to sing. Steffy had an astounded look on her face as Paris got her son to quiet down. Finn is a new dad but this is not Steffy's first time at parenthood. She has two daughters and should be a pro at motherhood by now.
Instead of confidence since she already has 2 daughters, Steffy was looking baffled as though she had no idea how to get her child to relax and stop crying. This was totally out of character for her but understandable for Dr. Finn who is a first time father.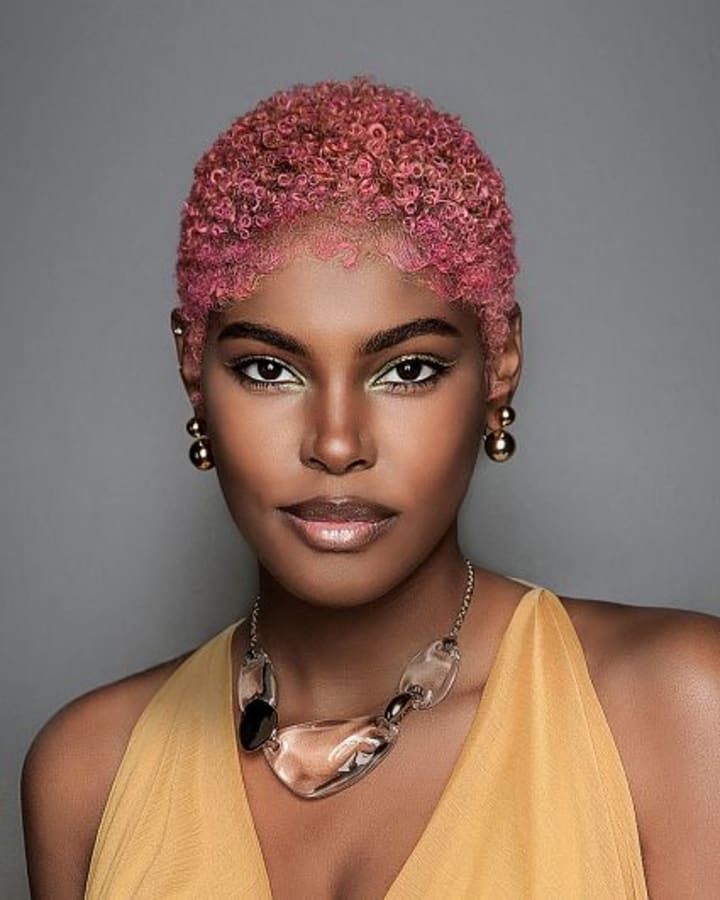 Diamond White has a beautiful voice which was showcased at the recent DAYTIME EMMY AWARDS SHOW. Watching her rocking Hayes and crooning to him, however, will bring back memories to many people of color of a time when their female ancestors had no choice but to do this type of work for a living.
Naturally, there will be those who watch THE BOLD AND THE BEAUTIFUL who see nothing wrong with Paris moonlighting as a nanny for Steffy's baby or even taking the job on full time. It's always possible that Steffy and Finn might make the offer and Ms. Buckingham turns them down.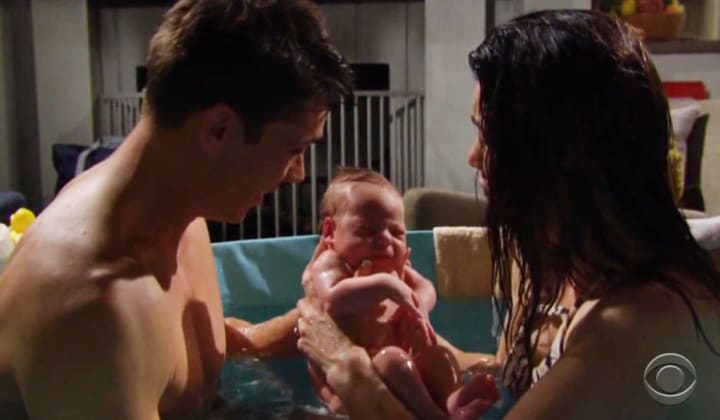 Certainly, Brad Bell at age 57 and working in the entertainment business knows how damaging this stereotypical role could be. On sister soap, THE YOUNG AND THE RESTLESS people of color began on the show in lowly positions. Mamie Johnson was the black housekeeper for the Abbott family for many years. They also had Mrs. Martinez who was Hispanic as their cook.
THE BOLD AND THE BEAUTIFUL has made strides in diversity but two of their earlier black female characters Ruthanne Owens(Michelle Davidson)n and Dayzee Leigh Forrester (Kirstolyn Lloyd) began as homeless women on the CBS soap. Obviously Diamond White does not have a problem with her role because she chose to film the scenes. It's possible that Steffy may not make Paris an offer or she could offer her the job as a nanny and Ms. Buckingham turns it down.
In today's "Me too" cancel culture society with heightened awareness on sensitive subjects things are viewed differently than in decades past. Paris could have been singing to Hayes simply to showcase Diamond White's voice and nothing more. If however, Steffy and Finn give her the opportunity to be a babysitter or nanny to some it will be seen as Paris Buckingham being nothing more than a modern day mammy.

Cheryl E Preston
Cheryl is a poet, freelance writer, published author and former Newspaper columnist. She has degrees in Psycology and Biblical studies. She enjoys sharing natural cures, and Nostalgia related info. Tips are greatly appreciated.
See all posts by Cheryl E Preston →