The Bold and the Beautiful: Li may hate Steffy more than Sheila
Finn's mom has an agenda to keep him away from his wife.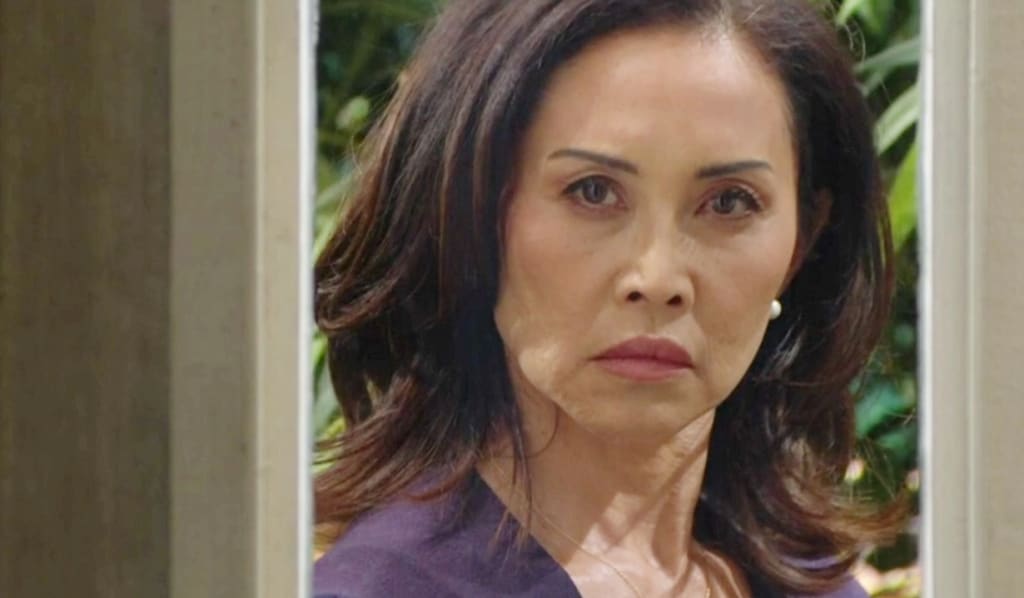 Li shows her true colors
Li Finnegan (Naomi Matsuda) is front and center these days on The Bold and the Beautiful and seems to have an ax to grind with Steffy Finnegan (Jackie Wood). It has just been revealed that John Finnegan ( Tanner Novlan) is alive and his mother is hiding him in her hotel room. Li said her son was taken to the hospital where she worked and not " Steffy's" hospital which was very telling.
Dr. Finnegan's attitude was not lost on fans who could tell she resented her daughter-in-law. This was confirmed later when Li said that Sheila Carter (Kimberlin Brown) "that awful woman" was a part of "Steffy's world." Spoilers had suggested that Li was going to tell her son to fight to get back to his family but she actually encouraged him to wake up so he could see his son and did not say "family".
.All of this indicates that Li hates Steffy as much as she detests Sheila. Astute B&B viewers picked up on this resentment the moment and it was revealed that Finn was alive but his mother did not tell the Forrester family. Li is probably blaming them for her current situation and to an extent she is correct. She said out loud to Finn that everything was going well until he connected to Steffy and her clan.
The Finnegan family was torn apart
Li and her husband Jack Finnegan ((Ted King) adopted Finn and raised him well. Their world came crashing down after Finn introduced his family to Steffy and announced their engagement. Sheila saw the information on the Internet and decided it was time to be a part of her son's life. Li found out that the twisted Ms. Carter was her son's birth mother and listened in horror to all the terrible things she has done to the Forresters.
She later found out that Jack had cheated on her with nurse Carter and that he was actually their son's birth father. Dr. Finnegan probably believes none of this would have been revealed and her life would have gone on as normal if Steffy had not entered the picture. Li had a good marriage and a son she adored who followed in her footsteps in the medical profession, In her mind, Steffy is just as evil as Sheila and as responsible for taking it all away from her.
What does the future hold?
It's not been stated yet how long Finn will be in a coma or if he may wake up with amnesia. Spoilers do say Li is going to spy on her daughter-in=law and misinterpret something she sees through the window. Li will catch Steffy hugging Liam Spencer ( Scott Clifton) and become even more determined to keep her away from her son.
Wood just gave birth to her third son and will be on maternity leave. This is why Steffy is leaving town to deal with her grief over Finn's death. Li probably will see Steam saying goodbye and jump to the wrong conclusion. Liam has promised to be there for Steffy and a father figure for Hayes. Li might go so far as to kidnap her grandson and reunite him with his father.
Sheila has planted seeds of doubt by blaming Steffy for meeting her in the alley and accusing her of being the reason Finn is dead. Guilt along with grief could be behind Steffy's decision to get away. Fans of The Bold and the Beautiful who are eager for a Sinn reunion will have to wait at least until Steffy returns to LA. How long can Li hide her son and care for him alone and how deep is her need to punish Steffy? Be sure to stay tuned to B&B to find out.
celebrities
About the author
Cheryl is a poet, freelance writer, published author and former Newspaper columnist. She has degrees in Psycology and Biblical studies. She enjoys sharing natural cures, and Nostalgia related info. Tips are greatly appreciated.
Reader insights
Be the first to share your insights about this piece.
Add your insights