Thanksgiving has a unique connection with Mary had a little lamb
The annual national November holiday and the popular children's rhyme derived from the same individual.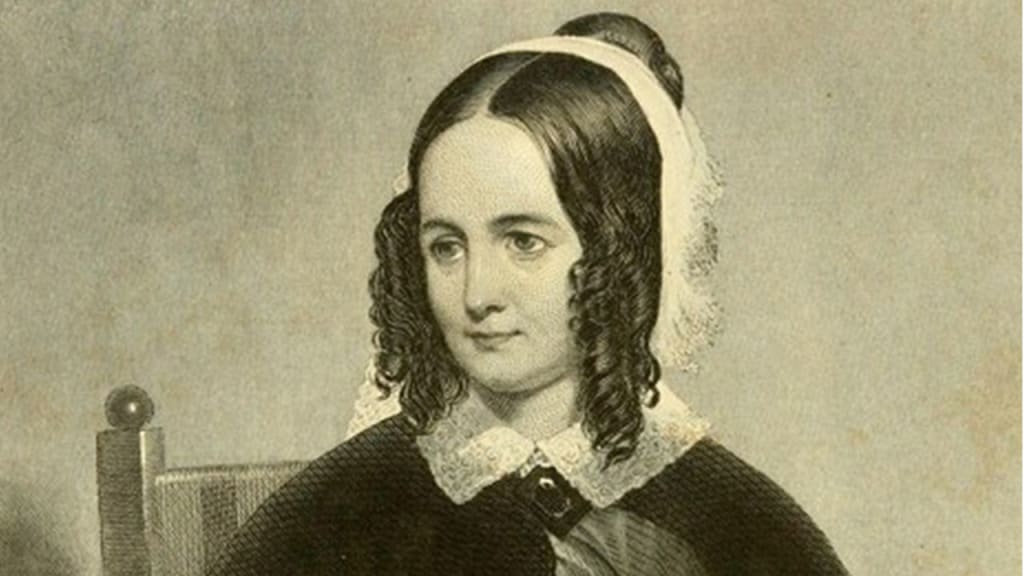 Sarah Josepha Hale
The Thanksgiving holiday has something unique in common with the children's poem Mary had a little lamb. Both of them came about because of the same woman. She was born Sarah Josepha Buell in Newport, New Hampshire. Her father, Captain Gordon Buell, was a Revolutionary War veteran. Sarah was homeschooled by her mother Martha Whittlesay Buell and her older brother Horatio who had attended Dartmouth College. In 1811 Sarah became a schoolteacher and that same year met David Hale whom she wed on October 23, 1813. The couple had five children but sadly, after only 9 years of marriage David Hale passed away in 1822.
For the rest of her life, (57 years) Sarah Hale wore black to show that she was in perpetual mourning for her deceased spouse. The following year she published a collection of poems with financial support from her late husband's Freemason lodge. The title of her work was The Genius of Oblivion. In 1830 Sarah published Poems for children, which contained the beloved poem Mary had a little lamb. This continues to be a favorite of children and adults 190 years later. In 1837 Sarah began writing for Godey's Ladies Book, which was later named American Ladies Magazine.
While on this job, Sarah Hale wrote editorials and articles about the Thanksgiving holiday. She lobbied both state and federal officials to pass legislation that would create a fixed, national day of thanks on the last Thursday of November. She believed that this would be a unifying measure that could help ease growing tensions between the northern and southern parts of the United States. Her efforts began to pay off as by 1854, more than 30 states and American territories had a Thanksgiving celebration on the books. Even so, Hale's desire for a national holiday remained unfulfilled. The Civil War began in April 1861 but this did little to stop Sarah Josepha Hale.
She continued writing editorials on the subject, urging Americans to "put aside sectional feelings and local incidents" and to come together around the unifying purpose of Thanksgiving. It's not known with certainty whether Abrahan Lincoln was already considering issuing a proclamation of a national day thanks. What is known is that in 1863, within one week of receiving Hale's letter Lincoln gave an official proclamation. He announced that the national observation of Thanksgiving would be on the set date on the final Thursday in November.
This was done in hopes that the divided nation would begin to heal. After lobbying for an official date for Thanksgiving, Sarah Josepha Hale lived to see the holiday become national and she was also an advocate for women's rights and higher education for women. One of her great achievements was that she helped to found Vassar College. Mrs. Hale retired in 1879 and died on April 30, of that same year at age 89. In 1933, a group of businessmen approached president Franklin D Roosevelt about changing the date of Thanksgiving.
The issue was that fact that sometimes there were 5 Thursdays in November. The businessmen pointed out that by changing the holiday to the 4th Thursday, Americans would have an extra week to shop for Christmas when a month had 5 Thursdays. Sarah Josepha Hale helped found an institution of higher learning, wrote over 50 books and championed equality for females. Even so, to many, she will always be most fondly remembered as the mother of Thanksgiving and the author of Mary had a little lamb.

Cheryl E Preston
Cheryl is a poet, freelance writer, published author and former Newspaper columnist. She has degrees in Psycology and Biblical studies. She enjoys sharing natural cures, and Nostalgia related info. Tips are greatly appreciated.
See all posts by Cheryl E Preston →