'Steven Universe' Gifts to Help You Survive the Hiatus
If you believe in Steven, you'd totally love these amazingly cool 'Steven Universe' gifts.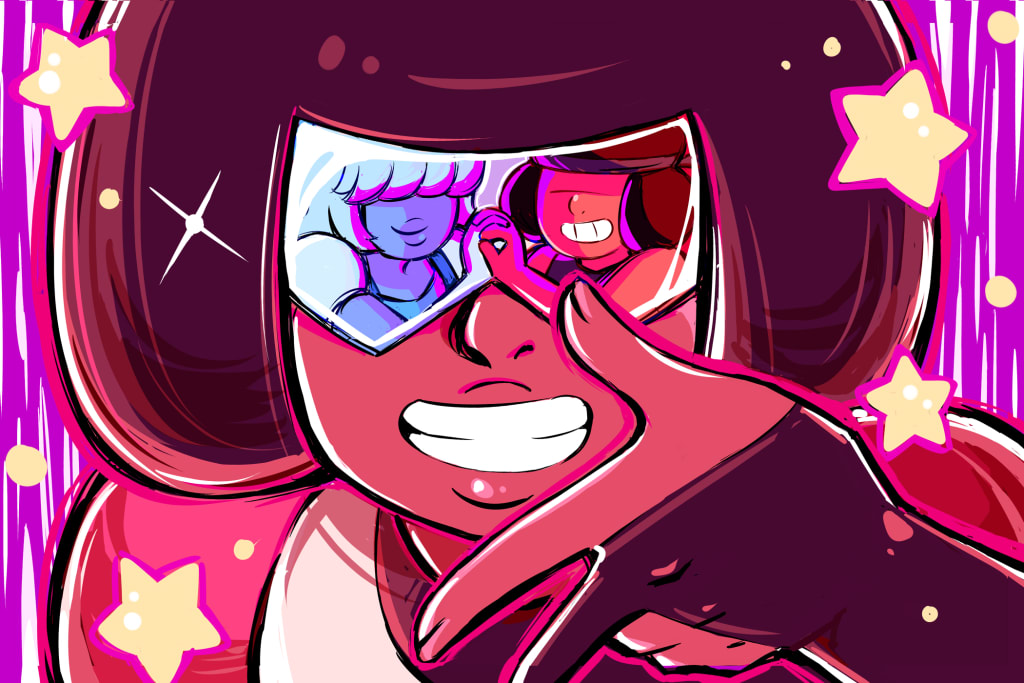 Steven Universeis one of the best cartoons currently being aired, and one of the most impressively inclusive shows in television history. Speaking as someone who religiously watches the show, it's not the least bit surprising that the fandom is as massive as it is.
If you love Steven Universeas much as I do, you want to show some support to the Crewniverse as much as possible. That's why these Steven Universe gifts will probably end up on your holiday wishlist — or the wishlist of your fellow Steven Universe-loving bestie.
It's Cookie Cat! The refugee from an interstellar space war! Cookie Cat! He left his family behind! (Yes, I know I messed up the lyrics, but come on, we all know how ominous and foreshadowing the rap is and that's really what matters.)
Now, everyone's favorite discontinued chocolate ice cream sandwich has found a new home — on your legs! This officially licensed Steven Universe gear features ice cream sandwiches, a comfortable fit, and plenty of sweet ways to wear it stylishly.
Yes, a lot of officially licensed Steven Universe gifts you'll find will have Cookie Cat in some form on them. Don't ask why, just roll with it.
This awesome backpack has Steven's clothing theme as the inspiration for its design. It has plenty of pockets for all your goodies, two water bottle pockets, and has comfortable, padded, adjustable straps. In other words, this is perfect for your school supplies, and just as awesome as a gym bag.
Sure, Steven Universe may not have ever attended school, but if he did, we'd be willing to bet that he'd be wearing a varsity jacket just like this. This has the Steven Universe logo, a nice blue drawstring hood, and carefully stitched lining that pulls it all together.
If you or your friends aren't the type of people to get into cosplay-style clothing or heavily fandom-oriented wearables, one of the best Steven Unvierse gifts you can give is a kickass vinyl figure.
This limited edition Steven Universe figurine was originally a convention-exclusive gift. But, the folks at Hot Topic got their paws on them, and now you can give the gift of a dapper Steven — just like in "Mr.Greg."
So shake a leg, like Mr.Greg, and spend your cash on this adorable figurine.
Check it out — it's another limited edition figurine of everyone's favorite gem-human hybrid! This time, the vinyl figure shows Steven dressed up to go to sleep. While there's no ominous triangle at the foot of his bed included, he still looks adorable as ever in this collectible.
If you're looking for Steven Universe gifts that are useful, stylish, and of course, long-lasting, you're going to really love this Crystal Gems-themed lunchbox. It shows Steven, Garnet, Amethyst, and Pearl in cool action poses.
If you love the Crystal Gems as a team, this is a great way to show it. Better still, it's also officially licensed merchandise, which means you'll also support the Crewniverse, too.
For the Crystal Gem fan who loves to drink in style, one of the best Steven Universe gifts we've seen is this cute flying pint glass, featuring Steven soaring in the air — just like in "Steven Floats."
We suggest pairing this awesome pint glass with a fun Steven Universe drinking game. For example, drinking whenever Pearl says something salty or has an epic freakout will make for an awesome drink session.
This super-epic, officially licensed Pearl Funko Pop figurine isn't just a figurine featuring everyone's favorite Bird Mom. This figure glows in the dark — and looks absolutely adorable doing so, too!
If you love collecting Funko Pops, this is one limited edition figurine you'll need to grab. It's only available at Hot Topic, so you might want to grab one sooner than later.
Shorty squad strikes again, this time with some cosplay leggings that can be cute enough to wear daily! Amethyst fans looking for awesome Steven Universe gifts need not look further — these durable and snuggly leggings are all you need to be an epic purple mom.
When wearing these leggings, make sure that you don't eat Pizza Steve or cause Pearl to freak out. It can't be healthy for her, right?
Admittedly, this is not one of the officially licensed items on this list of Steven Universe gifts. But, it looks phenomenal, and has illustrations of everyone from Lion to Connie, all in full color.
The Great Diamond Authority's emblem is on the back of each card, and while that may be foreboding, it's also incredibly pretty. Tarot collectors will want this pretty, pastel set — trust me on that.
As far as pint-sized Steven Universe gifts go, a keychain will do wonderfully — and what better company to make them than Funko Pop? This awesome vinyl keychain figurine features everyone's favorite fusion, Garnet, looking awesome as she always does.
(Is it me, or does she look like she's mid-fusion dance?)
Mr. Universe is kind of a controversial figure in the fandom. I mean, his son doesn't live with him. He lives in a car. Steven's never even attended school. That's not necessarily a good parenting look, you know?
But, at the same time, Greg Universe is the rockstar dad who seems to handle having a half-alien kid with ease, and for that, you've got to respect the guy. Forfans who love Guitar Dad, this is one of the hottest Steven Universe gifts money can buy.
Yes, it's true! Hasbro teamed up with Cartoon Network to make one of the most epic Steven Universe gifts we've ever seen — a Monopoly set featuring all the characters and Beach City locations you could ever want!
Beautiful illustrations, classic Steven Universe references, and cool gem-looking game pieces make this one easy way to ensure that you'll keep Beach City weird, while playing this classic game.
Alright, pay attention, you clods! This pint-sized green Dorito is one of the most lovable characters we've seen. I have constructed a flawless Peri-plan, which will ensure you get the best Steven Universe gifts out there! The plan? Get this figure! It's flawless!
Seriously, though. Look at that big triangle head and those giant eyes, and tell me you don't love Peridot — just by design alone. You can't do it. She's the greatest character ever.
Roommates, besties (?), and barn denizens Peridot and Lapis have never looked better. This fanart, erm, displayable meepmorp, is perfect for anyone who loves these two Crystal Gems and digs the way that they behave with one another.
We are loving the way Peridot's holding a gift box with alien print wrapping. Several episode references, all in one tidy box! (See what I did there?)
The best part of waking up, is Steven as your cup!
Last but not least, Steven Universe: Art & Origins is one of the best Steven Universe gifts out there. Why? Because it shows concept art and cool sneak peaks at what could end up happening in the show. It's like leaks, except not actual leaks.
Oh, and it's an amazing look into Rebecca Sugar's creative genius.
About the Creator
Ossiana Tepfenhart is a writer based out of NJ. You can message her via Twitter on @bluntandwitty or via Instagram on @ossiana.makes.content. She's always looking for freelance work and collabs!
Reader insights
Be the first to share your insights about this piece.
Add your insights