Spoilers suggest Robert is Peter's bio-dad on 'General Hospital'
The tension between the two men is building and something has got to give.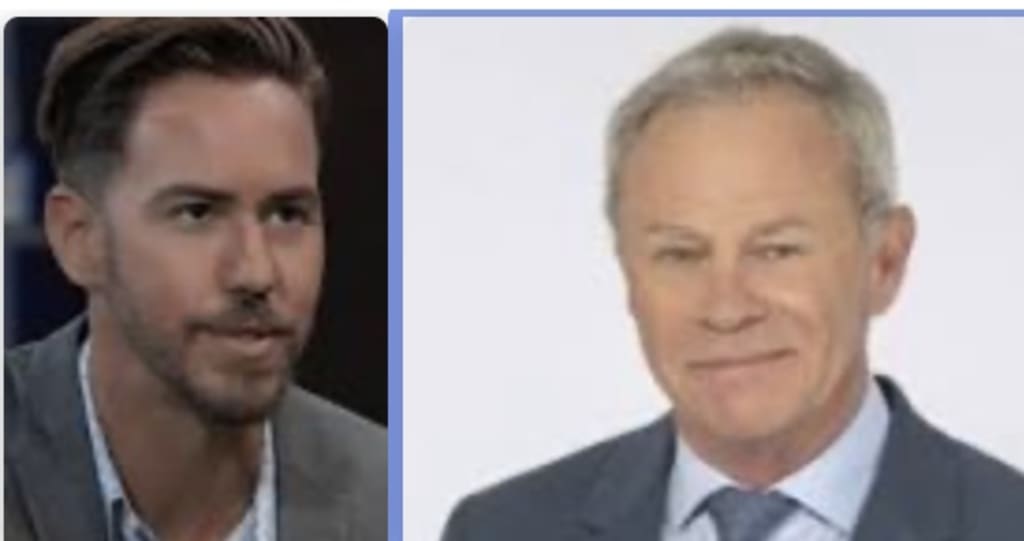 Robert and Peter might be father and son
Could Robert be Peter's father?
Soap Dirt is suggesting something quite interesting for General Hospital. The spoiler teases that Peter August may be Robert Scorpio's biological son because of the way the two men hate each other. This is probably highly unlikely but on daytime drama one never knows. The ABC soap has already had Nina and Willow going at each other for months and spoilers suggesting the former teacher and Ms. Reeves may be mother and daughter. Then there was the issue of Anna's twin Alex being the birth mom of Mr. August. So many theories and no proof of anything really gets under the skin of the viewers. Jason, Sam, Robert and Finn all want to take down, Faison's son even as Anna does all she can to protect him. The question on the minds of many viewers is whether Peter will pay for his crimes or become rehabilitated?
Danger looms around Peter August
If General Hospital decides to make Peter August a changed man then Anna will have her way and the truth remain hidden. He and Maxi will marry and Sam and Jason will be on his trail for the rest of his life. Right now Mr. August is showing himself to be quite devious just like Faison. After an encounter with Robert he made a phone call. The details were not clear but he might be trying to get rid of DA Scorpio or someone else. Peter continues to cover his tracks and it's difficult to determine whether or not he is acting out of fear or simply as ruthless as the man who raised him. The bottom line is that Maxi's lover continues to make decisions and leave people as collateral damage.
Too many irons in the fire
If General Hospital is going to have Robert turn out to be Peter's father they should clear up some of the other storylines first. In addition to those mentioned earlier there are several other situations that need to be finalized. Spoilers have teased that perhaps Trina is Stella's Port Charles DNA match and may be the daughter of Curtis. There is a mystery surrounding Brando and the truth about Dev's biological family needs to come to light. Viewers don't know if this teen is an orphan or had loved ones in Turkey who are searching for him. Peter definitely should pay for what he did to Drew and attempted with Franco and Andre, but on soaps villains often get way with their crimes.
Closure must come
As Peter August continues his reign of terror and his parentage is questioned, there are other storylines that demand answers and much needed closure. The fact that Michael and Nelle are the biological parents of Wiley/Jonah is long overdue for coming to light. Julian, Brad, and Obrecht all are involved and should be held accountable. Lucas will eventually regain his memory and General Hospital viewers hope it is sooner, rather than later. Valentin murdered Cassandra and tried to kill Ava but seems to have gotten away with it all at least for now. In addition there are also several spoilers that have suggested that Claudette, the woman who gave birth to Charlotte will return to Port Charles. It is being alleged that she has information that will destroy the former Cassadine heir. Spoiler alerts suggest that Valentin may not be the biological dad of Charlotte. If this is true then the question would be who her father really is and could it be Dante? Comments on social media suggest that General Hospital viewers desire closure on these storylines instead of their being shoved under the rug and new ones evolving.
An example would be having Valentin's lawyer trying to help him take over ELQ. That's a take as old as time but it's getting lost and losing its luster in the midst of other unresolved issues on the show. Viewers were glad to see Traci and Brooklyn breathe life back into the Quartermaine mansion but this i the maze of unresolved issues in Port Charles is causing the Q's to be in the backgtound. Perhaps it's only a rumor that Peter is Robert's biological son and loyal GH viewers will not have to endure a replay of what happened when Anna found out he was her child.
Another snag
When General Hospital went off on Tuesday, JaSam were hopeful their troubles were over but their plan hit a snag. Robert told Sam and Jason their deal was off. This was shortly after a Peter made his phone call, so it could be that he has an informant inside the PCPD. Mr. August can't get rid of everyone who opposed him because he would surely be found out. In addition to Robert, Sam, Finn and Jason there is Spinelliwho is hot on the trail of Mr. August. Now that he and his family are moving back to Pirt Charles, Peter has double trouble. If the General Hospital revisionist history turns out to be accurate, where Peter is concerned, then Robert will have to decide if he wants to prosecute his own son. Stay tuned weekday afternoons on ABC to find out how these storylines will be laid to rest. GH airs at 2:00 PM EST on ABC.