Sonny has amnesia and disappears on General Hospital
Mr. Corinthos may also have an encounter with his deceased dad Mike.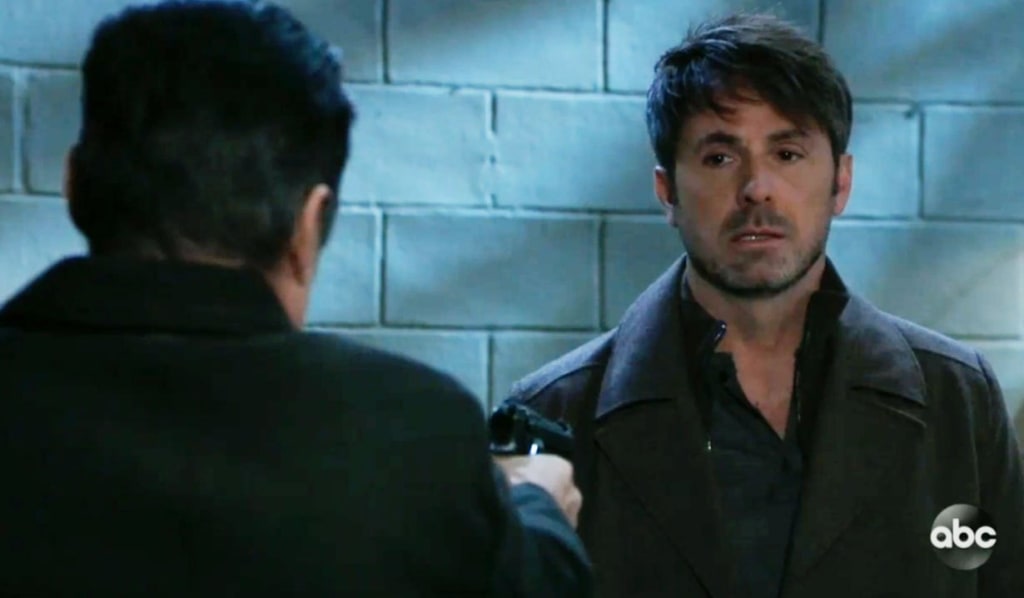 Sonny and Julian
A few weeks back, there were two seemingly unrelated spoilers for General Hospital. The first was that Max Gail was returning soon as Mike Corbin's ghost to advise his son. The second was that Sonny would have amnesia and reflect upon his life. Now it appears that these two events might just be related. Spoiler alerts for Monday say a body will be pulled from the water where the bridge collapsed and Julian and Sonny fell in. Spoilers allege that Julian will be dead and Sonny will be missing. If Carly's husband comes out of the water disoriented he could very well have a temporary lapse in his memory and this might be what causes him to have visions of Mike.
On Friday Julian refused to agree to Sonny's terms and fought with him. Some viewers believe that Ava's brother might have been trying to get his arch-enemy to kill him. He had already been shot by the hit mn that Cyrus sent and when Sonny's gun went off Julian was hit a second time. Soaps She Knows reveals that next week Jason will have trouble trying to reconnect with Sonny and Carly will have a lot on her mind, If Sony goes missing after falling into the water this would be the answer for both his wife and his enforcer.
Carly might also be thinking about her daughter with whom she had a heart to heart talk on Friday. Josslyn shared with her mom that she loves Sonny and Jason but does not like it when their business cause pain for others. Carly thought Joss was saying she wanted to move out and be away from constant danger and bodyguard. She was relieved when Joss said she was not going anywhere. The two also have Trina on their minds since the truth about Taggert being alive has come to light. With Julian dead and details about Cyrus Renault's past coming to light this could mean that Renault will soon be dealt with.
Carly is also harboring the secret that Nelle was Nina's daughter so she has enough on her plate to keep her in the thinking mode for quite some time. She will also no doubt have Lulu, Dev and Mike Corbin on her mind as the holidays near, General Hospital fans are pretty vocal on social media and they have not in the past nor do they now enjoy all the mob violence. Taggert was shot and faked his death, two of Renault's hit men are dead as are Dev, Dustin, and presumably Julian. Lulu is in a long-term care facility and now Sonny may be missing.
Viewers understand that there cannot be a lot of love scenes because of COVID but all of this bloodshed is not what fans of the ABC daytime drama want to see. There can and should be so much more to Sonny and Jason than mob wars, safehouse and their families living in fear. Soap Dirt says Sonny will fight to remember his family which sounds like they will find him but he will not know who they are. Will Cyrus take advantage of the situation when he finds out Sonny's condition or will he continue to pretend to keep the peace.
Renault could be too busy dealing with his mother, brother Martinn, and new half sister Laura to put too much time and energy into Sonny. Since Sam put Jason out, he has more time to devote to the business and will do all he can to keep everyone safe until Sonny is over the amnesia. Dante is supposed to meet his new sister Donna for the first time on Monday but it's not clear if Sonny will be around for that or not. Be sure to tune in to General Hospital and find out if Julian is really dead and exactly what happens with the Corinthos clan.
entertainment
About the author
Cheryl is a poet, freelance writer, published author and former Newspaper columnist. She has degrees in Psycology and Biblical studies. She enjoys sharing natural cures, and Nostalgia related info. Tips are greatly appreciated.