Should Mariah and Phyllis Stop Harassing Summer About Kyle?
Ms. Newman's mom and her ex husband's bestie are in her face since she and Theo broke up.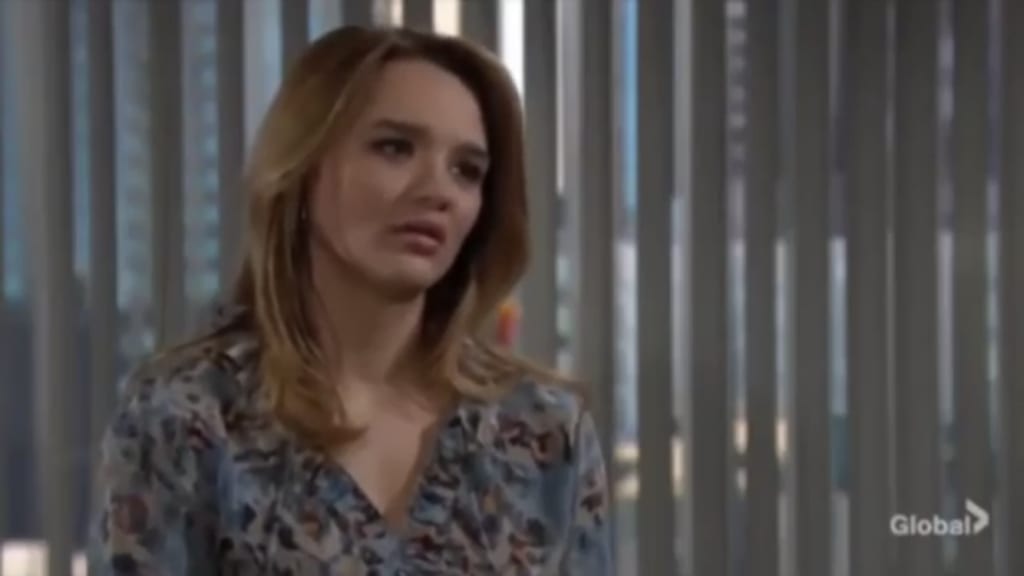 Summer can't get any peace
On Monday's episode of The Young and the Restless, both Phyllis and Mariah get in Summer's face about Kyle. There has not yet even been enough time to process the breakup with Theo and her mom and her ex. Husband's best friend is interrogating her. Mariah shows up at Jabor and accuses Ms. Snowflake of never truly caring for Mr. Vanderway. She is rude, condescending and yelling as she warns Summer to stay away from Kyle. When Summer says she and Theo are on a break, Ms. Copeland asks her which is it, did she and Theo break up or are they only taking a break?
Just because Mariah is Kyle's best friend, and likes Lola. What gives her the right to get in Summer's business like that? Ms. Newman replied that it was none of Mariah's business and said that Kyle would never cross that line. She added that no one is living their lives for Mariah's entertainment and on that note Tessa's significant other walked out. Mariah will probably give Kyle the same speech and may even give a warning to Lola but is it really het place?
Before Summer could wrap her head around the exchange with Mariah, her mother came in. Phyllis stood listening as her daughter wax on a phone call where she sang Kyle's praises as a businessman. When Summer completed her phone call her mom started out by saying she just wanted to be with someone who did not think the worst of her. She then said she got the text about Theo and said she was happy. She then told her daughter that she heard her conversation and it came across as hero worship of Kyle. Phyllis then had the nerve to ask Summer if she still loved her former spouse and she insisted the relationship is business only.
Phyllis is a concerned mother and Mariah is a thoughtful friend but both crossed a line in attacking Summer so soon after her breakup with Theo. The Young and the Restless writers have brought Summer Newman a long way from the spoiled brat who returned to Genoa City and got on everyone's nerves. When Kyle initially wanted to get back with her, she was young and dumb and blew him off and slept with his uncle Billy. She tried every trick to break up Kola but finally accepted that they are together. It would be interesting if the writers had Kyle realize he still loves his first wife and begin pursuing her.
The one person who had the right to question Summer's motives is Lola and she is doing all she can to remain objective about the woman who saved her life. Now that Theo is out of the picture she may find she has to set some boundaries. Mariah and Phyllis should probably back off because Kyle is an adult and will make his own decisions. Summer more than likely realizes that she should leave her game playing days behind, but if Kyle shows any weakness where she is concerned, she will be all in.
Phyllis doesn't want to see her daughter hurt again, but she should know she cannot micromanage another adult. She should not have been listening to Dummer's phone conversation then grilling her about it. Before leaving Jabot, she stood looking through the window as Summetstood near Kyle's desk. Phyllis knows her daughter has not gotten over Kyle and probably never will. Both she and Mariah have good reason to be concerned but is it really their place to butt in? Should they try to prevent what spoiler alerts say is inevitable, or should they simply mind their own business and let the chips fall where they may? Mariah is now on the warpath and will more than likely run straight to her best friend warning him to watch out for Summer. She may, however, be shocked by his response. Be sure to watch The Young and the Restless weekday afternoons on CBS at 12:40 PM EDT.
tv
About the author
Cheryl is a poet, freelance writer, published author and former Newspaper columnist. She has degrees in Psycology and Biblical studies. She enjoys sharing natural cures, and Nostalgia related info. Tips are greatly appreciated.
Reader insights
Be the first to share your insights about this piece.
Add your insights