Short Movie Review: 'Heart Tango' (2007)
A Brilliant Marketing Ploy Indeed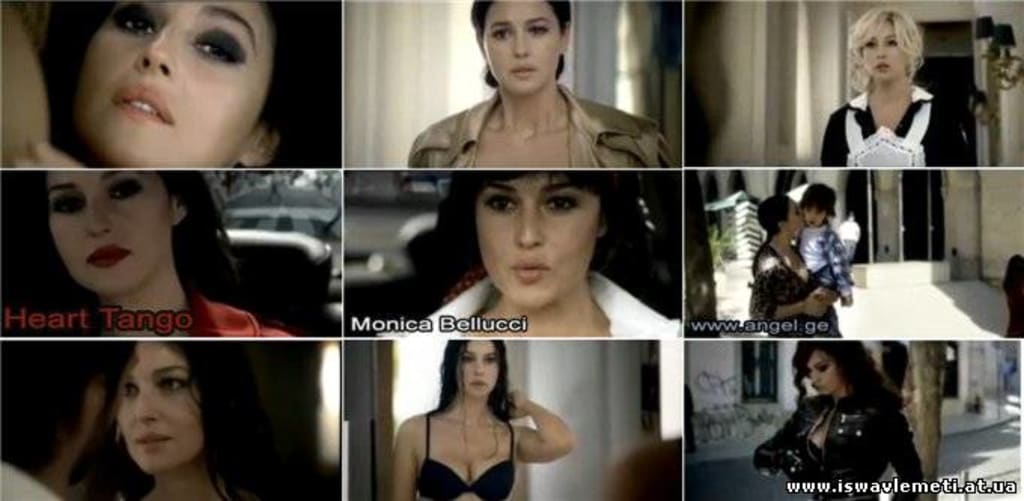 Okay, so this isn't exactly a "movie" review like my usual ones, but because Heart Tango is considered a short film (emphasis on short, as it's literally only seven minutes long), I'm reviewing it anyway and categorizing it under the other movies I've previously reviewed.
Production History
There's really not much concrete research on it, other than it's apparently a commercial for an Italian clothing company called Intimissimi, which specializes in undergarments, pyjamas, and vests for both men and women. Fun fact: the label has a third-party arrangement with Victoria's Secret, and its collections are being sold in 240 VS stores across Europe. The commercial was filmed in 2007, and directed by Gabriele Muccino. The cast consists of duo Monica Bellucci and José Fidalgo. I can only assume that one or both of these performers were probably at one point the face(s) of Intimissimi.
What's the Story?
The entire commercial runs in a narrative loop, which, regardless of the scenario, has Bellucci always walking in on her love interest Fidalgo having an affair with… her! Throughout the piece, Bellucci encounters her many alter egos, complete with varying hairstyles, makeup looks, and outfits, portraying different personality traits. Her interactions with them are also varied; she may have direct contact with some, and only pass by others knowingly. And, that's essentially it. Seriously, that's pretty much it. What else were you expecting from an advertisement?!
What Do I Think of It?
Well okay, if there's not a whole lot of story or really any development, then we could at least try to create some sort of discussion out of what motifs we're given, right? If we're to strictly look at this as a marketing strategy — which we should — then it's pure genius. Now, depending on your perspective, this commercial may or may not be dated or too long. On the one hand, it's very likely that the intimate apparel Bellucci models in the clip has discontinued by now, and realistically speaking, you get the point of what the sex is selling within the first two minutes.
But that's just it; the blatantly obvious eye candy is what will keep you watching. Let's be honest here, everyone in the world and their grandma are obsessed with Monica Bellucci. Come on, who wouldn't want to marvel at her immaculate visage and callipygian curves all day long? Don't even deny it! (Fidalgo is pretty handsome himself, but he isn't really well-known outside of Portugal.) Oh, and she might just render you curious enough to check out the clothes. Business as usual, right?
But anyway, the other aspect about this that I wanted to touch upon is the setup itself. It kind of has a cinematic buildup that makes the whole production play out not unlike a music video or skit. It's not a typical ad that just shoves the product/s in your face and lists all the marketable attributes associated with it/them. There's actual drama and tension that one would find through any visual entertainment medium.
There's a coherent plot with events that take place in various scenes. Aside from the commercial plugins, such as her laying out the branded clothing on her bed and deciding on what she wants to wear, there's a performance here that viewers would naturally want to see unfold. They want to know how Bellucci will react to the adultery every time, whether she's always known about Fidalgo's ways. They want to try and piece together her connections to her other selves, and if there's any context as to why they show up in specific places at specific times.
People will inevitably treat this like a movie, because they crave suspense, answers, a climax, and a payoff. They like a good story with characters that they might be able to relate to in some way or another. My favourite scene, which starts off the video and is swapped with the multitude of Monicas, is when Fidalgo does the tango with his mistress. It's partly because I love dance — and have always wanted to learn ballroom dancing — and partly because I wasn't expecting it to have any particular relevance until the alter egos started showing up.
One thing I must say is that the whole film is in Italian, with no subtitles (yes, Bellucci becomes schizophrenic in this film), so unless you understand the language or can make inferences, you may get frustrated. I haven't been able to find uploads with any language subtitles, oddly enough. Though I'd say it makes the narrative more mysterious. You want to know what Bellucci's selves are saying to each other that possibly cause them to behave the way they do, and how they feel about their situation and surroundings.
I sure found tons to talk about from a seven minute ad, eh? Anything is possible, it seems.
My Verdict:
All things considered, it's a brilliant marketing ploy. If you just want to indulge in some beautiful Bellucci, then I say check it out on YouTube.