She-Ra in the Time of Coronavirus
How season five parallels our lives....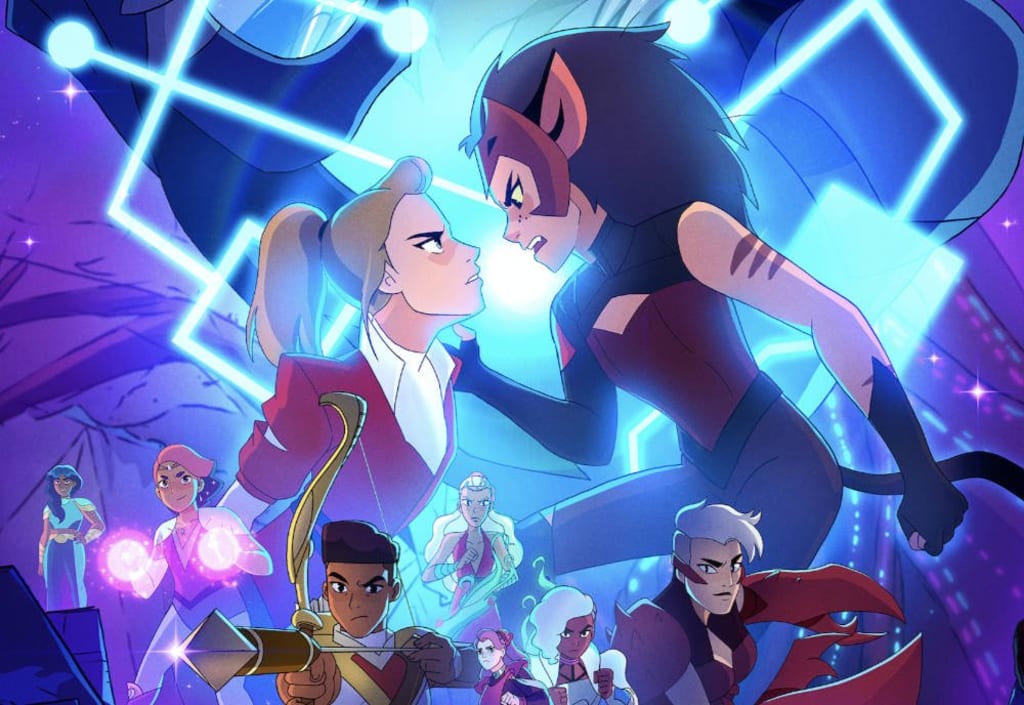 Of course, everyone shut in is eager to binge a few more seasons of anything. Children's programming is appreciated, and She-Ra is great for entire families. It's even coming at the two-month mark, when people had hoped the quaratines would lift, only to have them officially extended. Beyond this however there are some interesting echoes between the final season of the great show and our present circumstances.
Horde Prime, the new supervillain, is attacking Etheria covertly, chipping people and taking over their brains. One by one, beloved friends reveal that they're Horde's slaves now and have betrayed the team. In the time of Coronavirus, this tiny infection of one person, spreading exponentially through villages and turning neighbors into enemies, becomes a bit too prescient. On their visit to an underwater nightclub (one of the most contained spaces imaginable), it spreads from one person to half the room to basically everyone. The heroes' only chance is to hide in isolation where the others can't find them, fleeing to increasingly remote spaces. And in one memorable moment, Perfuma and Frosta tie their friends up and pointedly test each for the mind control, only taking mercy on their friends when they're proven uninfected.
All this certainly might be coincidental. At the same time, it resonates emotionally with many viewers while also modeling the steps they should take. Keep yourselves safe first, then others. Rescue what villagers you can and quarantine the rest. Only mix with those proven to be safe, because one infected person can destroy an entire kingdom.
One might hope to turn this mind control off like a light switch and recover instantly, as in many stories. In this one, however, a traumatized Catra spends a full episode in her quarters, shivering with trauma. In her pale shorts and shirt with her hair permanently cut short, she resembles a disaster victim. In fact, she's a shadow of herself. As she prepares for a horrific procedure that might kill her but one that remains her best option, she submits, filled with horror, only asking She-Ra to stay with her. For those whose loved ones who have likewise been put on ventilators, who are unable to even hold their hands, this echoes poignantly. And when being selfish will kill one's neighbors, it's clear what the moral choice is. (In this case, if Catra refuses medical advice the entire ship will be destroyed with her on it too, in a more pointed metaphor.)
And there lies another point – Catra does not submit happily to the risky surgery at the hands of someone new to the job and forced to experiment. Of course. However, she does it to save everyone else on the ship. Coronavirus is destroying lives in terms of finance and depression as well as illness. Of course it is. However, these circumstances call for unselfishness – to wear masks for others, to stay home to avoid spreading the disease. For this, Catra finds her sense of responsibility and submits. All goes well and the ship is saved.
Back on Etheria, the heroes try saving people one by one, but they clearly need a mass cure. Further, Entrapta warns them that time is most against them – the longer the heroes wait to act, the more will find their condition is permanent and cannot be cured. She, the overlooked genius, creates a cure. All infected will be instantly immune. Implementing it requires her friends to prioritize it above all – not the military or supplies, but saving all the humans of their planet including the most vulnerable. Her friends agree to this and also offer teamwork, each helping Entrapta to reach her goals. Only thus, with determination, honesty, and willingness to endure discomfort for their fellows is the world saved.
Valerie Estelle Frankel is the author of many pop culture guides including Turning Darkness to Light: She-Ra: The Classic, the Reboot, and the Heroine's Journey Catch up on She-Ra and explore the deeper symbolism