Scorecard Weekly: 'Aquaman'
What could be greater than a king?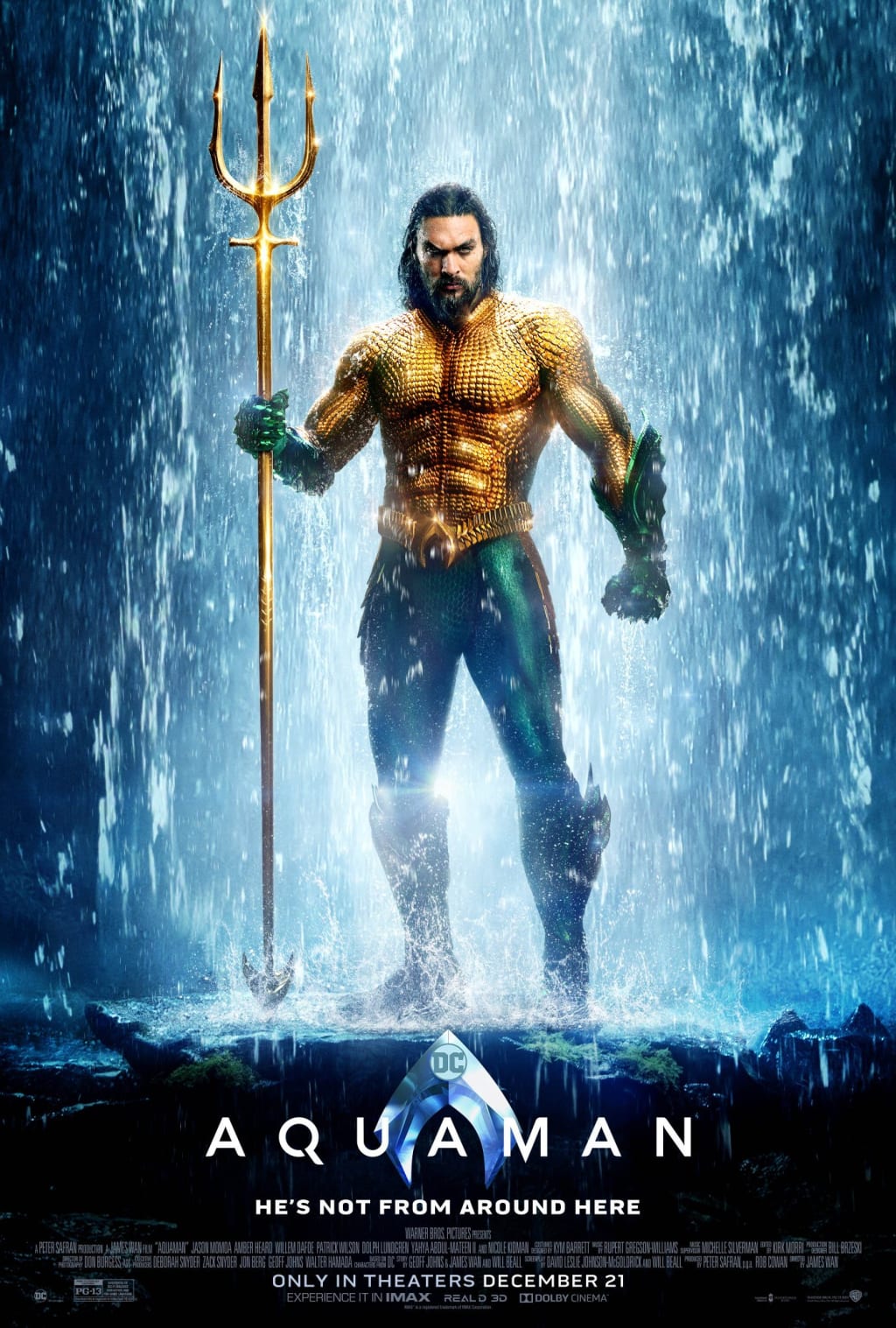 The Golden Globes were last night, and would you like to know what we learned? Christian Bale has an accent. Who knew? We were completely taken by surprise. Also, the celebs taught us that we probably shouldn't get shit faced and try to accept an award. (Oh! But don't think I won't try it one day.)
As always, if you'd like to make any suggestions and/or comments, please head over to Facebook and LIKE our page. There you will get the latest and greatest news about our series. LINK DOWN BELOW!
WELCOME TO SCORECARD WEEKLY! The place where you come to get honest, uncut, and uncensored reviews of the newest and oldest TV and movies. Before we begin today's card, let's recap on what we are grading shall we? Please turn your attention to the invisible, non-existent whiteboard codename JARVIS...
Using our state-of-the-art scorecard, we grade:
Setting/Characters
Obstacles/Conflict
Tone
Concept
The minimum score for a section and card is one. The maximum score is five. Finally, we decide if we recommend it or it's a pass.
2018 ended on such a high note. We're still trying to play catch up, LIKE ALWAYS! Moving into 2019, we're set to have another wonderful year, so we're going to take today's contender and use it to warm up our scoring fingers because IT'S ABOUT TO GO DOWN!
This blockbuster film will hopefully rejuvenate the DC Universe (because it NEEDS it). Our guest today is none other than Aquaman, brought on by the DC Comics Characters, brought to us thanks to Warner Bros. Pictures, and starring Jason Momoa.
1. Setting/Characters
Just like many superhero films before, this film takes place in various places: On land, sea, air, it covers every possible location except space—which I'm sure is for the best. We travel around to some of the most beautiful places on the planet—our favorite being Atlantis. It's magnificent and beautifully constructed, filling our imagination's with ton's of "what ifs." Having been spoiled by well-designed environments, the only thing that could compliment this are the characters. Throughout the film, we're introduced to future protagonists and antagonists that could span this into franchise. Our main protagonist is a kick names, take ass sort of guy with no room for negotiations, but he isn't some one-dimensional brute who only knows destruction. He has heart. He knows love and fear…
No hero can ever hope to win alone, so he's teamed up with a fierce woman and SHE DOES NOT PLAY! We all love a well-developed female protagonist—am I right? Granted, she isn't perfect, but she's essential to the progress of this film. She challenges our main male lead to be better and to be more. (Just marry her already bub!) They make for a great and memorable team. Obviously, these heroes wouldn't be that if it weren't for villains, however, I think this is where the film sort of bites off more than it can chew.
There's nothing wrong with introducing more than one antagonist, giving us a glimpse into their origin, but choose your battles. Both antagonists were completely one-dimensional. Nothing is worse than having characters that lacks development, and for a film that's over two hours in length, it's disappointing to see such pivotal villains be transformed into cliche characters who lack substance. With the roles played, there needed to be some sort of growth that wasn't harbored by the need for revenge. Give us a break…
Score: 3.5
2. Obstacles/Conflict
Death to the surface dwellers! That pretty much sums up what was going through the mind of the main antagonist. This man is hell bent on starting a war between the creatures of land and the creatures of the sea. Our main protagonist is thrown into the middle of this. This half-breed SOB thinks he can just show up and change things… Khal Drogo does whatever the fuck he wants people! Okay. Okay. There is a much deeper obstacle at hand here, you'll see that this man is conflicted, he doesn't want to pick a side, but he refuses to let anything happen to his home—so I guess he did. The point is he's the only one capable of stopping an impending war because if he continues to do nothing, he'll lose everything dear to him…
To make matters worse, he's targeted everywhere he goes. This film does good by compounding the obstacles faced by our main protagonist, one on top of the other. This structure allows for his growth from a selfish single entity to the man the land and sea need. Look we get it—it's his movie, but why wasn't this same structure used for the antagonists? We know you don't know… that question was rhetorical. With all the things this film did right, it continued to lack any sort of cohesiveness with other elements of the film.
Score: 3
3. Tone
Adventurous. It's a superhero film for crying out loud. What other kind of mood would it set? As with other superhero films, this one takes a similar approach where it seems they are trying to play it safe. Most of the film is down in the depths of the ocean. We've all seen the documentaries, there's some scary shit down there—well, this film plays on that by offering some rather horror-style scenes that bring a new element into this movie, but they never quite take advantage of the opportunities. In our opinion, a few more of those would have helped bring balance to a film that couldn't decide if it wanted to be lighthearted or serious. (We vote for the latter.)
It never quite finds its pacing when switching between the two. It does its job by building up, but it just leaves you there. Waiting. Waiting... you're expecting one thing and they're saying, "To hell with your expectations."
Score: 3.5
4. Concept
The idea behind this film is simple: Create an origin story for one of DC's iconic characters, while trying not to make him as goofy as he's been portrayed throughout the years. This film NEEDS to be the standard for the DCEU. It's an action-packed adventure that was able to rejuvenate characters into the modern age. This idea can help pave the way for future films within the universe, not just this franchise. There will be a sequel—GUARANTEED! Even though it's not completely original, and an adaptation of the comic book series, this film is a winner and I always say, "Every great film starts with a great script."
Score: 4
Overall Score: 3.5/5
Final Verdict: Recommended
Final Thoughts
Is this film perfect? NO! Not even close, but we understand that it doesn't need to be for it to be entertaining. Yes, there are some flaws within this movie, but not enough for you to dislike it. We've read through numerous reviews with people slamming this movie; take our advice, DO NOT go into this with high expectations. This film isn't going directly off the comic books, so all you diehards can relax. There's an entire universe out there being created, and this is just another installment. Get you some popcorn, some candy, maybe even a large drink, kick your feet up, and for the love of all things holy—ENJOY THE GOT DAMN MOVIE! Because it is a thrill ride, one that we think you should all try out.
Thank you, ladies and gentlemen, for stopping by!
superheroes
Screenwriter, Father, King of the pirates, Demogorgon Killer, and The People's Champion (Sorry Rock)
Follow me on Twitter