Sally Spectra Loses Everything on 'B&B'
Courtney Hope's character will soon be in hot water. When her scam is revealed there will not be one person who feels bad for her.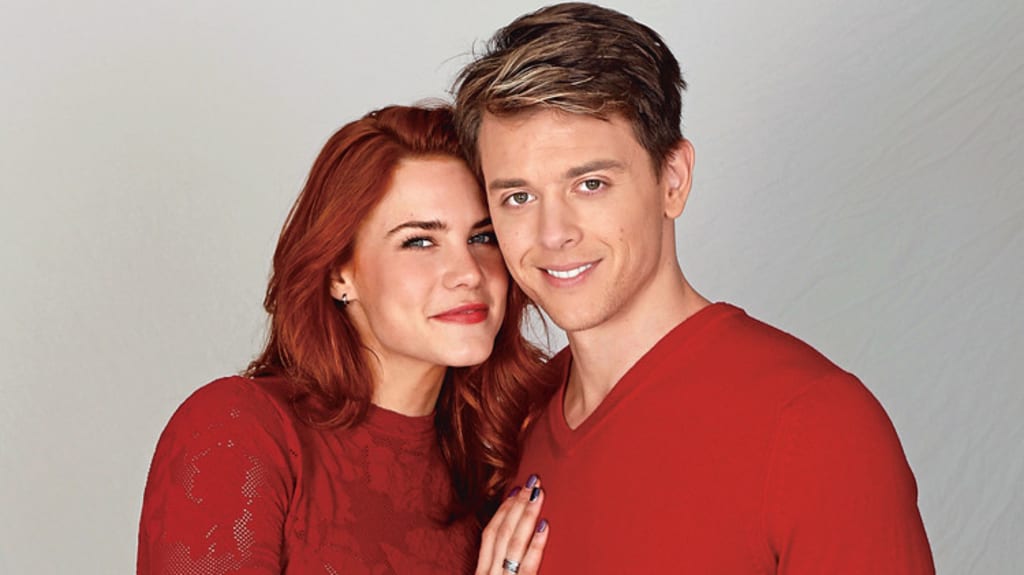 Courtney Hope is dating Chad Duell
In real time, actress Courtney Hope is dating Chad Duell who portrays Michael Corinthos on General Hospital. The duo just celebrated 4 years together and things seem headed in a good direction for the couple. On The Bold and the Beautiful, however, Hope's alter ego Sally Spectra is not having such a good time. On the last original episode of the CBS daytime drama, Ms. Spectra and her friend Penny were trying to hide Flo's unconscious body. Wyatt had just walked through his front door and his eyes widened as if he saw something troubling. It is unclear whether or not Sally and her doctor moved Ms. Fulton's body in time or if Wyatt caught them in the act. When new episodes resume, and the entire truth is revealed, Sally is going to lose everything.
Wyatt could walk in on something totally unrelated to Flo and this storyline will go on for a little bit longer. He may have opened his door just in time to see his girlfriend being dragged by Sally and Dr. Escobar. It could be the women have already placed Flo in another room, but Wyatt sees that Sally is up without her walker and demands answers. However it plays out, the fact that Sally is not dying must come to light and this is when her entire world will crumble. She will definitely lose Wyatt who will be angered by what she pulled off. She will gain an enemy in Quinn who will have a double reason to hate Ms. Spectra.
Mrs. Eric Forrester will be absolutely outraged that Sally tricked her son and hurt Flo in the process. Quinn will be livid when she realizes that she fell for the hoax. She will probably turn her hatred of Brooke towards Sally and the fur will begin to fly. Ridge, Katie, and Steffy will be angry that they were duped and going to use Ms. Spectra's designs in the Cotour Collection. Katie especially will be hurt that she stood by this dying woman who is alive and healthy. Sally not only faked her death but blackmailed Dr. Escobar into risking her career by going along. She used a walker and wore pale makeup to further her deception. Her deeds put her up there with Dollar Bill Spencer who lied that Caroline was dying in order to get Thomas to stay with her.Sally will probably be fired from Forrester Creations and she has no where to go and no one to support her.
The fiery red head is basically all alone in LA. Without a job, a place to live and no friends, Sally really has no purpose in the world of the Forresters, Spencers, and Logans. There has been no notice that Courtney Hope is being written out of The Bold and the Beautiful so one of two things could happen. Sally could simply disappear like Thomas who has not been seen since he was outed during his wedding to Zoe. No one even mentions him or his son Douglas anymore. Characters like Charlie, Pam, Justin, and Donna disappear and reappear all the time on B&B. They may be gone for months and then suddenly show up as if nothing is wrong. Its highly unlikely that Sally and Penny could be charged with fraud and arrested. Dr. Escobar will however, probably lose her medical license.
Sally Spectrs has such promise when she first showed up in the LA fashion world. She and Thomas Forrester (Pierce Forde) were great together and were bridging the gap with the Spectra's and Forrester's. It's not clear why the writers have taken her down this path. Sally used to be strong and independent but now is clinging to Wyatt. Felony Flo is being a bit self righteous considering how she had been forgiven for her crimes, but Sally does hate her. There had been no indication when The Bold and the Beautiful will begin taping new episodes but when they do this storyline should be front and center.
It's also possible that Shauna will take Dally to task because her daughter was hurt. There is no shortage of people who will want a piece of Ms. Spectra snd wil be determined to exact their pound of flesh. Be on the lookout for spoilers, breaking news, and updates related to when The Bold and the Beautiful will resume taping. Continue to enjoy the classic older episodes until new material is shown. Check your local listings as coronavirus updates might preempt upcoming programs. Hang in there because we are closer now than before to the sheltering in place to be over.
tv
About the author
Cheryl is a poet, freelance writer, published author and former Newspaper columnist. She has degrees in Psycology and Biblical studies. She enjoys sharing natural cures, and Nostalgia related info. Tips are greatly appreciated.
Reader insights
Be the first to share your insights about this piece.
Add your insights