Rockne Tarkington portrayed Flip Conroy on THE ANDY GRIFFITH SHOW
The actor was the only African American with a speaking role during the 8 year run of the series.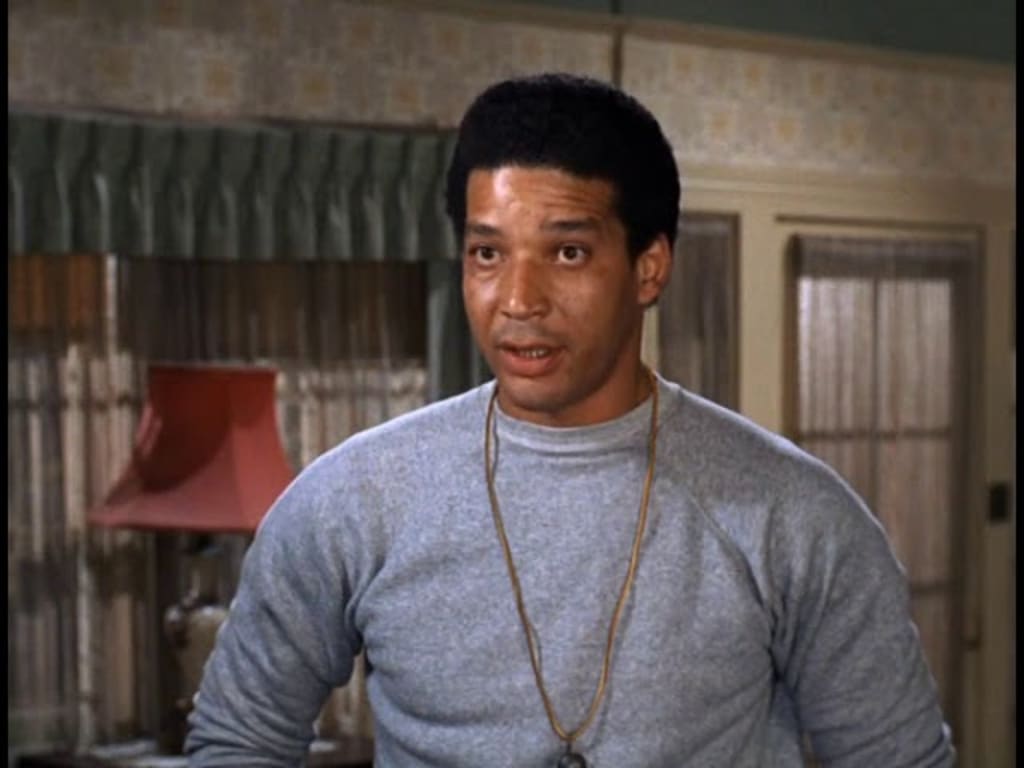 Coach Flip Conroy
Young people of color today question why there were no African Americans living in Mayberry on THE ANDY GRIFFITH SHOW. They don't understand their parent's and grandparents' devotion to a series that was devoid of African Americans. There were black town residents in the background from time to time but none of them had speaking roles. This changed on March 13, 1967, when Rockne Tarkington had a speaking role in season seven of the popular series.
When Andy Griffith was once asked about the lack of diversity on his show he said that he regretted it. He added that a rural town in the 1960s was not going to have a black doctor or lawyer. He also pointed out that black actors were beginning to refuse roles where they were servants. This implies that Tarkington portraying a black coach was acceptable at that time in history and history is what he made. Those of us who grew up during the 1950s and 1960s understood the times we were living in but thankfully things have changed.
Rockne Tarkington was an African American actor who portrayed coach Flip Conroy in the episode Opie's piano lesson. Opie had a conflict between his football practice and piano lessons and was not sure which one to choose. His coach showed up at his front door and when the problem was explained coach Conroy said that these things can be worked out. He then went to the piano and began to play which let Opie, Aunt Bea, and Andy know that the coach played the piano as well as football.
If the actor's face seems familiar it is because he was on quite a few television programs during that era. These include MISSION: IMPOSSIBLE. BEN CASEY, THE ALFRED HITCHCOCK HOUR, THE MAN FROM U.N.C.L.E, AND BEWITCHED. Not only was Tarkington the first black actor with a speaking role on the hit series he was also the first African American to appear on The Andy Griffith Show, whose name was in the credits. Tarkington also had quite a long list of movie credits in his resume and this includes
Soldier in the Rain 1963
Clarence, the Cross-Eyed Lion 1965
Tell Me in the Sunlight 1965
The Dream of Hamish Mose 1969
The Great White Hope 1970
Beware! The Blob 1972
Black Samson 1974
Roll of Thunder, Hear My Cry 1978
National Lampoon's Movie Madness 1982
The Ice Pirates 1984
Death Before Dishonor 1987
Wyatt Earp 1994
The Desperate Trail 1994
Tarkington had many more roles and worked steadily through the decades. He even portrayed various characters on the popular NBC children's show THE BANANA SPLITS ADVENTURE HOUR.
Rockne Tarkington was born in Kansas on May 14, 1932, and passed away in Colorado at age 83 on April 5, 2015. He married actress Joan Blackman in July 1968 and they divorced in October 1970. At some point during the 1990s the actor returned to Kansas when his mother became ill. He later joined the Church of Jesus Christ of Latter-Day Saints after seeing a television commercial. Rather than complaining about the lack of people of color on television in decades past, young people today should instead look at the lives of those like Robert Tarkington who broke barriers for those who are in the entertainment business today.
celebrities
Cheryl is a poet, freelance writer, published author and former Newspaper columnist. She has degrees in Psycology and Biblical studies. She enjoys sharing natural cures, and Nostalgia related info. Tips are greatly appreciated.
Receive stories by Cheryl E Preston in

your feed