Reviewing the Space Jam Sequel and its Pair of Baller Villainesses
The long awaited Space Jam sequel features many awesome attributes; among them a pair of epic female baddies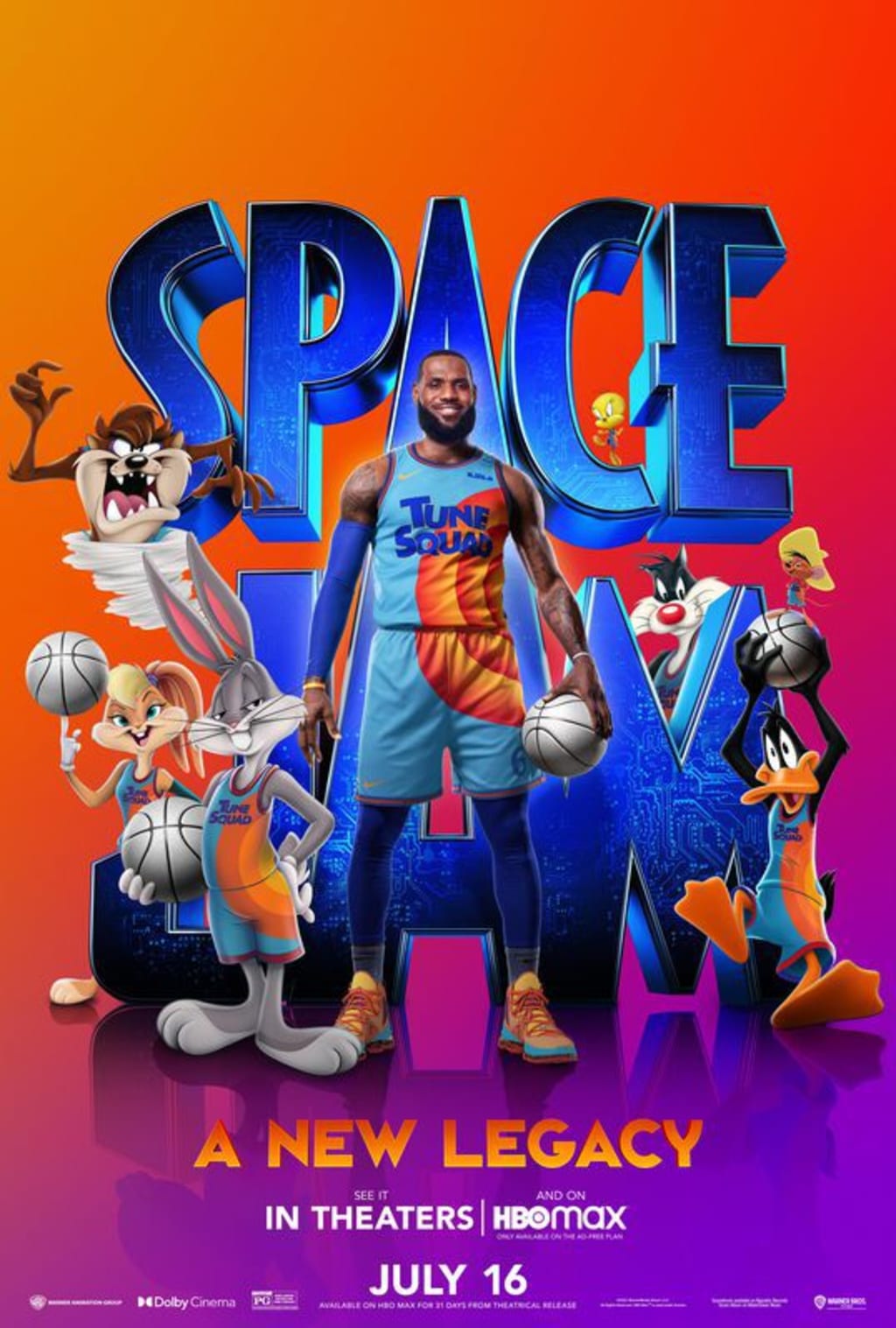 I was 11 years old when the first Space Jam came out; I didn't get to watch it until I was about 12. Even so, I still remember the hype and promos for that film. I was immensely in awe over a film that featured Michael Jordan and the Looney Tunes characters; it was just amazing. And when I saw the film finally, I enjoyed every single minute of it! Fast forward a quarter-century; after years of rumors and talk, a sequel is happening, this time featuring LeBron James. You can imagine my excitement when I first saw the trailer, oh man!
Now I am going to do something different from my usual reviews. I am going to state what I loved about the sequel, and among the things I loved was its heavy use of computer animation, even heavier than the first film. I also loved the batch of cameos, with Ernie Johnson (of the NBA on TNT fame) and Lil Rel Howery being among them, as well as seeing so many different cartoon characters as well--from not only Warner Bros., but Hanna-Barbera as well (Flintstones, Yogi Bear, Scooby-Doo), among many others. We also get to see an animated LeBron; a contrast to the first film, where Jordan remained in live action throughout the entire movie.
What I also loved was the Looney Tunes voice cast, mainly Jeff Bergman. This is where my cartoon fanaticism really kicks in. For those who know, Jeff Bergman was the very first actor to voice Bugs and other Looney Tunes after the passing of the iconic Mel Blanc on June 10, 1989 (which, ironically, was Bergman's 29th birthday). Bergman voiced Bugs, Daffy Duck, Porky Pig, Elmer Fudd, Yosemite Sam, and others since 1990, and would return to voicing Bugs and Daffy on The Looney Tunes Show in 2010. The cast also included Eric Bauza, who has voiced Bugs on HBO Max's Looney Tunes Cartoons, but voiced Daffy and Porky (among a few others) in this film. Bauza is relatively new to the Looney Tunes family, but I am a fan of his work, especially on Looney Tunes Cartoons.
I loved the casting of Zendaya as Lola Bunny, it was the perfect way to instill star power into the Looney Tunes. Since Lola's debut in the first film, the character was featured on The Looney Tunes Show and was voiced by SNL alum Kristin Wiig, while also showing a different personality than she did in both films. We even saw Granny featured, and she was voiced by longtime voice actress Candi Milo, whose long list of cartoon roles actually includes being the second voice of Dexter on Dexter's Laboratory. Granny had been voiced by the late, great June Foray beginning in 1955, and did so for nearly 60 years. Milo took over as the full time voice of Granny in 2017, after Foray's passing.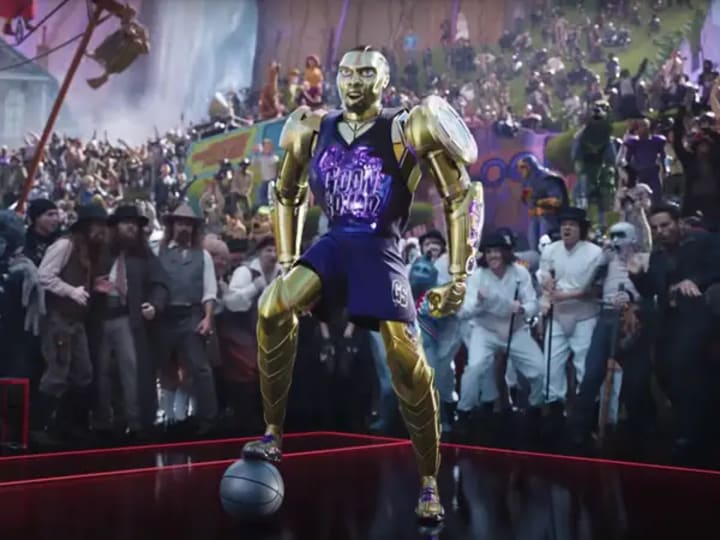 Don Cheadle shined in this film as villain Al-G Rhythm; honestly, I think he's a better antagonist than Swackhammer from the first film, because Cheadle really showed a lot of personality in this role. I think it really came easy for Cheadle, despite this being his first true baddie role, and I just couldn't help be amused by Al-G's mannerisms and dialogue delivery. This was truly great casting. I also loved the look of the Goon Squad players, especially Damian Lillard's (Portland Trail Blazers) Chronos look, it was very epic. We also got Klay Thompson (Golden State Warriors) as Wet/Fire, an homage to being one half of the "Splash Brothers" with Stephen Curry, and even LeBron's Lakers teammate Anthony Davis as "Brow" (for obvious reasons). We were also treated to a pair of WNBA players on the Goon Squad, showing off their epic forms.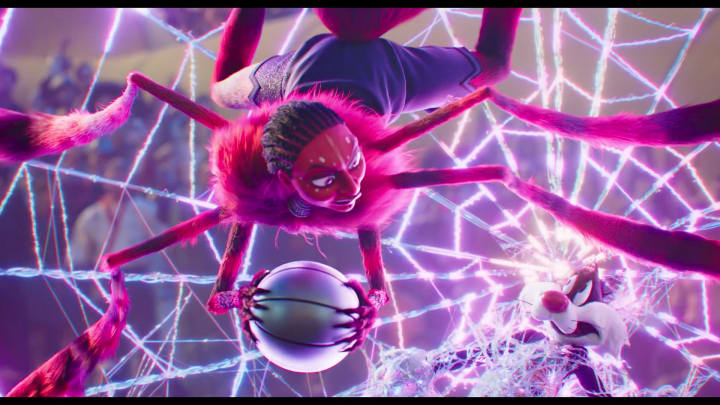 One of the two WNBA players in this film was Nneka Ogwumike of the Los Angeles Sparks, and she lent her voice to the sinister Arachnneka. I loved this character; the spider look--seriously, having six arms is an amazing advantage on the court. One of the many reasons why I was so excited for this sequel was because the WNBA was represented. When the first film came out in 1996, the WNBA was founded, but hadn't begun play yet, and here it is, 25 years later and the WNBA has shined and evolved in exponential fashion. This is part of it, and Ogwumike unleashed immense hilarity in her role as Arachnneka; who was as intimidating as she was awesome.
For Arachnneka's profile on Villainous Beauties Wiki, click here.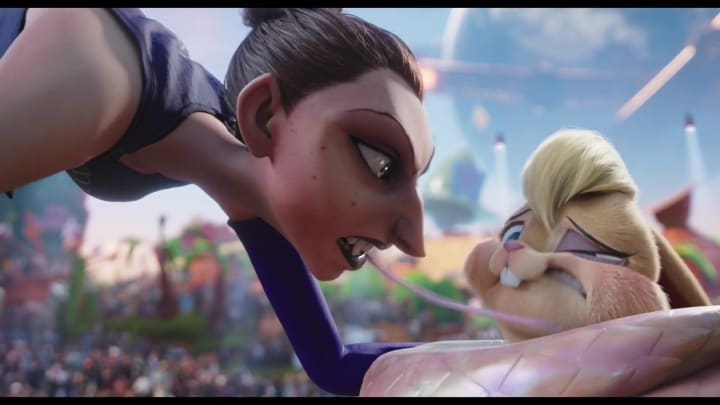 As much as I loved Arachnneka, I just flat out adored Diana Taurasi as White Mamba. I've been a Taurasi fan for nearly 20 years; I still remember her as the shining star at the University of Connecticut, and she's continued to do well as a member of the WNBA's Phoenix Mercury--all she's done is become the WNBA's all-time leader in scoring. I truly think that Taurasi playing a villainess is perfect, because she has the look of a natural heel; we see it as she trash-talks and intimidates Lola. Out of all of the Goon Squad designs, White Mamba (Taurasi's actual nickname) is my favorite; I loved that serpent-like design and seeing her use her tail to capture her opponents. Taurasi scored in this role like she has done many times on the court; it was just phenomenal.
For White Mamba's profile on Villainous Beauties Wiki, click here.
If you like this story and review, feel free to click the heart below, and if you really love this story and review, feel free to leave a tip (if you want)!
Reader insights
Be the first to share your insights about this piece.
Add your insights