Phyllis responds to Jack brutally dismissing her
The Young and the Restless has finally brought out the redhead fans know and love to hate.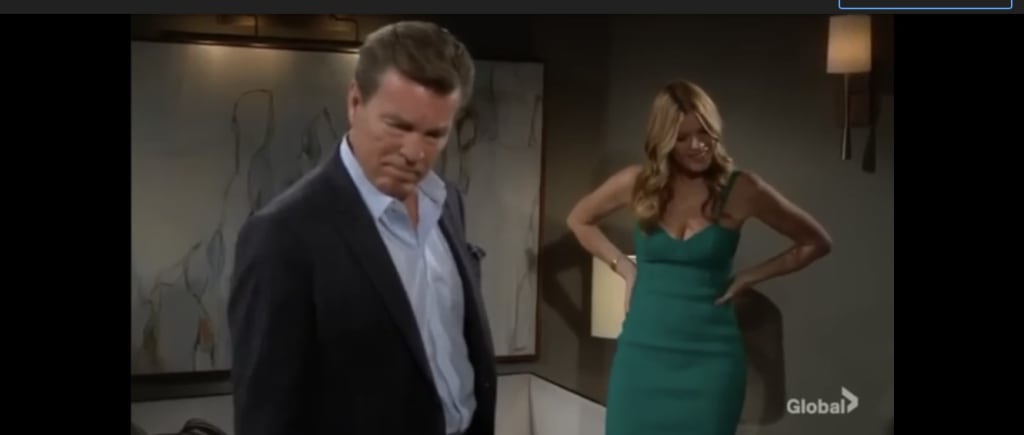 Guess who's back in Genoa City?
Monday's episode of The Young and the Restless left no doubt about the true nature of the resident bad girl in Genoa City. Jacob Abbott (Peter Bergman) made it absolutely clear to Phyllis Summers (Michelle Stafford) that they are done with no chance for reconciliation. Head writer Josh Griffith promised to bring back the old Phyllis and although it's taken a few years here she is. The conniving, blame others, manipulative, take matters into her own hands at any cost Phyliss is front and center and Jack has recognized her and called her out at last.
Unfortunately "Red" does not see herself as others do and even her own daughter does not trust her. Phyllis blame everything on Diane Jenkins (Susan Walters) and Summer and Jack realize she never takes personal responsibility and always has a scapegoat. On Monday Jack pointed out that his ex gets in her own way and cannot help herself and Phylis was stunned.
Jack apologizes for allowing the relationship to go beyond the friend's zone and says he should have known better because Phyllis is incapable of real change. She is bewildered as she pleads her case and stood there stunned wearing a green evening gown although it appears to be the middle of the day.
Phyllis had called Jack earlier and he agreed to meet her but said he would come where she was. Jack desired privacy but did not want her on the Abbott property upsetting the delicate balance that's being achieved with Summer Abbott Hunter King) Kyle Abbott (Michael Mealor) and Allie Nguyen (Kelsey Wang).
Jack is brutally honest
Jack said some pretty hurtful but truthful things in an attempt to make Phyllis understand herself but she really seemed clueless. There is no fury in Genoa City like Phyllis scorned and viewers know she will not immediately accept Jack's rejection. She promised Summer Newman ( Allison Lanier) she would keep the peace and try to get along with Diane but now that Jack has officially rejected her this changes everything.
Phyllis could barely tolerate Diane when they met in the park and she promised to play nice. Now she will really have a difficult time containing herself and will cause more havoc. Although Jack stopped her from blaming Kyle's mom for the current situationPhyllis still believes in her heart that Diane is responsible. Jack had walked in as te two women were arguing a few weeks back andV heard Phyllis say she pursued him and go in n bed in order to stick it to his other ex This is when the wheels began to turn in his head and he knows now Phyllis remains toxic.,
She is like a force of nature and cannot be contained and Summer is worried her mom will explode and that this situation will push her over the top. Griffith teased a few months back that Jack might soften towards Diane and if he does there is no way Phyllis will stand idly by. The Young and the Restless fans should brace themselves because two things are about to take place that will shake Genoa City. Diane and Phyllis will show their true colors and everyone will see who they truly are at the core.
Phyllis will self-sabotage
Jack broke things off and left no hope of reconciliation and he meant every word. As he watches Diane spend time with Kyle, Summer, and Harrison Locke ( Kellen Enriquez) and does not see any manipulation his feelings for his son's mother may change. If Phyllis continues pulling stunts like hiding in the shadows and wearing a big hat and sunglasses she will make Jack's decision for him.
The fact that Michael Baldwin (Christian LeBlanc) her best friend is supporting Diane is another factor that's getting under Phyllis's skin. Summer is allowing Kyle to choose to bond with Diane and Phyllis feels no one is on her side. As Jack's rejection sinks in Phyllis will prove his words to be true. She will be her own worst enemy and self-destruct as her worst fears become a reality.
Jack's brutal honesty will have consequences. Summer might distance herself from her toxic mother. Jack will realize he was right to cut her out of his life and Diane may end up appearing as though she has truly changed.



review
About the author
Cheryl is a poet, freelance writer, published author and former Newspaper columnist. She has degrees in Psycology and Biblical studies. She enjoys sharing natural cures, and Nostalgia related info. Tips are greatly appreciated.
Reader insights
Be the first to share your insights about this piece.
Add your insights