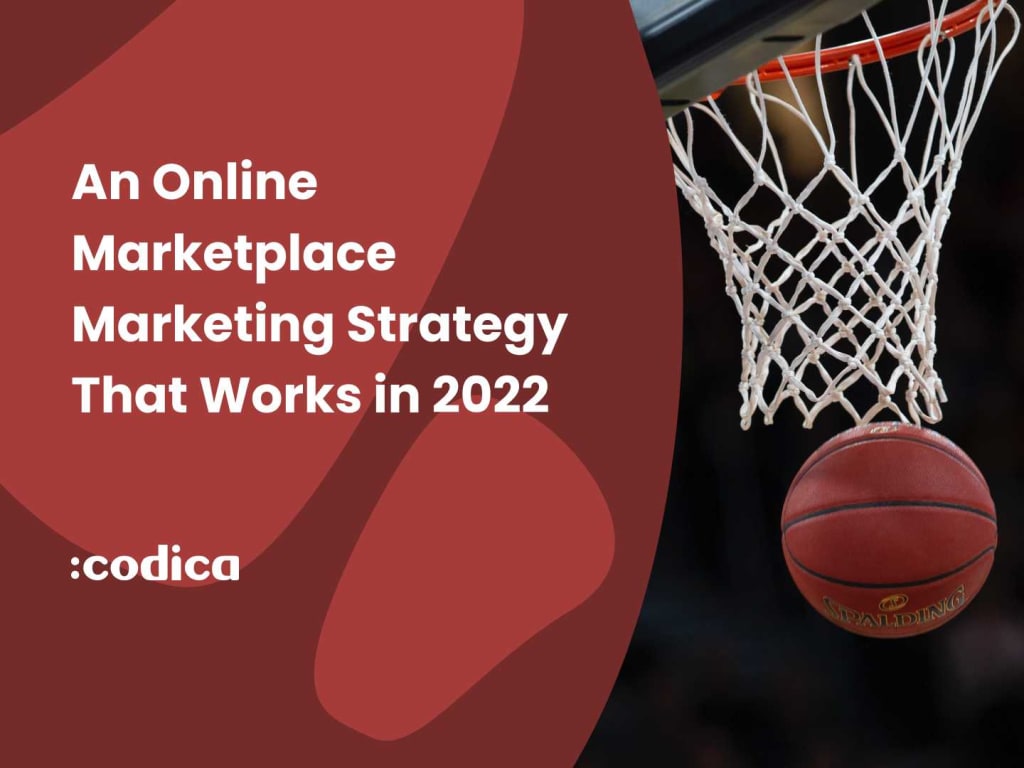 The article was initially published in Codica blog.
Promoting an online marketplace means planning and making a strategy. The right marketing strategy will help you attract vendors and shoppers to your platform.
There are various tools for promoting your web solution. This article will consider the best marketing strategies for 2022 and how to apply them in the best way.
A marketing strategy: definition
A marketplace marketing strategy is a plan that comprises a description of market research and selecting the promotion tactics. Picking the marketing strategy before developing your marketplace is recommended if you want to keep up with market changes.
You should explore the following aspects when building a marketing plan for your marketplace:
Conduct competitors' research
Analyze online marketplaces that run in the same field as yours. It helps to highlight your perks compared to competitors' platforms.
Make the profile of your potential customers
Reveal what, when, and where your potential customers buy. These patterns will assist you in keeping your marketing strategy relevant. If the target audience is wide, segment the audience to decide how you can impact each group.
Define your USP (unique selling proposition)
You need to show your customers why it is worth using your online marketplace and how it differs from competitors' solutions.
To understand the USP of your website, rely on these aspects relating to your customers:
Explore your customers' needs;
Find out your users' purchasing patterns;
Identify why users would like your platform over the competitors'.
Create a customer journey map
A user journey is a visual presentation of how a user will interact with your website. This diagram helps you personalize and optimize customers' experiences with your web store.

Source: delighted.com
The sales funnel is a diagram depicting where users stand in their buying journey.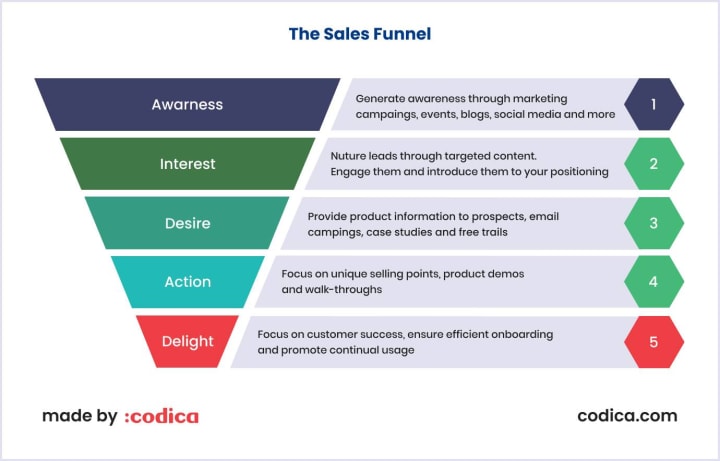 It shows which actions you can take to move your leads down the funnel.
8 top ways to promote your marketplace solution
Now, let's see what promotion approaches you can apply to your online marketplace.
SEO strategy
If your website ranks higher in search engines, this assists in driving traffic to your platform.
The Keyword Tool can help you to find out the words people commonly search for on the Internet. Your potential customers will find your solution relevant to their needs, thanks to keywords.
Title tags that outline your platform's content need to be unique. Make the meta description (a short story of what the site is about) and title tags as informative as possible.
Another vital method for promoting your website is building links that lead to your platform from other resources.
These are some SEO aspects that will assist you in making your marketplace visible on the web:
Adapting the platform for better Core Web Vitals ranking;
Customer ratings and reviews;
SEO-friendly URLs that are easy to read and simple.
Sitemaps (essential for big websites).
Marketing on social media
Social media can connect you to the big target audience and engage your potential customers. Below there are some of the most-used social media as of July 2022.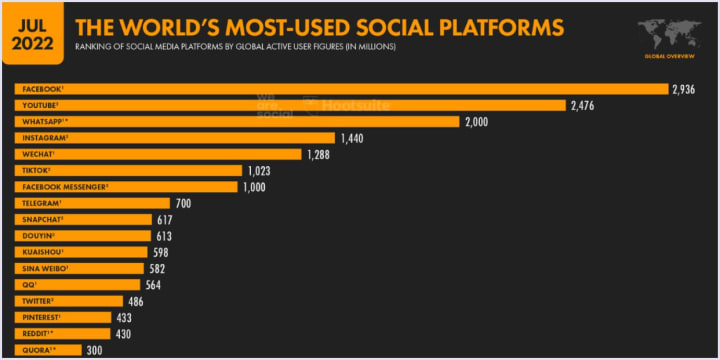 Source: datareportal.com
Increase the frequency of creating posts. Make appealing and short videos. The content you make for your social media should be captivating and helpful.
To promote your social media profile, keep your feed informative and eye-catching for users.
Collaboration with influencers
Influencers are those people that have many followers and can form their audience's opinions. Influencer marketing is a perfect method of promoting your marketplace. Enterprises obtain a $5.78 return on investment for every $1 spent on influencer marketing.
For instance, Amazon uses this marketing approach and has an Influencer Program for promoting their web business.
Marketing via emails
Emails are helpful tools to distribute information about your marketplace. There are many integrations and tools that help automate email marketing processes. For example, these are Drip, MailChimp, and Emailsmart.io.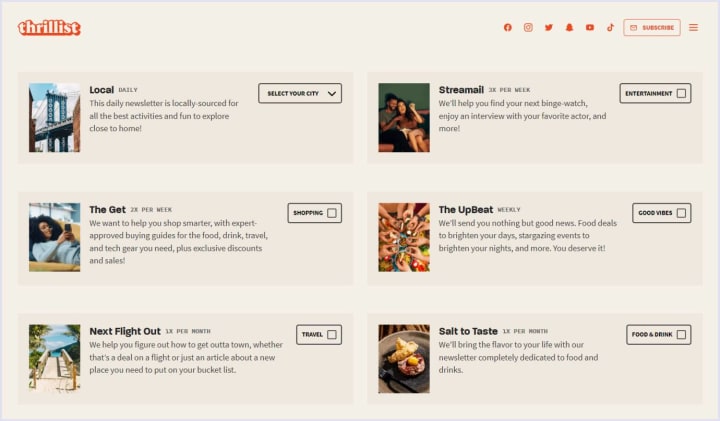 Email communication should be engaging and steady. Use pop-up boxes that draw users' attention. Offer discounts or free services for the first purchase and so on.
Social media and Google ads
Google Ads is an excellent tool to promote your marketplace. This tool works with keywords that users often search on the web. Your goal is to get higher on the search engine result page. If you pay for an ad that comprises the keyword, your ad will hit the first places in the results.
Still, the ads' ranking also is affected by the quality of your page. The Ad Rank system of Google Ads judges which ad is more relevant.
Moreover, you can promote your website through Google apps like Google Search, Google Play, and Google Display Network.
By the way, people spend much time scrolling on Twitter, Instagram, Facebook, and Twitter. So, using ads on social media platforms is another powerful marketing tool.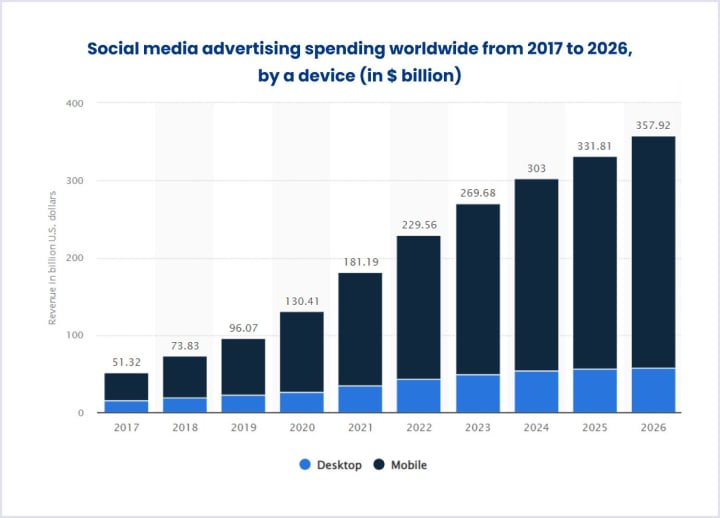 Source: statista.com
Content marketing strategy
Your website content is excellent for staying connected with your users. Make different types of content that improve your target audience' lives by solving their pain points.
By the way, the information you have made can be valuable for thematic websites and communities in forums, such as Quora or Medium. Post articles or answer questions related to your marketplace. Thus, you will cover a larger audience.
Partnerships with complementary brands
Building partnerships with complementary businesses also assist you in promoting your marketplace. Thus, you can get a customer base with potential interest in your solution, yet it will be new.
If you want to engage more users, you can share one blog post or a podcast. Also, you can suggest a shared gift with another brand.
For instance, a flower shop, UrbanStems, partnered with a business selling beauty products, BeautyBio.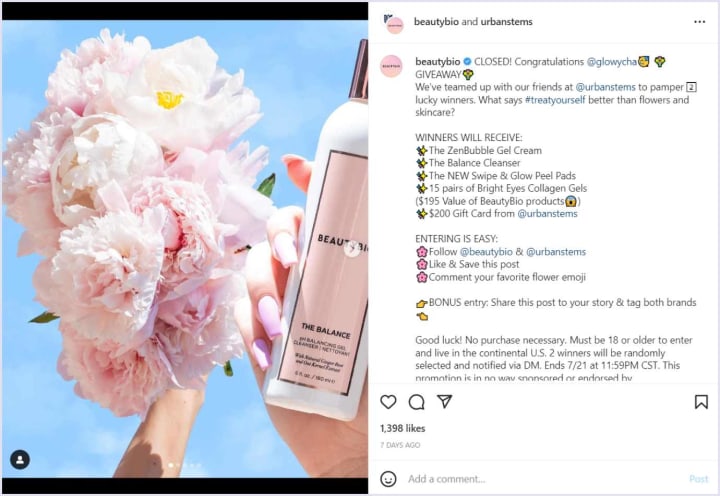 Together they raffled cosmetics between the UrbanStems subscribers. One of the terms was following BeautyBio and UrbanStems on Instagram. This idea helped both shops to expand their customer base.
Traditional promotion
Traditional advertising aims at people that spend time away from their computers or mobile devices.
Several means will help you to promote your marketplace:
Handouts (flyers or brochures).
Billboards and banners (typically found along highways or roads).
Broadcasting (commercials for radio and TV).
Print ads (posted in newspapers and magazines).
Vehicle billboards (placed, for example, on buses or trailers).
Traditional advertising is a valuable part of your marketplace marketing plan. It enables you to attract new users and make your website trustworthy.
The right marketing strategy helps your business develop
Choosing the right marketing strategy means a better appeal to your users. So, it helps your business to develop.
Also, the marketplace marketing strategy is grounded on understanding the needs of your target audience and your solution's unique value. Based on these aspects, you can pick tools to promote your online business.
Reader insights
Be the first to share your insights about this piece.
Add your insights