On "The Bold and the Beautiful" Carter may comfort Zoe when Thomas casts her aside
It's only a matter of time before Hope and Douglas's dad get together.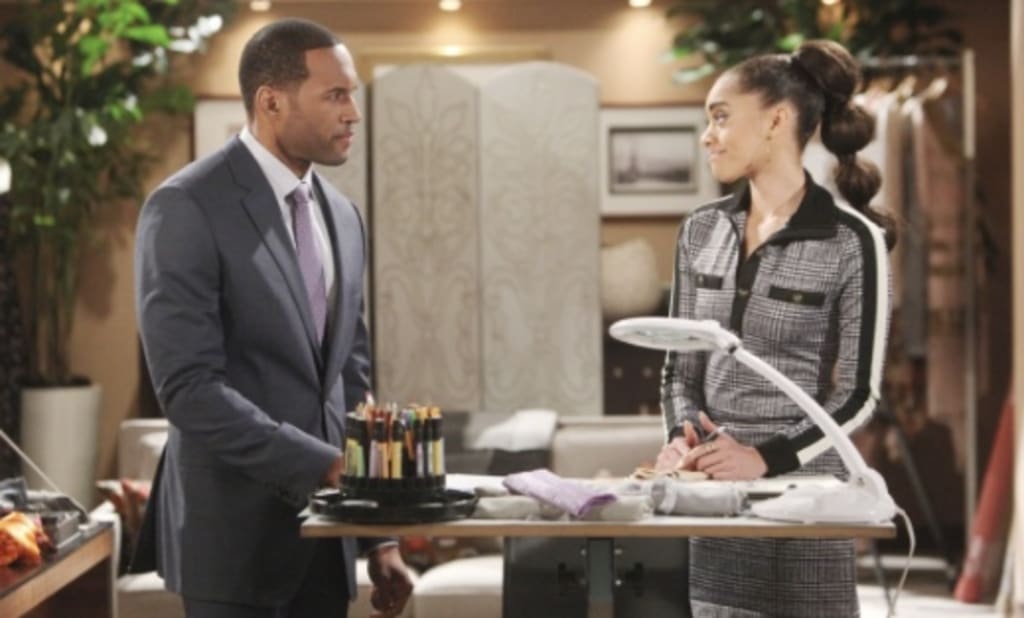 Carter and Zoe connect
Carter Walton came to Los Angeles to visit his adopted brother, Marcus who had also been adopted by the Foresters and changed his last name from Walton to Forrester. Marcus introduced Carter to his family, including his wife Dayzee who it was revealed had helped Maya Avante give up a daughter for adoption years earlier. Maya came to town I'm an attempt to locate her child and Carter did the legal footwork. The birth parents of the adopted child were located but unfortunately their story did not have a happy ending.
It was revealed that the entire family had all perished in a car crash and Maya was devistated. later Marcus' introduced Carter to his cousin, Rick Forrester and bragged on his legal skills. From this the point, Mr. Walton has been the attorney and Justice of the peace for the Forrester clan and basically just shows up to officiate a wedding or take care of legal work. Carter fell for Maya who later married Rick but they are now divorced.
Last week on The Bold and the Beautiful Carter told Zoe she was beautiful and that Thomas might not be as into her as she believes. Meanwhile, Hope is looking at the father of little Douglas in a whole new light. Everyone knows that if Ms. Logan decides she is interested, Thomas will drop Zoe so fast she won't know what hit her. Carter has not been seen for quite some time and a number of viewers thought that when he returned he might get back together with Maya. Rick's ex wife has been MIA for over a year and she was the obvious choice for a relationship with Carter but longtime viewers will recall he had a difficult time when he found out that she had once been a man. Spoiler alerts had teased that Xander would return to town and some B&B fans thought he and Zoe might get back together. Xander is nowhere to be found, so he might not come back. Now it seems that Carter might be poised to pick up the pieces when Thomas kicks Ms. Buckinghan to the curb.
Carter shows up sporadically and has not been involved in a storyline since Maya was outed as being born a man. Mr. Woodson deserves a good storyline as well as a love life. It's possible he was only making conversation with Zoe, and will go back into the woodwork, for another six months to a year. There is, however, that slight chance that he may stick around and be there for Ms. Buckinghan in her hour of need. The Bold and the Beautiful has a number of talented cast members who should be getting more air time. Among them are Justin, Pam, Charlie, Donna, and Maya.
Right now, Zoe is in the thick of things because of her connection to Thomas but once he dumps her and the fashion show is over, she may meet the same fate as Emma, Xander and others and he long gone. The Bold and the Beautiful does not seem to know what to do with many of the characters and keeps the storylines revolving around Brooke, Liam, Steffy, and Hope. For a while, even Eric and Quinn were missing from all the action, but now are front and center once more.
Time will tell if Carter sticks around and whether or not he gets serious with Zoe, but there is on thing The Bold and the Beautiful viewers know for certain. Thomas is up to no good and stringing Zoe along. He is about to break her heart and Ms. Buckinghan will be reeling from the devesatating blow. Liam is trying to prepare her for what is to come, but she is not getting the big picture. Thomas is wining and dining get so right now Zoe's head is in the clouds. Carter and Zoe might make a great couple if only given a chance. Viewers would probably also like to see Mr. Walton in the upcoming fashion show, strutting his stuff as he has in the past.