No Day, but Today
How Jonathan Larson's story and musicals inspired a modern generation of Broadway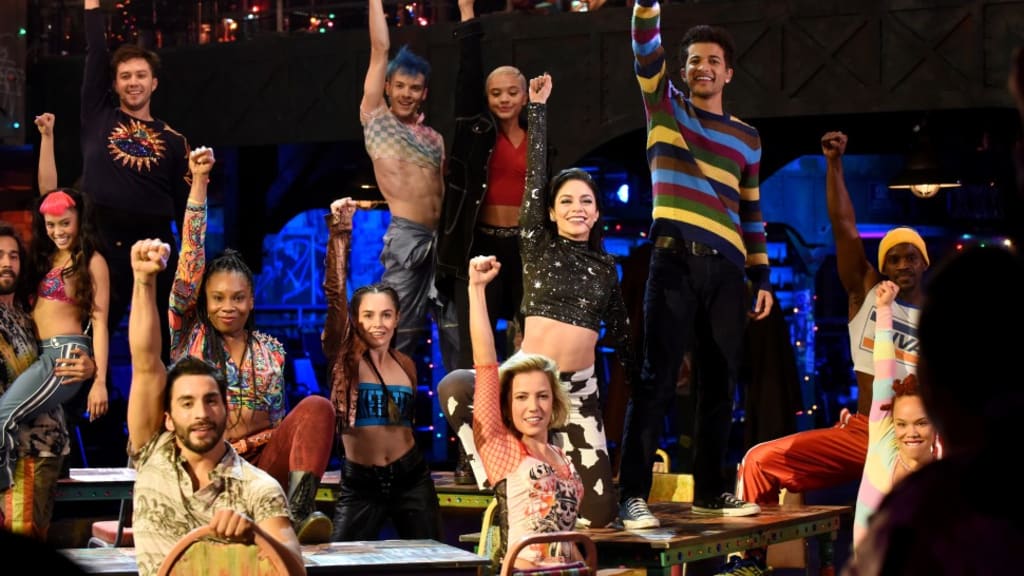 The cast of the 2019 live TV special musical adaption of Rent
Because most notably, his work began to spread for its taboo towards social LGBT issues and its notable struggles. Jonathan Larson blended his works with the culture of countless broadway productions. Larson lived as a confident artistic professional. He was among the pioneering playwrights of modern-day musicals. Larson had his own particular experiences throughout his life and career, that mainly had affected his personality. As a playwright, Larson wanted to write stories inspired by self-experience, and combine these true elements with his own scripted portrayal of his characters in his musicals. Larson's works are an influence on many other lives from many aspects of life. Today's playwrights have taken inspiration from his legacy. These motives inspire and impress the general viewing audience of the successful traditional theatre. Larson's stories are so passionate from personal experience, the artists' characters and their own narratives, and it is the one true motivation towards today's theatre.
As a motivated playwright, Larson often uses his own stories to communicate with his own theatrical ideas, and uses the imagination, which he utilizes through his characters who are inspired between himself and the people before Larson in the past. Prior to his signature success in Rent, which was based at the Neverlander Theater in New York for many decades, it was his first musical play Tick Tick BOOM, which is more based on Larson's earlier experiences. The show started its run in 1991, which was Larson's one-act performance. In Larson's legacy, there are new additions and changes, especially with the casting. Since the very beginning, Tick Tick BOOM recounts how Larson was striving for success as a playwright, and it follows the inspiration behind Larson's character, for the progress of this musical.
While he was busy developing the key ideas for Rent, Larson was residing in SoHo in Manhattan, with his roommates there. He lived in freezing climate conditions in his apartment, and one of his relationships never lasted that long. In Rent, the setting showcased the LGBT community, where people recounted the drag queens, drug addicts, performance artists, AIDS patients, and local vagrants, that Larson developed as the progress of his story along with the characters that Larson adapted in his plot.
Rent premiered at the Neverlander Theater in January 1996, but Larson passed away unexpectedly before the night of its big premiere. The musical was based on Giacomo Puccini's distinctive opera, La Boheme (1896), and this was the inspiration of the storyline in Rent. And based on Larson's earlier experiences in the creative arts, Larson's final musical starts in the late-1980s, and is set in Alphabet City in East Village, Manhattan. Rent reached out to the worlds LGBT family, that seeks beyond these relationships and struggles, that people like Larson had experienced with.
Both his family and career life influenced these important experiences that was vital and later inspired Jonathan Larson to use the stage to narrate his experiences through his embodiment of work. These qualities gave a sense of feeling to the audience, where productions, even following Larson's craft, can captivate these communities around the world. His work served as a big influence to today's stage professionals. Like the late Jonathan Larson, there are many who develop an equal luxury from choice, and their own stories to tell, inside and out, that serves as future accomplishments, that Larson had echoed for the many generations to come. This is what helps move the current theater scene of, "No day, but today."