My ReviEw of Episode 10 of GAMEBOYS
PASS OR PLAY?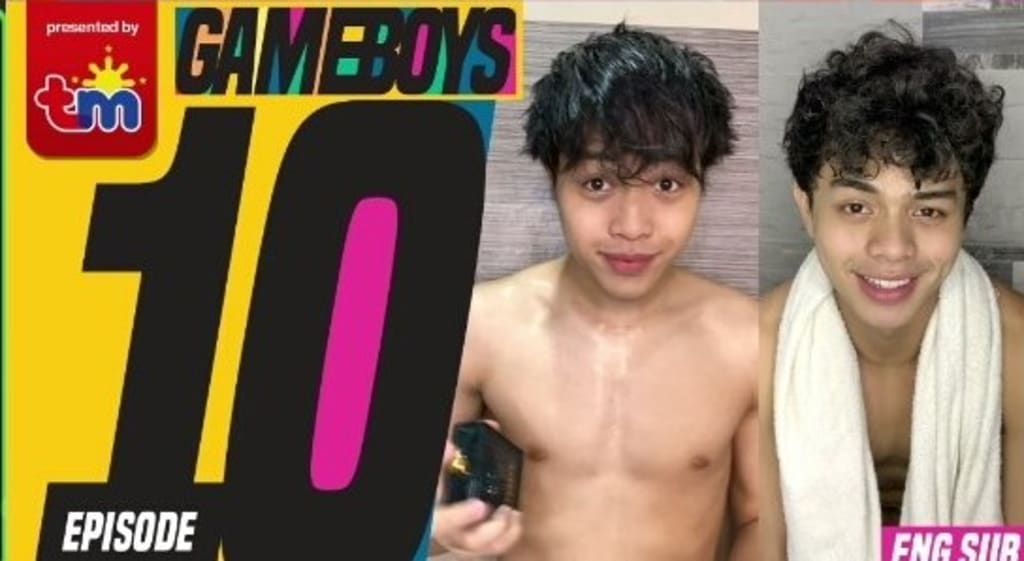 Love is a gamble in which you have to bet at some point in time because when you love a person then it becomes 'we' rather than 'me'. This is the point which is shown in the 10th episode of Gameboys series. This episode was short plot-wise because in the previous episodes we have seen that Cairo's mom has asked Cairo to move with her to his grandma's house. Now Cairo is worried about how to explain this to Gav and at the end of that episode Cai gave himself to love and called Gav 'baby'.
The 10th episode is a happy and cheery episode without any negativity, troubles and worries rather this episode was filled with love. While watching this episode, I felt like my heart is melting and the body is getting weaker. The dialogues, visuals and compassion of actors were marvellous. I lost myself for a few minutes because of their acting skills.
The episode begins with the usual routine online activity organized by Pearl in which one person gives hint about the name of the movie or song by mono-acting and other's have to guess it. During that Pearl almost slipped her tongue by saying to Gav that Cai is moving away but the president of third-wheel (Pearl) somehow managed by keeping it away from Gav. Honestly, in this scene, Gav didn't waste his time and started flirting with Cai. What I liked the most that Cai called Gav baby during a video call. I replayed that scene at least three times to watch that scene again and again, who doesn't want to see that again because we waited for 9 weeks for Cai to say 'hi baby' to Gav. Even Gav also enjoyed that, which is a delightful scene to watch. In that scene both of them start discussing their future, thinking about their lives as a married couple. Gav even suggested that they can get married in Taiwan and Cai can cook food for him at home. Usually, Cai could have avoided that situation but now he is head over heels in love so, he also flowed with the momentum and told Gav that both can live happily even if both are employed. I never thought that I will get to watch a scene where Cai and Gav will be lost in love so much. You can feel the love on the screen. Finally, the time came when Cai and Gav were about to meet in person but like last time also, this time they faced many obstacles. We can see how much they prepared to meet. One thing is worth noting that both of them are very different from each other because Cai loves to eat junk food and Gav loves to eat healthy food. Gav's wardrobe is well organized whereas Cai's room is messed up or maybe due to excitement he made the room messy. The scene where they were about to meet was very much exciting for everyone even I felt that excitement and nervousness. I was scared also because I was thinking what if they fail to meet again? What if Cai couldn't say to Gav that he is leaving? At that time things turned messy. Cai overslept, Gav went back to bring extra food for frontline workers and Cai's brother took the car for grocery shopping. To add the troubles, while Gav was coming to meet Cai, his car's tyre got flat. At that moment I thought that Gav got into an accident. Now the situation became impossible for them to meet. Gav informs the situation to Cai and Pearl. So, Cai explained his ordeal to Gav in the video call. Surprisingly, Gav was cooperative and was ready to adjust up to any level to be with Cai. I felt little emotional when Gav asked Cai to believe him and he is ready to gamble on his love. It was a real fact when Cai said life is not game and we can't keep on gambling but in truth when we fall in love, we gamble on love unknowingly because despite unknown future we believe another person and feel that the person will be beside us forever. But at that time suddenly Gav's phone got disconnected and Cai thought that Gav is pissed and don't want to talk. Then came the CaiReel saviour, Pearl. She handled things in such a manner that it felt like the impossible things went home to take a nap. Seriously, what a girl? She drove back to Cai's home, convinced him when he was anxious because when Cai thought he lost all the chance to meet Gav. But thanks to her they got the chance. Pearl came and dragged Cai to meet Gav. Gav managed to come to the meeting spot. Gav and Cai met at empty streets of Manila with very tall buildings around it. I would say that the scene was perfect and aesthetically pleasing. It was nice to watch that the series had some outdoor scenes for a change. At last, they met and due to social distancing norms, they couldn't hug but still, the love was pouring out of their eyes in the form of tears. After all the trouble, they faced in their relationship they got to meet which was emotional to both of them. Another good thing happened was that Cai confessed and said that he loves Gav which made me blush. There, Gav told his decision that he will not stop loving Cai even if he moves away and maybe he will also shift to the place where Cai is heading to. So, we can say it is a win-win situation for Cai on the matters of his love and his family. I was disappointed when I saw the 'Ivan' name (director of the series) but still, I continued watching it then I got a surprise scene. I didn't expect that post-credit scene will be satisfying to me. Gav takes Cai to a place where they can hug with the help of a certain arrangement. It was like you can hug without direct physical contact through a thin foil sheet. In that scene, the behaviour of Gav was very naughty with full of double meaning dialogues. The end scene was unconventional but very romantic. They removed face masks and kiss each other through the thin foil sheet. Though the episode was small it was productive to watch. I am eagerly waiting for what lies ahead for both of them.