Mr. Clean, DIRTY!!
A humorous little story about a murder investigation on Mr. Clean from the perspective of an investigative reporter.
This is your roving reporter Anne O. Nimity – Yes, my parents wanted a girl. Get over it and move on. I'm down at the police station where I have just been speaking with Officer McGruff. Having recently heard of the untimely demise of the Pillsbury Doughboy - which sad event is still under investigation - I asked for a statement. The overcoat bedecked K-9 Officer was quoted as saying… "Don't you worry, we'll take a bite out of crime!" In any case, in my own ongoing investigations I have uncovered facts leading me to make this special news report tonight which I have titled:
_____________________
MR. CLEAN – DIRTY!
"This is where I should hear the ominous music: Dun, Dun, Dun, Dun!!"
In a shocking development the FDA has released information that Mr. Clean may be dirty. The fifty-plus year old two-fisted grime fighter, long an icon for clean living, was implicated last month in a plot to spread a stain on the pristine character of the recently departed Pillsbury Doughboy, aka PDB, in an effort to supplant his position in the advertising world. Friends of the bald buff icon stated that Mr. Clean had been falling into a funk due to his slide from popularity and often flew into a jealous rage whenever he heard PDB's signature giggle. Pillsbury, the penultimate "White Hat" **Note: Good place to pull out a chef's hat and put it on** was recently found with a hole poked clean through his belly and a subdural hematoma on his head. Reportedly Mr. Clean's fingerprints were discovered on the flour spotted rolling pin found near the body. A Magic Eraser had been utilized in an attempt to clear the DNA evidence. Clean stated that if the grime sticks and he goes down for this he won't be alone; those trying to wash their hands of this would be called to task. Mrs. Doughboy was too racked to make a statement but said she would rise to the next occasion.
An unidentified source in the Proctors office said that Mr. Clean was known to Gamble. Further, it was alleged that Clean and his cohorts were spotted in a clandestine meeting under the Golden Arches. Ronald McDonald was heard stating to the icon "You deserve a break today." An unidentified subject, reportedly a juvenile female carrying an umbrella, was heard commiserating "When it rains it pours." Other reported attendees were the Energizer Bunny, the Jolly Green Giant, and the Michelin Man.
Having heard it through the grapevine that the Jolly Green Giant was directly involved in the cover-up and had given some peas black-eyes this reporter tried to elicit a comment. Jolly was quoted as saying "Sorry, I'm in a hurry. I have an appointment at Jiffy to pop my corns." However; Sprout, Mr. Giant's ward, told this reporter that he had overheard Jolly being told by Mr. Clean that the Pillsbury Doughboy had caught them baking more than flour into his cookies. Also, that the Energizer Bunny was allegedly the power source behind the throne. At this point Mr. Giant grabbed Sprout and climbed up the beanstalk.
Having heard that Energizer was on a visit to Kellogg Cabin, this reporter stopped by. Tony the Tiger answered the door and, upon being queried, advised that Mr. Clean had used Scrubbing Bubbles to frost his flakes with crystallized meth. When asked if this had caused him any heartburn the striped figure stated "No. They're grrrrreeat!" Upon this pronouncement the flaky feline nearly fell on top of the Energizer Bunny who was patiently marching in little circles nearby. Luckily the feline landed on his feet and the Bunny was able to march out from under the tabby tummy none the worse for wear. Mr. Bunny, long known to march to the beat of his own drum, when asked for a quote tilted his sunglasses and said "It doesn't matter how hard you try to stop me – I'll keep going and going and going." Upon this pronouncement the fluff-tailed pink guy turned and marched off to the accompanying "boom, boom, boom BOOM!" of his drums. Startled by the unexpected decibel level of this final boom I turned just in time to dart out of the way of a pile of debris erupting from the wall behind me. Another resounding BOOM reverberated as a huge hole appeared in the wall accompanied by an eddying cloud of dust and flying mortar. Through the concealing dust screen I could see what appeared to be a large pitcher shape retreating down the hallway. I took off in pursuit following the trail of sloshed sour grapes. Given the purpling effect on my shoes I decided to just SHOUT IT ON OUT and yelled "HEY KOOLAID!" at the top of my lungs. With a last liquidy slosh the figure turned the corner at the end of the hallway and disappeared from sight. As I approached the turn I was waylaid by Snap who threatened to make my ears Crackle and Pop if I didn't immediately vacate the premises. Deciding that I would rather keep my rice crispy I departed.
In a final attempt to uncover more information about this nefarious scheme I visited the home of the Michelin Man. Mr. Man was quoted as stating "I'm rubber and you're glue. Whatever you say bounces off of me and sticks onto you." His only other comment was simply "I'm just plain tired. I didn't get any sleep last night after the Mrs. told me my rubber was dry-rotted and we can expect a retread soon." I'm certain the tire industry is breathlessly awaiting the blessed event.
Further developments will be reported tomorrow after Mr. Clean is arraigned on suspicion of having "Rolled the Dough."
Signing off **For the TIMES BEING** This has been a special bulletin from your roving reporter
Anne O. Nimity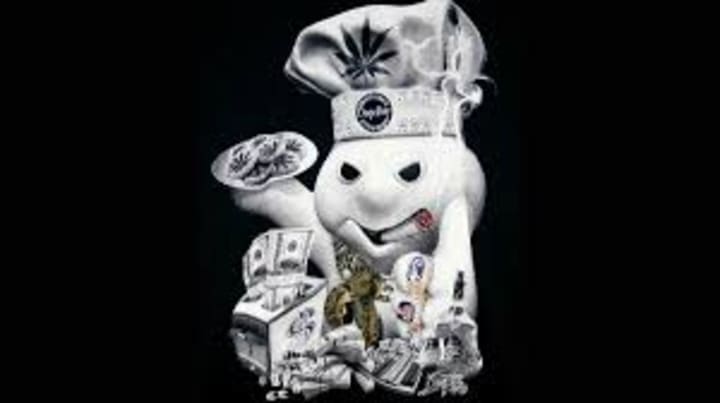 vintage
satire
pop culture
entertainment
comedy
About the author
Andrew McDonald is a 30 year 911 dispatcher in Florida. He resides with his wife of 35+ years. Upon earning his B.S. in Applied Mathematics at Florida Institute of Technology, Mr. McDonald served as an officer in the U.S. Army 1985 to 1992.
Reader insights
Nice work
Very well written. Keep up the good work!
Top insights
Compelling and original writing

Creative use of language & vocab

Easy to read and follow

Well-structured & engaging content

Excellent storytelling

Original narrative & well developed characters
Expert insights and opinions

Arguments were carefully researched and presented
Add your insights