Movie Talk: Vicky Cristina Barcelona (2008)
Some thoughts about an interesting little film...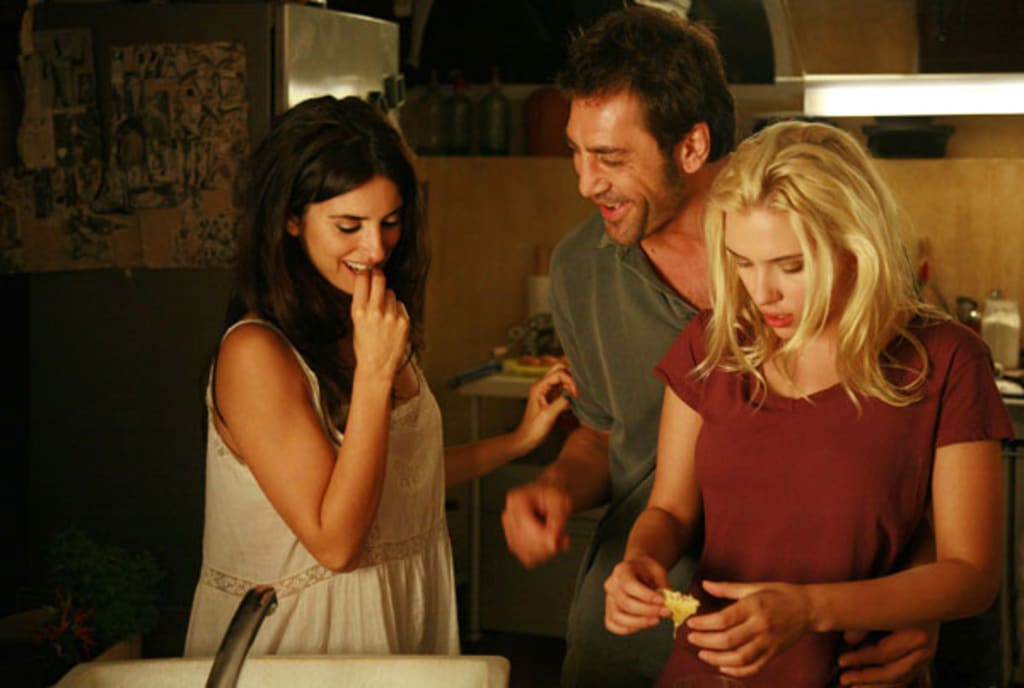 Photo retrieved from Amazon via Google Images
Vicky Cristina Barcelona is a film that seems to be much more popular among the European crowd than it is here in Canada. I only know a grand total of two people here who have seen and enjoyed this movie, which doesn't surprise me.
I first heard about this film through my Montenegrin friends several years ago. I naturally grew curious about it, since I'd never seen a Woody Allen film up until that point, and from my understanding, his films are supposed to be pretty good (in spite of what we know about him as a person).
What's interesting is that this film's script is mostly in English, and nearly all the Spanish conversations take place between the main guy (Javier Bardem) and Penelope Cruz's character only. And having finally seen what the fuss was about, I can honestly say that it's an interesting little film.
I'm admittedly not crazy about it as many others (namely women) seem to be, but I do like it nonetheless. I like it enough that I remember some material for this ramble of sorts, but not enough that I want to see it again for the sake of a full-blown review. I don't have as much time as I used to, and I'd rather dedicate whatever free time I have to watch and review films I haven't seen. That being said, I do plan to eventually discuss all the films I've seen in my life—or, at least, as many as I can in my lifetime.
All you need to know about this film, plot-wise, is that a Spanish artist (Bardem) falls in love with these two American girls who come to Barcelona for their summer holiday (Scarlett Johansson and Rebecca Hall) – problem is, he's burdened by his artist ex-wife (played by Cruz), who is psychotic and suicidal. We see how their respective interactions make a temporary impact on their life perspectives.
One of the things I like about this film is the aesthetic. It has a very vintage look (I loved the photoshoot session montage with Cruz and Johansson especially–the process of developing film inspired me to learn how to do it myself), and it's not often you have a North American-based movie filmed in a setting other than, well, North America. I mean sure, you'll get scenes in foreign countries, but you don't usually get the chance to witness the actual culture in these places. And this film at least gives us a little more of that aspect missing in non-foreign films these days.
Though to be honest, none of the performances in this film really wowed me (in the film's defense, I think it's intended, as it plays up raw emotion more than the drama) except for Cruz's. She's absolutely crazy and unpredictable, dare I say incredibly sassy and yet vulnerable at times. I'm not really a fan of her as an actress personally, but she totally nailed this role.
The biggest thing about this film that really got to me was the subtle conveyance of how human relationships generally work. The entire point of this film is to show that, no matter how spontaneous your life becomes at one point, it's usually short-lived and doesn't actually change your situation in any way. When you really think about it, that's how nearly all of our interactions go.
Not everyone is meant to change us forever; if anything, and especially in the case of this film, certain experiences may even help us to realize that even if we welcome a change of pace, we soon see that it's not what we need or want. Though it can also boil down to the fact that many of us simply accept the inevitable—that we either cannot control our situations no matter how hard we try, or we just sort of nonchalantly accept it, regardless of how we feel about it—if we feel anything at all.
At the end of the day, experiences are mostly meant to be just that—experiences. Memories that stay with us forever, but don't necessarily change anything in our lives. It's very much true to life, and I think that this film portrays that idea well. We oftentimes cannot express how we feel about these things, because we don't know how we feel in the first place. We think that, even if we have to endure the hardships of these experiences, they will be worth it somehow and perhaps even improve our situations.
But no, that's not always true. If anything, maybe we're just meant to remain in our cyclic lives, mentalities, and logics, because we know we can confide in them no matter how good or bad they actually are for us, and that any spontaneity will not last forever—and can possibly make things worse due to their unpredictability.
Some interesting stuff to think about, hm?