Movie Review: 'You Get Me'
Bella Thorne as a psychotic femme fatale and pleasing aesthetic make this fairly tame Netflix thriller enjoyable.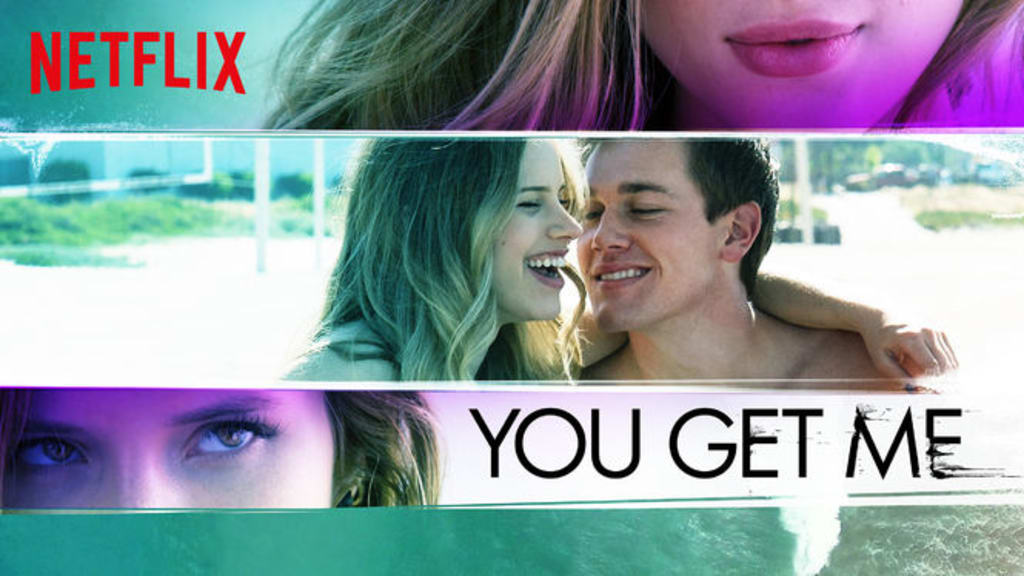 In a nutshell, Netflix's 2017 original film You Get Me is a Lifetime obsession thriller with a bigger budget and a more well-known actress as the Glenn Close-esque obsessor.
As the film begins, it appears that Tyler Hanson (Taylor John Smith) has a fairly laid-back kind of life: a job by the beach, good friends, and a beautiful and adoring girlfriend in Alison Hewitt (Halston Sage). But at an end-of-summer party before the beginning of their senior year, Tyler learns about Alison's past as a sexually active party girl from her ex-boyfriend Chase (the tragically underused Rhys Wakefield). This upsets Tyler due to the fact that he had been respecting Alison's desire to hold off on consummating their relationship. A fight leads to the couple breaking up, with Tyler getting a ride from a fellow partygoer he ran into at the bathroom.
Her name is Holly Viola (Thorne), and soon after leaving the party with Tyler, the two go out to a club where Tyler and Holly take drugs and end up in bed together. As the two spend more time together and Holly opens up to Tyler, it appears the two might have something special. But upon returning home, Alison and Tyler make amends and get back together, with Tyler wanting to keep his tryst with Holly secret. But on the first day of school, Tyler is shocked to find that Holly has recently transferred to their school—while making it clear, over time, that she's not so willing to let their summer romance go......
You Get Me, for the most part, follows the same path as movies such as Fatal Attraction and Swimfan, with very little done to change up the formula. Despite that, the film has an aesthetic that makes it enjoyable to watch despite how familiar the story goes. With shooting taking place in Los Angeles and Santa Monica, you'll be sure to be pleased with the beautiful shots of the beach and other scenic views of California. The music, particularly during Tyler and Holly's time at her luxurious house, also allows the viewer to become emersed in the movie, almost to the point of wanting the admittedly rushed love to work out.
The acting further keeps the viewer invested, with the bright spots being Bella Thorne and Halston Sage as the main female leads. Bella Thorne throws herself into the role of the deranged and psychotic Holly with ferocity and vigor, going from merely a seductive teenager to a force of nature. Sage, alternatively, gives a likable and authentic portrayal as the privileged but kind Alison, though her past as an irresponsible party girl is unfortunately underused and mostly relegated to a plot device to send Tyler into Holly's arms. Taylor John Smith also plays Tyler as a fairly likable male lead, and Nash Grier and Anna Akana give good performances as Tyler and Alison's friends, Gil and Lydia.
But for all of its good appeals, You Get Me falls flat in some areas. The film's middle drags out as Holly inserts herself into Tyler's life and taunts him about their secret tryst in an unnecessarily pragmatic nature, and the film's conclusion comes off as corny, cliche, and trying too hard to give the movie a moral lesson. The biggest problem with You Get Me is that the beginning is so extravagantly enjoyable that the film's middle comes off as stale by comparison. It's hard to go from seeing Holly and Tyler dancing in a loud nightclub to Holly suggestively teasing Tyler in front of his friends at their lunch table.
But despite these flaws, You Get Me will certainly appeal to those looking for a decent, harmless thriller involving attractive young people, drama, and psychopaths. This is the perfect movie to watch with your snarkiest group of friends, eating popcorn and cheering as Bella Thorne dominates the screen as the psychotic lover from hell. Much like the best kind of Lifetime movie, You Get Me knows how to deliver the drama and thrills, and has a good cast to keep the audience both entertained and invested.
Score: 6 out of 10 poisoned slushies.
review
About the author
Aspiring writer and film blogger: Lifetime, Hallmark, indie, and anything else that strikes my interest. He/him.
Twitter: @TrevorWells98
Instagram: @trevorwells_16
Email: [email protected]
Reader insights
Be the first to share your insights about this piece.
Add your insights