Movie Review: 'The Kissing Booth'
Joey King falls for forbidden fruit in this enjoyable Netflix film with surprisingly good messages.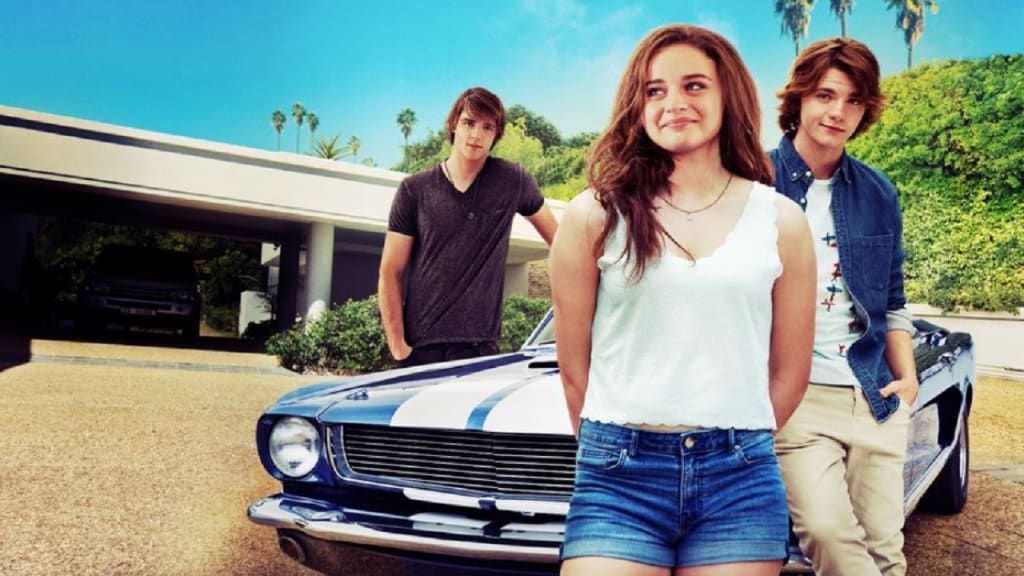 When it comes to Netflix's originally released movies, high school teen flicks seem to be a popular sub-genre recently. One of their latest offerings, The Kissing Booth, however, has more pedigree in the teenage market than the other films Netflix is pushing towards an adolescent demographic. The Kissing Booth began life as a 15-year-old's Wattpad story, but ended up becoming a published book that was apparently popular enough to warrant a movie adaptation.
(Essentially, The Kissing Booth is Fifty Shades of Grey, only with more originality and significantly less bondage).
The plot centers around Elle Evans (Joey King), a high school student who has been best friends with Lee Flynn (Joel Courtney, who I'll always remember for his guest appearance on Fox's short-lived APB), helped by the fact that they were born on the same day. That, along with the death of Elle's mother, solidified a bond between the two best friends. To help keep their friendship together, Elle and Lee made a set of rules, with Lee taking one incredibly seriously: his older brother Noah (Jacob Elordi) is off limits. But despite this, Elle can't help but develop a crush on Noah, one that she keeps in secret for fear of hurting Lee.
But as Elle begins to hit puberty and attract the attention of her male classmates, she learns that her crush may not be as one-sided as she believed, as she learns that Noah has been warning her classmates not to try and take advantage of the inexperienced Elle. While initially frustrated by Noah's attempts to control her sexual life, Elle's crush for Noah sparks during a kissing booth she and Lee hold for their school's carnival, during which she ends up kissing Noah. Conflict makes way to romance as Elle and Noah begin a secret romance—but what will happen when Lee finds out about Elle breaking one of their sacred friendship rules?
Overall, The Kissing Booth is a harmlessly fluffy teen flick, with solid acting and an entertaining plot. Joey King does well as our inexperienced but fiercely independent heroine, and Courtney and Elordi have good chemistry as brothers as well as with King in their respective roles as Elle's best friend and secret lover. The supporting cast, aside from a group of annoyingly stereotypical mean girl archetypes who essentially add nothing to the plot other than inadvertently causing Elle's plot-triggering kiss with Noah, are strong, with Joshua Eady giving a surprisingly likable and funny performance as Elle's first attempt at entering the dating world. Molly Ringwald also appears as Noah's mother and Elle's surrogate mother figure, giving deep authenticity in her brief appearances that more than justifies her small role in the overall film. Elle's father is also a surprisingly impactful character, as his biggest moment has him telling Noah that while he doesn't approve of him being with his daughter, he has enough respect for Elle to let her make her own choices and not meddle in her romantic life.
The film's plot, though, opened itself up to much controversy as of its release, with many proclaiming the movie as sexist and "worshiping of the male gaze". I can see merit in these claims, but feel they are unwarranted once you see the movie fully. While Noah's protective actions regarding Elle at first appearance are controlling and demeaning, and Lee's anger at Elle dating Noah come off as selfish, the movie makes it clear that their actions are not healthy or OK, on multiple occasions, Elle tells Noah off for being overbearing and short-tempered in his attempts to "protect" her, and the film's climax includes an incredibly cathartic scene of Elle confronting Lee for trying to tell her who she could and couldn't fall in love with, even outright telling him that if he couldn't respect the choices she made in her life, she couldn't have him in her life. It's a very empowering moment and establishes Elle's character arc from shy and soft-spoken girl to empowered young woman—one that I hope doesn't go unnoticed by many viewers.
The film also has a surprisingly realistic conclusion, with Elle reflecting on her relationship with Noah and admitting that, as much as she feels about him, it might not work out or last long-term. With so many teen films out there depicting high school romances as being be-all-end-all, it's refreshing to see a movie address that high school loves may not work out as one wants them to. It's also established through the movie that, while Elle's romance with Noah might not work out, it's important for Elle to make that decision to open her heart up to something that might end up hurting her in the end. It's deeper than one would expect from a movie centering around a carnival attraction, and one that I hope more will come to appreciate.
The Kissing Booth might be dismissed by most critics, but I hope that others come to see the strong messages hidden under the film's problematic elements and comes to appreciate it as a realistic and authentic take on high school friendship and romance.
Score: 9 out of 10 greenhouse make-out sessions.
review
Aspiring writer and film blogger: Lifetime, Hallmark, indie, and anything else that strikes my interest. He/him.
Twitter: @TrevorWells98
Instagram: @trevorwells_16
Email: [email protected]mail.com